Doha Airport Transit Report / Review
Qatar Airways has its home hub in Doha. It is a new airport, opened last year. The terminal itself is beautiful and the lounge vast and huge. However, what is special about transiting Doha is the fact that transit passengers with long transit times are offered a free hotel/food OR a free Doha transit tour.
I have bolded the OR above, as I thought I may be able to double-dip and convert that into an AND. However, that was not possible on my recent Doha transit. The way the airport is organized, you have to go for Free hotel/food OR a transit tour. The Free Hotel option is while exiting to the Land-side, but to access the free Transit Tour, passengers have to clear security and go to the air-side. Before my trip via Doha I did a lot of internet search but no one has written about their experience of getting both free hotel and free transit tour. I was curious to see whether I could pull it off. But sadly no.
Anyways, below I will outline how to manage your Qatar Transit experience in Doha.
Free Transit Hotel (and/or Meal)

As per Qatar Airways website, it offers accommodation vouchers for following passengers
"In certain cases, as a special service Qatar Airways will arrange accommodation, entry visas, airport transfers, and meals to passengers facing extended transit times in Doha.
This service may be available if the following criteria is collectively met:
There is no connection of less than 8 hours available;
The transit time in Doha is between 8 and 24 hours;
The booking does not include flights to or from Abu Dhabi (AUH), Bahrain (BAH), Dubai (DWC), Dubai (DXB), Kuwait (KWI), Muscat (MCT), and Sharjah (SHJ).
For bookings made within 72 hours of departure, transit hotel accommodation cannot be prebooked. In cases where your ticket is booked within 72 hours from your arrival in Doha, please proceed to the transfer desk when you arrive at Hamad International Airport to arrange your transit accommodation".
I was able to arrange my accommodation by sending a simple email to Qatar Airways Amsterdam office. As my layover was 8 hrs and 10 mins one-way, and 13 hours on the return, I was eligible for free accommodation both ways. What I noticed was for my 8 hours layover, I was not given meal vouchers but for my 13 hour layover I was given free meal vouchers. I was flying from Casablanca to Nashville, USA and back, in business class.
Important note: All transit accommodation includes free transport to and fro to the airport.
Fortunately, I was given Movenpick Hotel Westbay in Downtown Doha and coming back I was given Oryx Rotana next to the old Doha airport. This way, I could sample and review both the products.
The process for a free hotel night in Qatar is as follows:
Once my flight reservations were confirmed I contacted the Amsterdam office and a very friendly agent confirmed my hotel bookings, and sent me email vouchers about the same.
The email vouchers are to be exchanged on arrival in Doha. Once you land, please start walking toward exit/immigration/baggage.
Before the exit, you will see a  Huge Transfer counter (across from transit security). On the left side of this counter there are 3-4 transit hotel counters. When I arrived there were no lines. I handed over my voucher to the agent and was given a different, multi-colored voucher which is the official one you use for immigration, the hotel, and transport to and fro to the hotel.
The front and back of the voucher looks as follows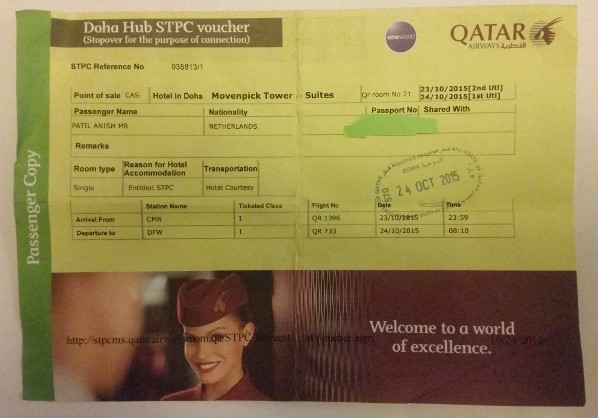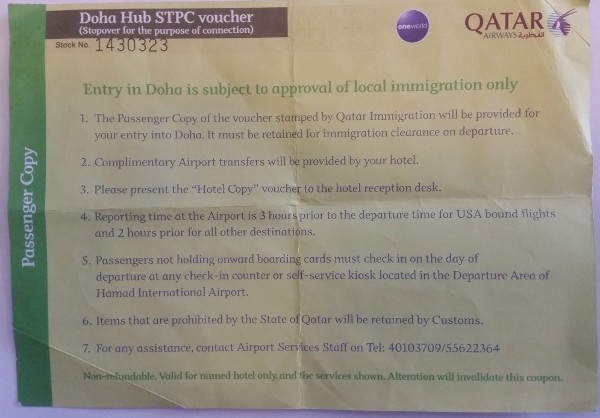 From here I was guided to the Al Maha lounge next to immigration.
A QUICK NOTE HERE: If I had to successfully double-dip – take the hotel voucher, as well as go with the free transit tour. At this point after receiving the Hotel Voucher, I would have to clear the security (right across from this counter), and enter the sterile area of the airport. I did not wanted to clear security and go to the air-side as I was not sure I will be able to use the official immigration vouchers that were associated with my hotel booking. These immigration vouchers I had in my hand, allowed me to enter Qatar free (no visa on arrival costs) as well as granted premium Al Maha lounge welcome services. Secondly, I read somewhere that the passengers going on transit tour are accosted back to the airport, and once they are back in the airport, I wasnt sure I would have been able to go back again and use my hotel. Anyways, I decided to proceed to Al Maha lounge and go to my hotel
From the transit hotel counter, I started walking to the immigration/baggage claim.
Instead of heading straight to immigration, I followed the sign to AL Maha lounge (as shown in the photo below).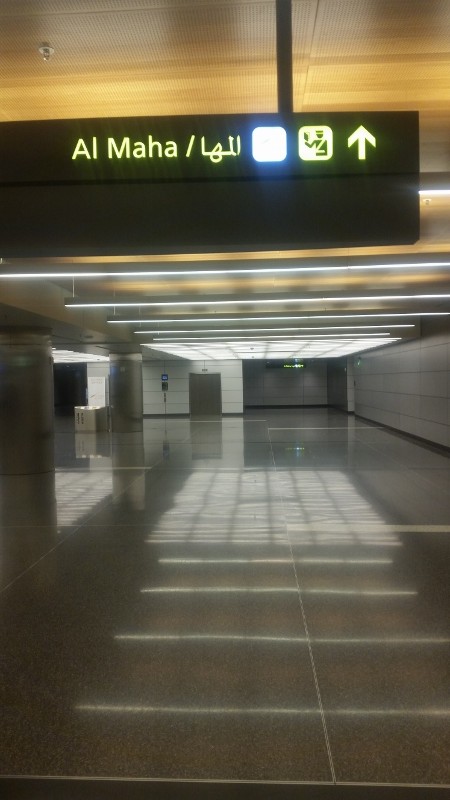 Al Maha lounge is well-lit, clean and pleasant. There is a huge business center (when compared to the small size of the lounge) and a few eats and drinks. However, there are no alcoholic drinks on offer. There was no one manning the entrance counter, I could not see any staff, but another passenger told me that I should continue to the service counters inside. Here they took my passport and had me go through the eye scan and immigration which is dedicated to the lounge here. As it was a busy period, I had to wait 15 minutes for my stamped passport. In the mean time I grabbed a drink and settled to use the wifi. After this my passport was stamped and I was accompanied by an Al Maha guide past the bag x-ray and out of customs into the arrival hall.
From here I was taken to Arrivals lounge, where I was told to wait for the hotel pickup.
Although, I was flying business there was no private transfer and I had to wait for the mini-bus
At this point I will divide the further review into 2 parts. All the above was similar to my experience on my return, thus I will keep that and below I will outline my hotel experiences as Movenpick (outbound transit night) and Oryx Rotana (Inbound transit night)
Movenpick Hotel
I had to wait at least 30 minutes before our hotel pickup arrived. Even after that there was a huge confusion about which passenger went to which hotel. In the end we were all bundled up into the bus and we headed to the downtown Movenpick hotel. My total transit time was only 8 hours, and it was already 2 hours since I landed in Doha before I reached the hotel. Even after reaching the hotel, there was only 1 person manning the reception. It took further 30 minutes before I entered my room. The reception told me that I need to leave the hotel at T-3 as I am flying to the USA. Thus effectively, I just had a couple of hours sleep that night in the hotel room.
The hotel looked nice and the rooms were quite spacious. From my room I had a partial view of the bay.
Although, I was not given meal vouchers for this 8 hours transit. From other passengers I learnt that they were eligible for free buffet during their stay at the hotel. So it seems Qatar does not give a monetary voucher for meal at this hotel, which is the case for Oryx Rotana, but rather buffet voucher without any value limit.
In the morning, I checked out 3 hours before my flight departure time to USA and the shuttle was waiting. It left right on time. As it was early morning time, we did not experience any traffic. The shuttle dropped us at the departures. From there I followed the Premium terminal checkin and was guided directly to the immigration/security area as I already had my boarding passes. Once you have such burgundy premium cover for boarding passes (as shown in the photo below), things really speed up in Doha.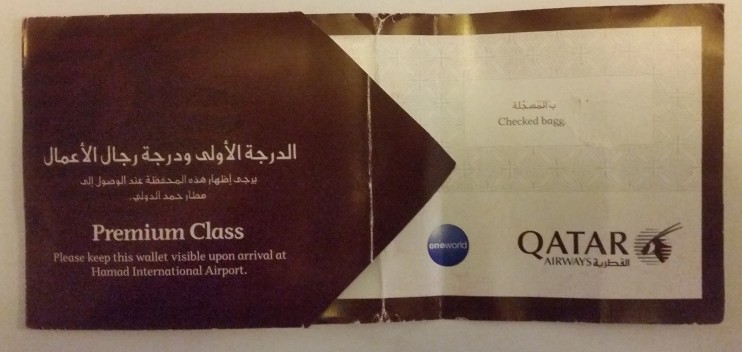 Oryx Rotana Hotel
Again, on my way back I had to wait at least 15 minutes before our hotel pickup arrived. There was no private transfer offered. However, this time the mini-bus wasnt full and we arrived quickly at the hotel.
The hotel looked nice, much livelier than Movenpick, but the rooms were much smaller. My room had the atrium view. As my transit time was 13 hours, I was given meal voucher with 175 QAR (around 50eur), which could be used inside the hotel restaurants. Trust me, 175 QAR (50eur) seems a good amount, but given the restaurant INFLATED prices, it went away pretty quick.
Anyways, I arrived in the hotel around 6.30 and instead of eating right away, I headed to the city. I took the public transport bus. I will write a separate review about using public buses in Doha to get around. In fact I could visit almost all the attractions listed on the Doha Transit tour on my own by public transport (That experience is outlined in this report). After 4-5 hours in the city, I returned to the hotel and ate at the Spanish restaurant (The Cellar, serving Mediterranean tapas). I could eat Paella + have 2 beers for 175 QAR.
Please note: You cannot use this meal voucher in the Chinese restaurant
Although, the room was smaller I slept pretty well. The shuttle back to the airport left on time in the morning and I was back at the airport in no time. Oryx airport is located quite close to the airport, and if there is no traffic the airport is less than 15 mins ride.
2. Free Transit Tour
Although, I was not able to enjoy the free transit tour, I did a lot of research about the timing and availability of the tour. This is explained below.
From Qatar Airways website, the Doha city tour description is as follows:
Enrich every step of your journey with a complimentary tour of Doha, courtesy of Qatar Airways and Qatar Tourism Authority. Visit four key landmarks including: The Pearl-Qatar, for the finest quality shops and restaurants; Katara Cultural Village, a centre dedicated to celebrating arts and heritage; Souq Waqif, for traditional jewellery, spices and handicrafts; and the Museum of Islamic Art, for its stunning architecture and beautiful seaside park. All of this, while you wait to connect with your next flight.
For more information, simply head to the Doha City Tour desk on arrival.
Location of the desk: Beginning of Concourse B in between the Mont Blanc and WH Smith shops
An amazing experience awaits you.
Tour timings
Tour name
Check-in opens
Check-in closes
Assembly time
Tour start time
Tour 1
06:00hrs
07:00hrs
07:15hrs
08:00hrs
Tour 2
06:00hrs
10:00hrs
10:15hrs
11:00hrs
Tour 3
06:00hrs
15:00hrs
15:15hrs
16:00hrs
Tour 4
16:00hrs
19:00hrs
19:15hrs
20:00hrs
Please know that the City tour desk is located after security and immigration. I do not see the logic in this. If arriving passengers would like to use the tour, why make them go through the security and then make them exit the airport. Why not keep this desk next to the transit hotel counter. That would make more sense.
Anyways, if you would like to do the tour – please head towards this big yellow bear (as shown in the photo below).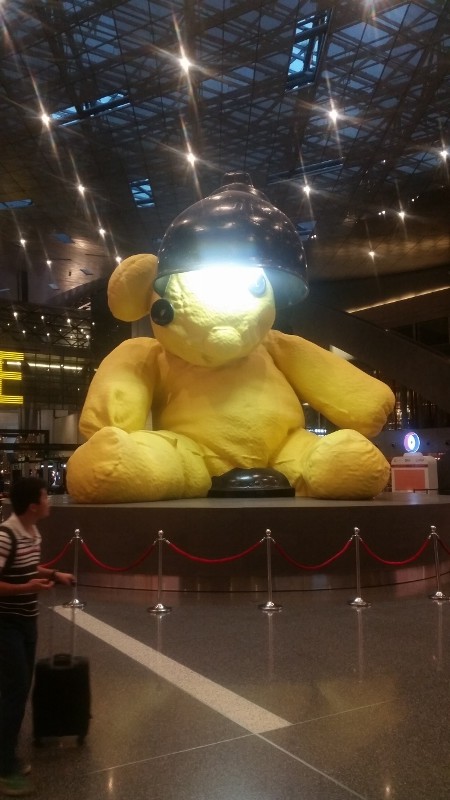 Once you reach the bear, on the left hand of the bear you will see Mont Blanc shop and WHSmith (see the map below) – the City Tour Desk is located between these two spots.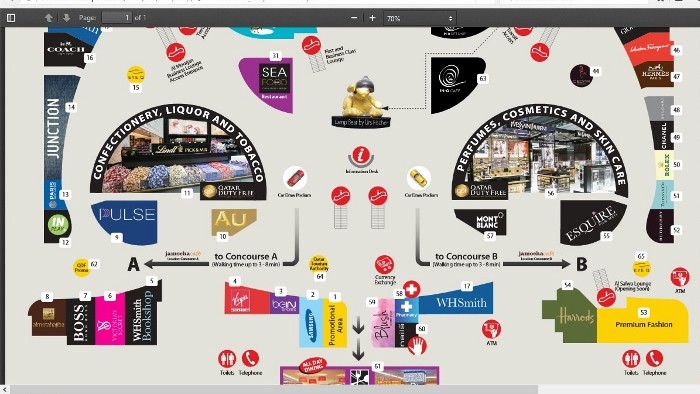 Verdict
I loved the service offered by Qatar for their passengers with long transit. Except, then the delay at arrivals lounge while waiting for the ride to the hotel everything went quite well. It is a pity, I could not double dip and enjoy both the tour and the hotel. However, I could still do the tour by public transport bus, for QAR 10 (2.5 eur). I personally loved Doha, and I definitely intend to visit for a longer period next time.