In March 2019, Star Alliance opened their brand new lounge at Schiphol, on the Schengen side. I visited the lounge in April and was thoroughly impressed by it. Amsterdam Schiphol always lacked a decent Star Alliance lounge. There was a contracted lounge, but it was always busy and boring. This lounge does have personality.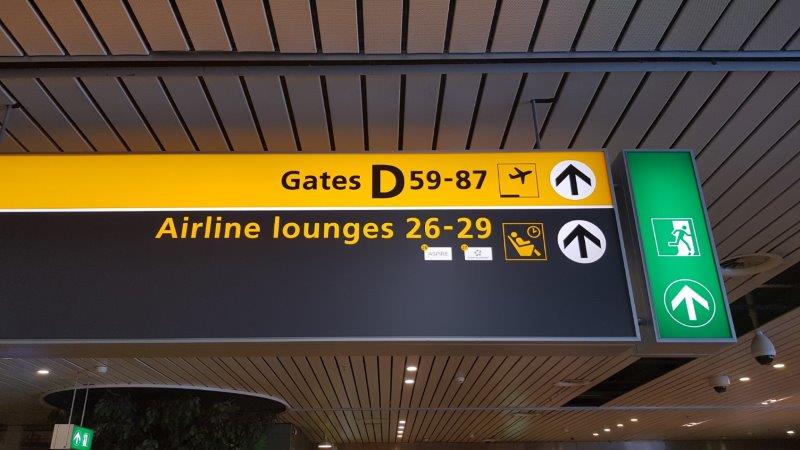 The lounge is located near the D Gates. Follow airport signage to Airline Lounge 29. The lounge is located in the Schengen Departures area. Take the escalators or elevators up to level 2 from the main shopping area, towards D gates. Take the elevators or stairs to level 3. The lounge is located next to the Aspire Lounge. While I was there I noticed that Aspire lounge and the Star Alliance lounge is still run by the same people, as the catering is common to both airlines. Both are new lounge now and are 1 floor higher than their previous location.
Immediately, once you are in you get a nice vibe. The colors are dark and rich, and while I was there it was quiet quiet, which gave a nice and exclusive feeling.
Once you enter you will see a bar area on the right, which has a beer dispenser (ofcourse, other beers were available as bottles), cold drinks, water, etc – all the usual stuff.
Further up, there is a food area. Quiet a few warm food options and I loved the heavy cast iron pans that keep the food warm. The food was quite tasty too.
Dining area is quite nice, with a lot of varied seating options.
At the end of the lounge, there is a nice quiet area to catch up on your reading or work spaces for laptop use/phone calls.
The lounge does not have a view of the tarmac, but the windows give a view of the KLM bird that is parked on top of the panorama terrace. Here there were also some nice relaxing chairs to catch a break and chill.
Overall, I am impressed with the new lounge at my home airport. Apart from KLM there was no decent option at Schiphol – now there is some serious competition!