This article is part of the main article: Around the World in 2 weeks (2012-2013): Introduction and Planning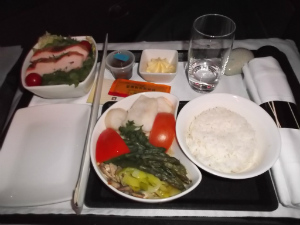 My flight from Abu Dhabi to Hong Kong with Cathay goes via Riyadh, Saudi. Unfortunately, we were not able to get down at the airport. Riyadh seemed a huge city. I didn't expect such a big city in the middle of a desert. At least from above the city seemed nicely arranged, which was apparent from the night-lights and so. After a quick stopover we took off for Hong Kong. Our flight was already delayed taking off from Abu Dhabi, and on our way to Hong Kong we had to make up most of the delay. I really wanted to make my Hong Kong to Manila afternoon connection, as I didn't want to land after dark on Christmas Eve in a crazy new city. The only other flight with Cathay that day would have landed late in the night. I thought in a new city, it is better to be on time and land during day light. I have always heard that Manila is a huge crazy city and just wanted to be on the safer side.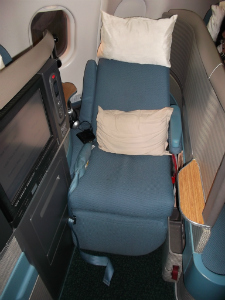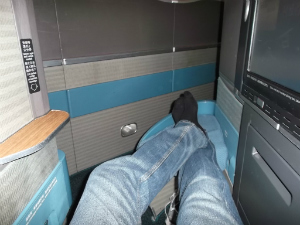 The seats on my way to Hong Kong were nice flat bed. They call them coffin seats on flyertalk forum. They were really very good, I liked the seats and the layout. I had total privacy, sort of a private suite. Cathay has done a good job with the layout. Soon after take-off a menu was handed out. It was quite tempting. Although I ate so much in the lounge, I couldn't resist the sea-food platter. Shrimps were nicely spiced up and in a nice sauce. I am glad I stuffed myself. On the flight I watched Mission-Impossible the Ghost Protocol. Coming from Dubai the same day, and having been at the top of the Burj Khalifa the day before, I really enjoyed the Dubai scenes. But it seemed the movie is a bit overdrawn. Tom climbs Burj Khalifa like he is walking in the park – come on! Give me a break. Anyways, after few drinks even you can even digest such scenes. The effect of beer as we call it, everything gets attractive after the first few.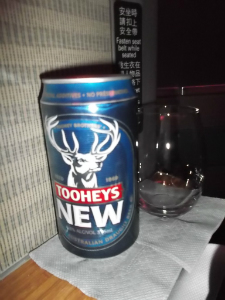 Fortunately, I made the HKG to Manila flight. There were 70 of us transferring from the Abu Dhabi flight to Manila flight. Pilipino workers are quite common in the Emirates and this group was returning home for Christmas. We had a gate escort for the Manila flight. A nice little Chinese lady screaming on the top of her voice to get all the 70 people filed up and walking to the departure gate. I was happy of making the Manila flight, but not too glad that I didn't get a chance to try to Cathay Lounge in Hong Kong. Cathay has spectacular first lounge in Hong Kong. I would have been able to access First lounge based on my Oneworld Emerald status. I am sure I wont be able to maintain my Emerald status with BA too long. Hopefully there is a next time. This Cathay First lounge along with Singapore first lounge at Changi are one of the top ones in the World.
On my flight to Manila, coincidentally I was seated next to an Indian guy. A film n TV producer from Hyderabad. He said that he takes one vacation per year on his own, without his wife and kids. He was going to Angeles city, Philippines to play poker. He was a big poker fan and he said on such vacations he usually spends 12-15 hours playing poker every day. I really admired his passion for poker. He started his career as a software consultant in New Jersey after finishing studies in the USA. But soon after realized that's not what he wants, then dabbled a bit with financial markets and later settled as a producer for TV and film. Quite an interesting career path. It was refreshing to see Indians trying to break the traditional shackles of being engineers or doctors and doing something out of the way. By the way, the flight was short and good. I had Hong Kong styled curried tiger prawns n jasmine rice.