They say there is a very fine line between adventure and stupidity. I guess we are about to find out the truth in about two weeks' time. Today I have embarked on a remarkable journey – traveling around the world in 2 weeks. I know 2 weeks is quite short to traverse around the world, but I think any amount of time is going to be short to travel around the World. It can be 2 weeks, 2 months or even two years. So I have just decided to go ahead with what I have and make the most of it. Some may admire what I am doing and some may think I am stupid. Each to their own, my aim is to have a good time, and I am sure I will.
Why am I doing this? I am doing this because I want a story to tell. You know sometimes you are lost for words while having a drink with your friends and colleagues; stories like this keep the drinks coming and conversation alive. The other reason is that when you're traveling, you're much more open to experiences outside your usual realm. Such occasional big trips keep people young and lively. Traveling is not just about making distance for me, but it is more than that. I get completely lost while planning the travel and traveling. It's like a drug, an addiction – I can get completely consumed by it. I might be one of the very few who really enjoy airports and airplanes. Given an option between direct and indirect flight, 99% of the time I will chose an indirect flight just to try a new airport or airline or a new airline lounge.
It all started with an error fare I booked online in August. Luckily for me, or unluckily for some airlines, there was a mistake fare floating around. I came across it on flyertalk.com (my daily morning read while drinking my tea). The deal was 300$ in business/first class, all the way from Rangoon, Myanmar to Vancouver, Canada. Traveling around 10 thousand miles in business and first class with so little money was quite a tempting deal. I went ahead and booked it for December 31 departure out of Rangoon. This being a full fare flexible ticket, I was assured my money back if I don't fly.
With this special deal I was supposed to fly special ANA (All Nippon Airways, Japan) 737 business jet from Rangoon to Tokyo and then continue onto Delta for the transpacific leg. This business jet was a special treat as this is a specially modified 737 in all business class seating, giving an air of a private jet. Quite enticing actually. But as December approached I wasn't sure of actually going ahead with this trip. My wife was pregnant with our second kid and I just didn't feel like being without the girls for 3 weeks. I discussed it with my wife and we figured out that this might be a last opportunity (or at least for some time) for me to go ahead and do something like this. With our second baby coming, we are going to be tied down for certain period. And now that the opportunity presented itself with such a beautiful mistake fare to travel half-way across the world in business class, I just couldn't say no.
At the back of my mind I thought I would go to India around mid-December then travel to Burma from there. But once I saw that traveling from Mumbai to Rangoon would be quite expensive, I thought I can fly into Bangkok or Singapore and then hop over to Rangoon from there. In fact I started planning a trip in Thailand for my parents and I. My parents haven't been to Thailand and this would have been a great opportunity. I wanted to take my parents to a nice beach resort in Thailand and enjoy the beach. But as I waited until the last minute to finalize my trip, their flights from Mumbai to Bangkok became quite expensive. And given that we will have just 3-4 days in Thailand it wasn't worth it to book this trip for them. They would be quite tired by the end of it, and spend most of the time traveling. And also they had booked a package tour to South India for mid-January. They are planning a 3 weeks South India trip, beginning in Andhra and ending in Kerala. So they had some nice things in the pipeline and if Thailand did not happen, they wouldn't miss it too much.
So in the end I decided to travel on my own. I actually began the booking process early December. I always wanted to do a round the world trip and I thought this is one of the best opportunity to do it. I thought of taking the first stop in Africa/Middle East, then continuing over to Asia and then America and back to Europe. I know round the world in 15 days doesn't make too much sense and I am sure many would say it is too short, but from the angle I looked at it I thought no amount of time will be enough to make a round the world trip justice. Minimum time is all in the person's perspective. I think 2 days is the minimum (actual flying time), and then you can make it for 6 months, an year or years. I thought 15 days should give me 3-4 good stops of 3-4 days each and that's good enough for me.
I had the main component of the trip – Rangoon to Vancouver all the way in Business. I thought of going all out and making a luxurious round the world trip in Business/First class. I had enough miles on many airlines and if I was lucky I was sure I could stitch a nice trip in Business class with my existing miles.
Luckily at the beginning of December Air France/KLM had their Promo-awards for December/January. And I could see availability for Dubai in Business Class for just 20K miles + 200 euros in taxes. This is quite a great redemption with KLM. KLM miles are really S%$t, since April 2010 they have devaluated their mileage program considerably, which makes earning and redeeming miles really difficult. I have moved away from KLM and Flying Blue just for that reason. Prior to April 2010 I had quite some flying blue miles saved and this seemed a good opportunity to burn some of them. Actually, I would still have more than 100K balance after this redemption, so it wasn't making a big dent in my savings. Another reason was that I would be traveling to Dubai on Air France business class. I had tried KLM business class once, but never Air France in business. This was a good opportunity to try AF business class. Once I found this deal, I wanted to plan my leg to Asia that will take me later to Rangoon cheaply and comfortably.
I checked online and saw there was availability on Cathay Pacific Business class from Abu Dhabi or Dubai to Manila or surroundings. I chose Manila, Philippines as I hadn't been there before. Also given the fact that I don't need a visa to Philippines made it an easier choice. The best (cheapest) way to travel in Business class from middle-east to Asia is with American Advantage miles. For only 30K miles + 21$ I could book a one-way business class to Manila on fully flat Cathay seats. You would ask why I chose Abu Dhabi over Dubai to fly with Cathay, as they both had availability on the dates I was looking for. The only reason was to see a new airport and a new airport lounge. The Abu Dhabi lounge experience is something special – at Abu Dhabi, Cathay Business class customers get access to Etihad First Class lounge. It's a total experience. There is a private butler, made to order dinners and meals, massage, etc etc. seemed a no brainer, and made a short bus ride from Dubai to Abu Dhabi worthwhile.
So now I had a ticket until Asia, but it was Manila and not Rangoon. I could have booked a simple United Mileageplus redemption from Manila to Rangoon with a stop in Bangkok or Singapore directly. But I wanted a bit more adventure. I wanted to maximize my business class experience with the same amount of miles and at the same time try the Thai Airways Super Jumbo A380 in business class, which is flying between Hong kong and Bangkok daily. I played around with the flights, and I came up with a crazy routing as follows, I call it a criss-cross: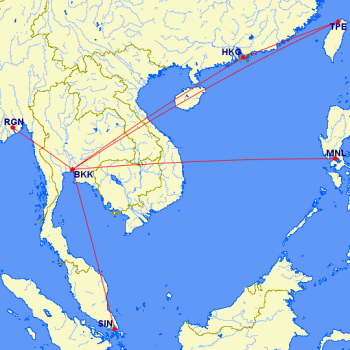 Manila to Bangkok, Bangkok to Taipei (a night at the airport here), Taipei to Hong Kong, Hong Kong to Bangkok, Bangkok to Singapore (a night here), Singapore to Bangkok and finally Bangkok to Rangoon – all in business class for a princely sum of 17.5K miles and 9$ in taxes. For the uninitiated (in miles and mileage programs), if I have to fly from Amsterdam to Budapest in business class I will pay around 30K miles and at least 50 euros in taxes. This figure was half of that and I would be flying in luxurious flatbeds and all, and not the stupid European airline business class, which had the same seats as economy. What's wrong with European Airlines – how can they be so ignorant. They have the same seats for economy or business class passengers; on what basis do they expect Business class passengers to pay a fare 5 times the economy. There is no justification. The service level of European carriers is dropping considerably, they are watering there onboard or airport offerings and devaluating their mileage programs and then they are surprised that the middle-eastern carriers are doing better business then them. Instead of complaining about Emirates or other gulf airlines, they should learn from them. The service level at Gulf Carriers/Airports is fabulous. My wife and I flew with Emirates few times – once to Mumbai and other time to Kuala Lumpur. At Dubai airport all transit passengers are entitled for free meal. They have a fancy buffet open to all. We had a great meal on the ground and had a nice relaxing flight once onboard. Within all European airlines, my experience until now show that British Airways still had a good service – they have fantastic lounge experience with massage/showers and made to order meals for their Gold members. They do have old planes but decent seats and good AVOD. My other favorite is KLM – they have the best crew. The crew is friendly and does their best consistently. My only gripe with KLM is that their lounge experience sucks and their mileage program is completely watered down. For example, if I compare KLM and BA flying from Amsterdam to Mumbai. For the cheapest fare KLM will give me 25% miles, so around 2400 miles + my gold bonus… so in all 4K miles. And on the other hand BA gives me 100% of the traveled miles + 100% gold bonus… so around 19K miles. 5 times as much miles are earned, and that too while enjoying the BA lounge experience with champagne bar, massage, and great food.
Anyways, I digress. Coming back to the trip. Now I had the ticket to Vancouver. I had to get to Philly from there to my brothers place and from there back to Europe. I had BA miles, so I checked availability for the 5-6 January. But there were no award flights from Philly, but I could find 1 last seat in business class from New York to Dusseldorf in business, with Air Berlin. I flew their business class once from Abu Dhabi to Dusseldorf and quite liked it. They are this new age airline, with youngish crew and nice modern service. I booked it immediately. Advantage of BA miles booking for Gold members is that I could change the booking until 24 hours of flight departure free of cost or cancel it and get my money and miles back without problems.
So everything was coming together nicely. For Vancouver to Philly leg I booked a one-way in Economy with United airlines and Alaska. Alaska airline were a short hop from Vancouver to Seattle with BA miles and then connecting to United flight from Seattle to Philly via Houston. I was ready for the trip. I booked cheap hotels/hostels/guesthouses for the stays and I was all set. The only big problem was the visa for Rangoon, Myanmar. I checked with Visuminfo (Visa Agency) here in the Netherlands, they said they could get me a visa within 4-5 days. I mailed them the documents immediately and literally got back my passport in hand just a couple of days before my trip.
So the round the world trip I manage to stitch together, 80% in business class looked like this.