This article is part of the main article: Around the World in 2 weeks (2012-2013): Introduction and Planning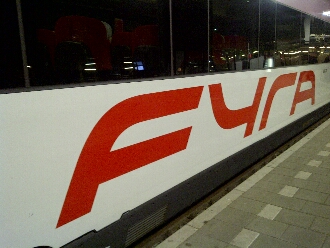 The trip starts today. I am leaving for Brussels to catch the Fyra train from Rotterdam. Recently, the Dutch train system changed the international train to Brussels, earlier a regular intercity would take you from Amsterdam or Rotterdam to Brussels. But not anymore, now you need to go with this special train. The trick is to book in advance, if you wait until the day of travel or buy the ticket at the train station, the ticket is around 2-3 times more expensive. I don't like this new system at all. For example, you can travel the distance from Rotterdam to Groningen (north of the Netherlands) for around 15 euros with the discount card, but Rotterdam to Brussels, which is about half the distance of Groningen, will cost you around 50 euros if not booked on time.
On top of that, the Fyra never runs on time, and this morning was no different. Anyways, as I had some buffer time at Brussels train station I didn't mind the delay. But I was cold to the very core this morning while waiting at Delft and Rotterdam train station. As I am traveling to tropical Asia, I didn't pack too many warm clothes. I wanted to pack light as I will be hopping in and off many countries during this trip. Whatever gear I left with this morning, it's safe to say, is inadequate for European or the Canadian winter, which is soon coming up. I regretted not taking a scarf or a heavy sweater, and my mistake was apparent just after few steps from my house. But it was too late to go back as I would miss my train. The amazing thing about Delft train station, platform 2, is that there is no heater or nowhere to hide from the cold and wind… It's all out there. This cold streak continued until I reached Brussels train station…even the Fyra at this hour in the morning is cold, but thankfully fast. The only good thing about the Fyra is that it doesn't stop at many stations; it brings you to Brussels from Rotterdam quite fast actually.
Once at Brussels Midi, I checked in for my train to Paris and the onward flight to Dubai. Got a Thalys lounge card as I had a business class ticket. A good place to sit in warmth, and the hot tea really made me happy. Once you are cold to the core, even a small thing such as a warm sofa and hot tea can make you very happy. This was one of those moments.
Air France makes arrangement for their flight customers in First class carriage. Quite a nice train, you can see the French believe in aesthetics. Something different than the normal (but highly functional) Dutch trains. The TGV ride to CDG airport was uneventful. Coming from the Netherlands, the French trains amaze me. Dutch go for practicality and the French for the looks. Even the train seats had nice contours and all, and nice upholstery.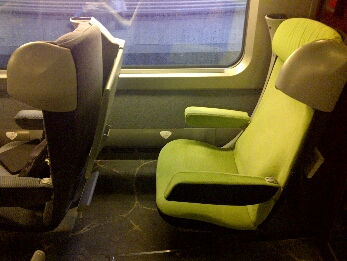 But this excitement was short lived. Once the train pulls into CDG airport you immediately realize why Paris airport is ranked one of the worst airports in the World by Skytrax survey, year after year. It puts Mumbai airport to shame, in terms of incompetence. And that ain't no easy task. Imagine a very busy Thursday right before Christmas eve, where all the sane and insane decide to travel. The train station is bursting at it seams. You really see the shortcomings of this airport, when it is packed to the hilt for the holiday season. Imagine wide, sweeping areas and people streaming in from anywhere and everywhere. But they all have to queue for 1 tiny escalator. There is no elevator or stirs in sight. Only the French can design something very beautiful but not practical or efficient. The airport was designed to impress but is fraught with bottlenecks. On the other hand…Schiphol, Amsterdam airport, is simple and efficient.
Due to all this inefficiencies of the system and long queues everywhere, I was quite delayed by the time I dropped my bags, completed the immigration and security. There was almost no time to enjoy the lounge. I still managed few minutes there. I picked up the shower and shaving kit there. To save space I didn't pack it as I thought of picking it up from all the airport lounges along the way as and when needed.
I guess the only other International airport that competes with Paris airport in terms of incompetence is Budapest airport. I think Budapest airport is in the league of its own, not to say it is dirty or something. It is quite clean, but just too small and congested. For the past 4-5 years Budapest Ferihegy airport was under construction. Billions of Forints were spent; of course some European money and other Hungarian tax payers, etc etc. But at the end of it, what came out of all the construction and redevelopment process is a fancy mall. There are no new gates added or no new checkin counters. A new multi-billion bucks center part was added to the airport that has nice Dutyfree and other shops. After spending billions, still there are snaking queues inside the airport when customers are checking in. There is no place to walk around…and of course there is no place to sit near the boarding gates either. So all this re-development of the airport didn't solve any congestion problems. There is still congestion and snaking queues. How did the airport justify spending billions on a new airport mall when the country's economy is going down the drain? How did they convince taxpayers? Lord works in mysterious ways. I think Budapest airport has Malev's bankruptcy to thank for. Imagine Malev still going strong at this point and people would have started questioning the billions of forints spent on redevelopment and update of the airport. Now that Malev is long gone, traffic at Budapest airport has actually reduced a lot and people do not see the inadequacies of the airport redevelopment process.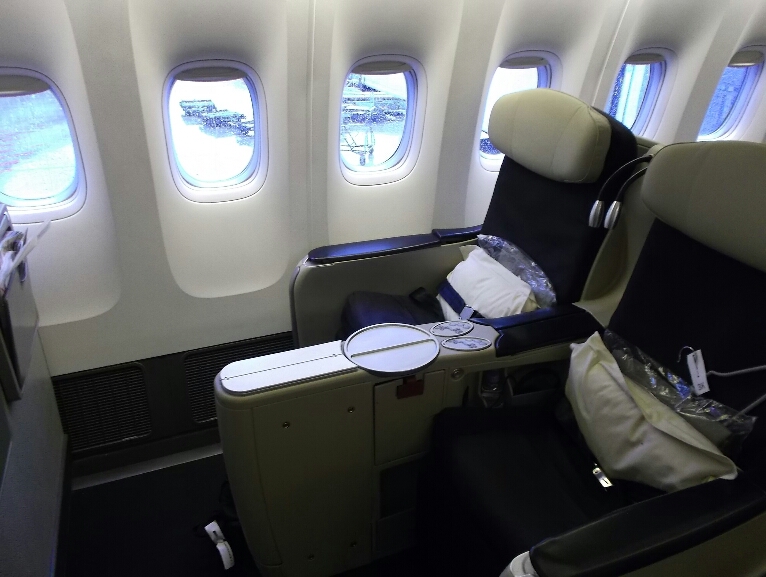 Air France flight from Paris to Dubai was fine. The seat was decent, but the service really falls short of other airlines. The seat was dirty and broken at places. Maintenance department at Air France must be on strike…again!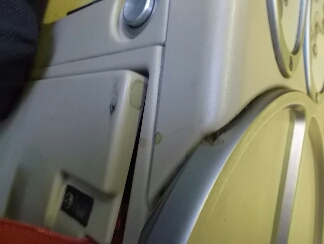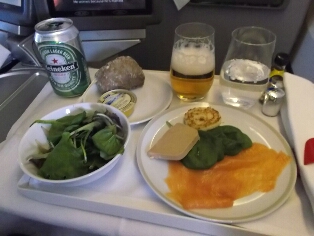 The appetizer was good, but the main meal was not up to the mark. The steak was dry and over cooked. A lesson for me, never order steak 35000 ft in the air. I have gotten this lesson on numerous occasions, but I keep repeating my mistake. Some people never learn.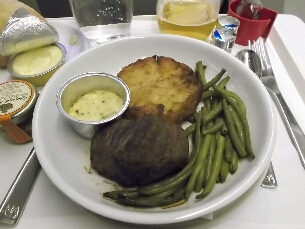 On the way to Dubai my neighbor was a nice French lady. She has been working in Dubai for 9 years now. She said to me that she finds Dubai the best place to work. She has worked in France and UK, and Dubai is fantastic compared to that. As she explained it's quite cosmopolitan and at the same time the work culture is much relaxed. I was worried about landing around midnight in Dubai and going to the hotel by taxi, but she dispelled all my worries about safety. Quite relieving.
Our flight was a bit delayed coming into Dubai. Dubai Airport around midnight is quite a busy place. At this point in the evening, all the flights coming from the west are connecting to the ones going to the east. Sea of people. Emirates and Dubai airport are busting at the seams. Dubai is planning a new (Worlds' largest airport) between Dubai and Abu Dhabi to cater to this exponentially growing traffic. I had to wait for 30-40 minutes for the immigration, and once done with that my bags were already on the belt. Grabbed them and looked for ATM to withdraw money and then taxi. Taxi driver was a South Indian guy. What a surprise – Indian in Dubai. I am kidding. Dubai is full of Indians. 30-40 years ago before the big oil business, most of the middle-east countries were an extension of India. All these countries used Indian rupee as their currency. Then they discovered oil there and they all got their own currencies.