This article is part of the main article: Around the World in 2 weeks (2012-2013): Introduction and Planning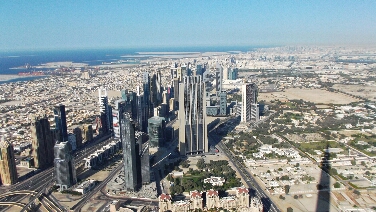 A few decades ago, Dubai was a sleepy little port-town, and now it is this modern metropolis with people from all over the World coming there to work and make a living. The plan for the first day in Dubai was to go to the top of the Burj Khalifa – Dubai's answer to the entire World's skyscrapers. This building just does not aspire to be tall, but it is by far the tallest man-made structure in the World. It is around 830 meters tall. Almost a kilometer up in the air. The view from the top is quite breathtaking. I didn't realize how huge Dubai actually is, until I saw it from the top. The observation deck is actually called "at the top." I had to book the tickets for this in advance. It is one of the must-do things in Dubai according to trip advisor. For 22 euros, it is not actually cheap, but you have to see something while you are there and this is a good start. After Burj Khalifa I had arranged a Desert Safari. The driver came to pick me up at the reception area of Burj Khalifa. Now this is service – pick up and drop off were included in the charges.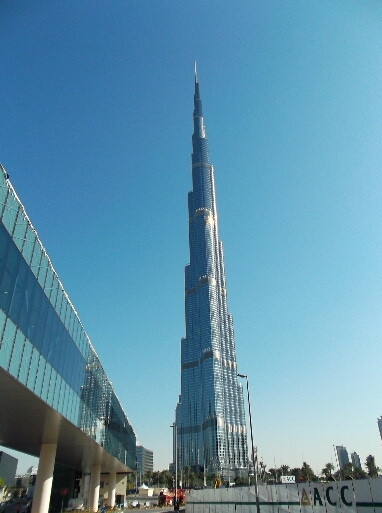 The other passengers on this tour were – 3 friends from Pakistan, another couple from I don't know where and a Pakistani driver. I was sitting next to the driver, the couple in the middle row and the 3 friends in the last row of the van. Since they moved into the van they were talking about "Sallu bhai" and "sallu bhai ne kamaal kar diya", they couldn't stop raving about Sallu bhai. I was wondering who this sallu bhai is. Later I realized that these guys are raving about Salman khan and his new movie Dabangg-2. For the Bollywood uninitiated, Salman Khan is one of the leading Bollywood actors. It was so heartwarming to see Pakistani guys raving about Bollywood actors and really talking about Salman as they are childhood buddies. If there won't be politicians or politics, these two counties would never fight. But maybe fighting is not so bad in the end; something good might come out of it. Just look at Europe – all these countries fought the bloodiest battles ever known to mankind, and now they are (or I should say 'were') doing pretty well together. At least they had prosperity for 50 years. I am not sure how (EU) European Union will go ahead in the near future. I had always thought that EU is a modern day glorified colonial system where the rich northern countries make all the decisions and southerners follow. For example, countries in the North produce things and indirectly force southern countries to buy these goods in the pretext of – buy Produced in EU. If these countries don't have money, they loan money to them to buy products produced by them. Thus there is no motivation for these countries to produce things on their own, or at least get things cheaper from the open market. Anyways I can rant forever about this… but that's not the aim of this story. Lets get back to the topic, shall we!
As the Geeta, Bible or Quran say – good and evil coexists. And so life goes, you just ride the wave and enjoy it. Insha'Allah! (God willing). Since I landed in Dubai I have opened up my repertoire of Islamic words. It does help a lot – at the airport or while riding the metro, if you speak basic Arabic or Urdu it helps in getting people's attention. I observed in Dubai and also from my trip last year to Jordan, people expect me to be Arabic and if I don't respond to their greetings they get a bit disappointed, so I speak fluent (so to say) Arabic when needed.
Once we came near the desert and changed cars to enter the desert, these guys realized I understand Hindi too. They asked my name and I said Anish. They misunderstood me as Anis. They were quite happy to meet an Anis. Anis or Anees is a very popular muslim name, without the last 'h.' I still am not too sure why my dad insisted on the last 'h.'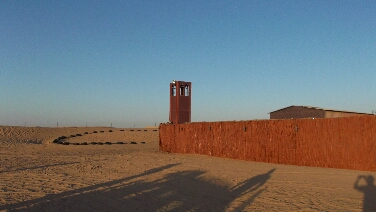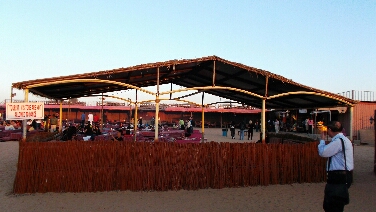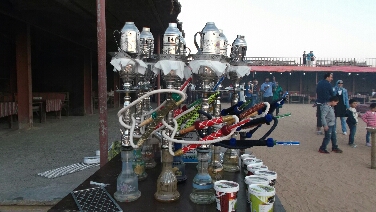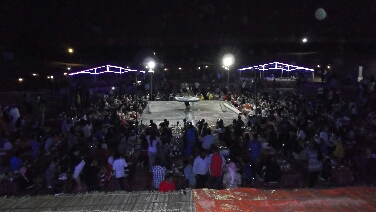 The ride in the dunes was much fun then I imagined, especially because I was sitting in the front seat with a much better view and perspective. The 4×4 really rides at 80-100km/hr in the dunes. Great rollercoaster experience for 15 minutes. A bit risky at the same time, not for people sitting in these huge 4×4's, but for these Arabic teenagers who are zooming across the desert (at least near the camp area) in their open quad bikes. They had no concern for their own life, they were riding like maniacs. After the dune ride we were dropped off at the camp area. These camp areas are funky… a place to buy souvenir, smoke shisha, drink, etc. and of course the place where there would be a belly dancing performance. I was happy I could buy a Dubai shot glass here for the collection.
I realized one thing; the desert gets quite cold in the night. The day can be blazing hot, but when the night falls it gets quite chilly. He same experience was in Jordan, where we were hunting for whisky or rum in the night after dinner as it was so cold. Thank god I was better prepared this time as I had a nice pullover with me.
Dinner was being cooked/grilled on the side. It was all included in the package – some nice tandoori chicken, kebab's, salads, etc etc. I was starving. The jet lag had kicked in and I was quite hungry by now. I grabbed a huge plate and piled a lot of food on top and sat down with a drink to enjoy the belly dancing show. Some girl named Veronica was performing. The funny thing about Dubai is that there are European girls dancing on Arabic belly dancing music. Quite authentic, isn't it. Anyways, I enjoyed the show and while driving back to the hotel understood from the driver that, it would almost be impossible to get an Arabic girl to belly dance in Dubai.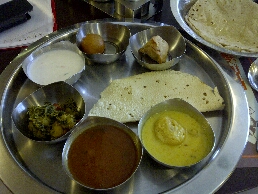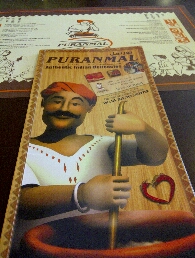 The next day I took it easy in the morning. Had already told the reception that I will check out late, so that was not a problem. My flight to Manila was from Abu Dhabi, which is an hour or hour and half away from Dubai. I woke up late, went to the city grabbed a nice lunch at an Indian restaurant – Puranmal. This was an old Indian joint in Dubai. Reviewed very nicely on Tripadvisor. It has good veg food in a clean and nice family oriented environment. The restaurant was fantastic. A Gujrati thali experience – with nice ghee chapatti and dal-bati. And the price was cheaper than what you would pay in Mumbai or Pune. Inflation has driven prices in India out of the roof. What a pity, someone has to travel to Dubai to experience affordable and authentic Indian dining experience.
After my lunch I found a public bus that would take me to Abu Dhabi. Buses from Dubai start at Al Ghubaiba Metro station and take you to Abu Dhabi bus station in the city, from where you can take a shuttle to the airport. These shuttles are one per hour – I guess not many people travel from this city bus stop to the airport. Luckily I had enough time at hand and just waited for the bus to arrive.