This article is part of the main article: Around the World in 2 weeks (2012-2013): Introduction and Planning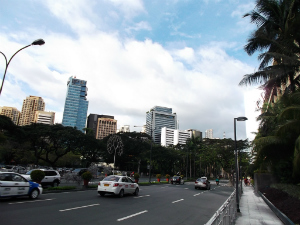 Manila airport reminded me of Mumbai. Both cities are large and chaotic, and thankfully the airports are the same. Mumbai airport is composed of 2-3 terminals, same is the case with Manila. Anyways, immigration was quite quick. I exited the airport to be welcomed by throngs of family and touts, dodged them looking for an ATM. Once I had my pesos, I marched towards a official taxi counter and took a taxi to my hotel.
Luckily it was Christmas eve, and people were home dining with their friends and family hence the traffic was a bit light. It took about 30-40 minutes to reach Makati where I was staying in Tune hotel. I like the Tune hotel concept, it is a low cost business hotel. Similar model as Easyjet flights – pay as you go kinda. My wife and I had stayed in Tune in Indonesia and Malaysia, so I knew what to expect. Many first timers get shocked when they have to pay for towels, internet, etc. but I didn't mind as the room was nice and clean, and most of all safe.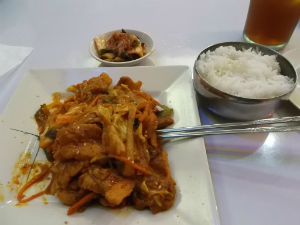 I dropped my bags and immediately went out hunting for food. My worry was that things might be closed early for Christmas and I would starve. Patils don't like to by hungry, even for a bit – it holds true for me, my wife and now even my daughter. I found a mall open nearby. Walked into the food court and had nice Korean meal for 7-8$. Prices are quite expensive for food court dinner. Compared to US prices or so. I have observed this in many countries. India, South Africa and now Philipines – if you try to eat or shop anything in fancy malls, the prices are equal or more expensive than US or EU standards. But luckily the food was good, and being a big fan of Korean food, I was really happy to see Korean food. What did I know that Makati is full of Korean restaurants. Every corner has 1 or more of them. Over the next few days I had my fill of Korean food and Kimchi.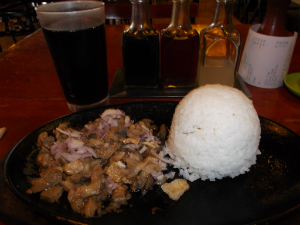 After the meal I walked into the supermarket in the mall. I chose two important things – water and beer, and of course a 250 ml bottle of Rum for 50 cents. Can't go wrong with this. The rum tasted great. Similar to an Indian Old Monk rum, a cult classic. My philosophy on such trips is to not take any vaccinations. I think 2 or 3 sips of rum or whisky disinfect your stomach completely. And I think cheaper the booze, the better disinfectant it is. Based on this hypothesis, my health was in good hands. Thanks to Tanduay's 50 cent rum.
Next day my stomach was great, thanks to the Rum, but my sleep wasn't. Jetlag was killing me. I couldn't sleep and was feeling hungry in the middle of the night. This is what happens if you keep on traveling east without any rest for your body to recover. But people close to me know that sleep is one of the most important things for me. I usually touch the bed and I am sleeping, much to my wife's dismay. But I couldn't bring this magic to work in Manila this evening. These are the moments when you regret adventures and lonely travels. I can't stand insomnia, not even for a single night. I wanted desperately to be home with my family. Thank god to the Internet and Skype – I called them and couldn't see and talk to my family immediately. They were eating their Christmas eve dinner in Hungary. At that moment I was alone, and I really missed them and just the sense of being with family.
So many fleeting thoughts crossed my mind. Even a thought crossed that what am I doing here; I should be home for Christmas. Should I just cancel it all and fly back to the Patil girls, or maybe to India as it is closer. Sleep depravation made me crazy. It was not just this night, but also previous few, as I wasn't sleeping well for past few days or not sleeping at all as I was traveling. But I composed myself and said that tomorrow will be different and lets take this day at a time. Earlier, before getting married I could travel alone very easily. I had many legendary trips. But since I am married traveling alone is not easy at all. I get lost without my wife – it's the same when I am traveling alone or when she goes to Hungary without me. Every time she goes, I feel like a stranger in my own house.
Anyways, a good medicine for loneliness or jet lag is a good book. I am glad I downloaded some nice ebooks on my tablet before I left. I had 3 mistakes of my life on my tablet and started reading it. Chetan Bhagat the author is a fabulous writer. His earlier book, '2 states' is a nice heart warming story about 2 people from different Indian states coming together and getting married. But his book '3 mistakes of my life' is completely different – set against the backdrop of communal violence in Gujarat, it is a story of cricket, religion and politics. Except the last 10 pages, it is quite an easy read. The author has an intelligent style of writing, and being an Indian it is very easy to identify with his subtle jokes.
In the end I slept around 5 am that night, snoozing through my alarm from 9am to 10, and then to 11 and I eventually woke up around noon. I had earlier planned to go to Intramuros (old Spanish part of the city), but the reception told me that it might be closed for Christmas. I finally decided to go to the center to walk around and get a feel for the city itself.
Manila is one of the only Asian city with a huge Spanish influence. The people and street names are all Spanish. It makes you feel that you are in Spain or Latin American city. Surprisingly I didn't see a huge Spanish influence on the food here. Similarly in India, there is no British influence on Indian food, I guess there is more Indian influence on British eating habits.
Only Spanish influence in the area of food and drinks is that San Miguel is the most sold beer here.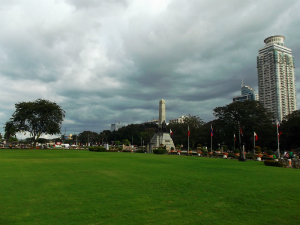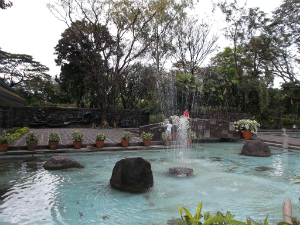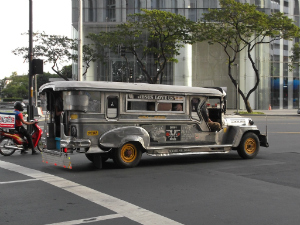 I took the metro to the city center. Manila metro is like Mumbai suburban train. Crowded and functional but not stream lined for public convenience. Only annoying thing is that they have a security that checks your bag at every entrance of a mall, metro and train in Manila. But that goes fast. In the center I went to Rizal Park – quite a nice park. With many many Manilan's taking their kids and family to the park to enjoy Christmas day off. The park was packed. On one side there was a nice amusement park and plenty of shops all around to keep the guests entertained all throughout the day. I browsed through few of the shops and was able to snag a nice gift for the family.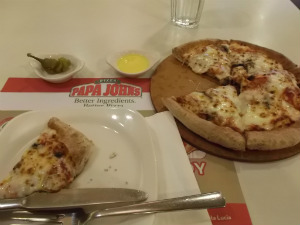 I decided to get to the hotel before dark. On my way back I saw Papa Johns Pizeria. Since my days in the USA, Papa Johns mushroom pizza with Garlic sauce had always been my weak point. Here too I went for the traditional mushroom pizza with Garlic sauce. It was fantastic. Made me very happy. After that I walked to the hotel and thought I might sleep early to catchup on my sleep. But guess what? That didn't happen. I felt immediately hungry. I decided to take a walk, and came across a nice Korean bbq place next to the hotel. Ordered a nice bbq grill with all the works and really enjoyed it. I told the owner I will come back tomorrow. This fancy Korean meal, in a road-side restaurant, was cheaper than the small Korean dish I had in the mall yesterday. After dinner I was walking back to the hotel…
… in any city you go, you at least check how the fairer population of the city looks like. If they are attractive or not? You don't have to ogle, but you give a quick look and try to gauge the situation. If you sneak a quick look, you never get eyed back – usually. Hence, while walking back to the hotel, I tried to do the same as I would do in any city around the World, but the problem was that my sneaky look was met with a stare and a quick follow-up question – Hello, what do you think, you wanna go… something along this lines. This really caught me by surprise. I really looked down and rushed to the hotel. It is quite uncomfortable actually when many people are staring at you, but you don't want any of that. During my walk, I saw many young girls soliciting along the Makati ave. Makati is a major financial district. With many large hotels in the area. I guess in the evening the business changes from financing to other kind of financing. While walking back to the hotel, dodging gazes and questions from many girls I felt how difficult life in India must be for young girls. Not everywhere, but at least in big cities like Delhi. Where they have to constantly live under the fear that someone is staring at them or making cat calls.
Anyways, I was back at the hotel – but guess what? I could not sleep again. I hated the dogs barking outside, the rooster roosting at 3am didn't help either. Man is a complex animal – at home my wife wants to talk to me while in bed and I wanna sleep. Now that I am lonely and cannot sleep I value her talking a lot, I would give anything to hear her talk now. But the funny thing is that once I am back in the Netherlands with her, I will ask her to stop talking and let me sleep. That's how life goes. I am thinking, how people survive in jails, in solitary imprisonment. Loneliness and boredom must be a killer, or maybe people just grow into it slowly.
Finally, I managed to sleep around 6 or 7am in the morning. What a tiring night. I also decided to move to a hostel for my last night in Manila. Hostels are perfect for such trips, you meet people, there is interaction and someone to eat and drink with. Luckily there is a wonderful hostel nearby and they have a bed free. I could quickly book it online.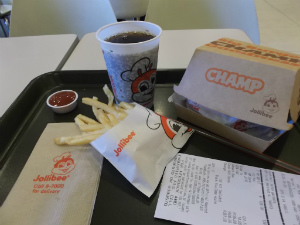 I woke up around noon again. I had an easy day planned today. I thought of walking around Makati, going to a mall as I wanted to buy a shot glass for my collection. And most importantly hand out my laundary so that it is ready by tonight to be picked up. On my way to the mall I ate at the Phillipino Mcdonalds, called Jollibee. Was quite nice but just a little sweet for my taste. The mall was like regular American mall, luckily I could get a shot glass at one of the stores. That made me quite happy.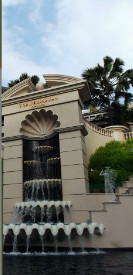 On my return I walked straight to the Hostel – Our Melting Pot, in Makati. What a fantastic place. Immediately once I arrived the hostel host and other guests made me feel welcome. There was a group of guest who was just returning from a nice tour. What a pity I stayed at Tune hotel instead of staying here. Once this group settled down we started drinking beer in the lobby. To celebrate Christmas Hostel host had prepared dinner for all the guests. It was traditional Philipino cuisine. Fantastic food – nice noodle dish with meat, along with grilled aubergine and other small dishes along side. What a great way to treat guest. I felt so happy, I should have done this before.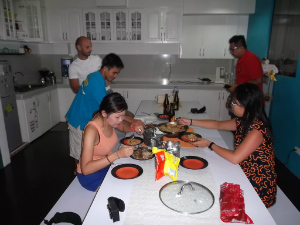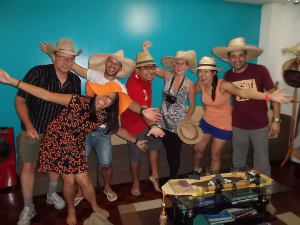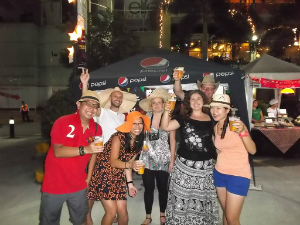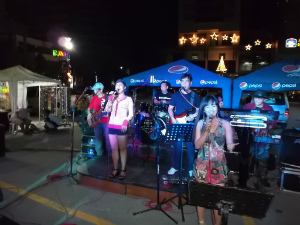 After dinner and drinks at the hostel the plan was go downstairs in the square next to the hostel where there was Christmas market and live music. We tried some traditional dishes at the market and drank a bit more. It is really fun to drink cool beer in nice muggy conditions. It was Christmas and winter season in Manila, so to say. But actually it was really warm and muggy. The live music was fantastic – all Hollywood numbers delivered in Philipino accent. But the singing girls were full of energy. I had to sneak back to the hostel early to catchup on my sleep and also as I was waking up early to catch up my flight around noon.
I slept like a baby that night, woke up around 9am and went straight to Tune hotel next doors to clean up and check out. This room was paid in advance and I thought I can sleep at the hostel and come back to Tune to cleanup and all. Worked out perfectly. After checking out I headed straight to the airport.