This article is part of the main article: Around the World in 2 weeks (2012-2013): Introduction and Planning
Over the next 3 days, I was going to attempt what I call Criss-Cross. I was able to trick the United Mileage Plus in ticketing this itinerary for a very cheap price (17 K united miles and around 9$ in taxes) – all in business class. My itinerary looked like this.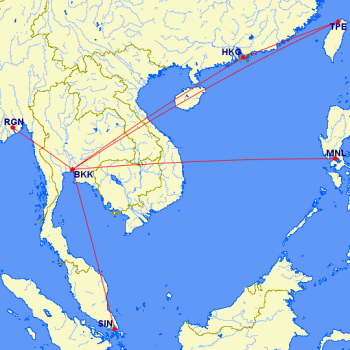 Thai 621, from MNL to BKK on Dec 26, 2012 at 1:10 p.m.
Thai 636, from BKK to TPE on Dec 26, 2012 at 5:40 p.m. (a night at TPE airport)
Thai 609, from TPE to HKG on Dec 27, 2012 at 7:40 a.m.
Thai 601, from HKG to BKK on Dec 27, 2012 at 1:25 p.m. (on their A380)
Thai 409, from BKK to SIN on Dec 27 2012 at 4:35 p.m. (a night in Singapore hostel)
Thai 408, from SIN to BKK on Dec 28, 2012 at 8:15 a.m.
Thai 301, from BKK to RGN on Dec 28, 2012 at 1:00 p.m.
The adventure begins in Manila airport…
Manila airport is not for the faint hearted. Long queues start even before I entered the terminal. I thought Indians carry a lot of baggage, but nope, Philipinos are a step ahead. The airport felt like a huge bus terminal – with luggage, people and queues. I finally entered the airport, and as I was flying business class with Thai Air, I could skip the queues and checkin directly.
The checkin for the criss-cross went fine. Only problem was where could I pick my bag. As I was planning to spend tonight in Taipei the agent said I can pick my bag there, but I was not planning to get out of the airport. I wanted to stay in the transit zone in Taipei and not go to the land side. I told the agent about my plans and told her to check my bags to Singapore and I will collect them tomorrow night. The agent was a bit confused about my itinerary but in the end she was fine with it and I could collect my bags in Singapore.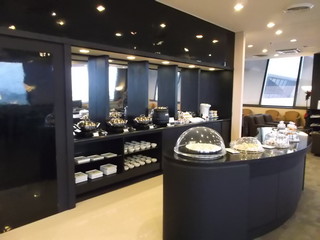 Manila airport is nothing special, quite a drab looking terminal building actually. There are two star alliance lounges in MNL. As I am a star gold and flying business I was eligible for both. I quickly checked into the Singapore air Silver Kris lounge. But the problem was there were about to close.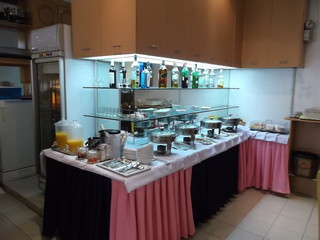 I got a quick peak there and then decided to go to the Thai Air lounge to spend my rest of the time there. This lounge looks like someone's living room. Couple of tables and few large couches lying around. There is a small food corner on the side, but the food did not look appealing at all. However, on the other side they had a pretty good selection of spirits. But I was in no mood for drinking this morning. As you know I had not slept well over the past few days and thought it is better to catch up on my sleep rather than my drinking.
Once I checked out of the lounge, I took a short walk around the airport. Changed my philipino pesos to some Singapore dollars. I will be in Singapore for 1 night tomorrow and as I will be landing late evening I wanted to be prepared with the cash in hand so that I can take the metro quickly and go to my hotel.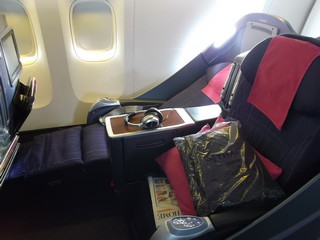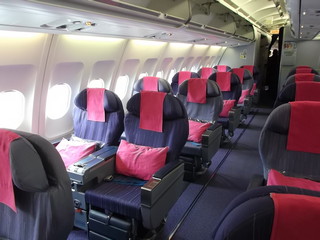 My flight to Bangkok was on a Thai Airways A330. Thai A330 business class does not feature lie-flat business class seats. They have a recline of around 160deg with a slope. It is not too bad for a short flight, but I would not want to sit in them for a long flight.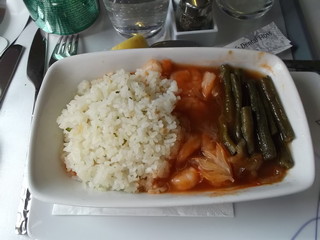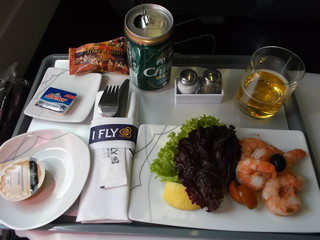 It was quite an uneventful flight. I got some reading done and caught up on my sleep. The food was decent, but I was more sleepy then hungry. I took a short nap and it was time to land in Bangkok. Bangkok (Suvarnabhumi) airport is nicely done. When my wife and I were there this may, we could not use the complementary spa offered there as we were not traveling exclusively with Thai but were connecting to Singapore airlines flight there. But today I was able to get a nice thai back massage. Thai massage for the uninitiated can be quite painful. Its more finger/elbow poking rather than palm massage. It is a bit uncomfortable at times but gets the job done. I think you don't enjoy the massage parts as it is painful, but the day later you realize all your joints and body feels more nimble. I survived this back massage. Tomorrow when I return to Bangkok from my way from Hong Kong I will try the foot massage on offer.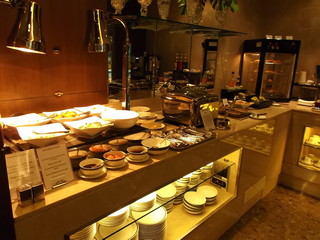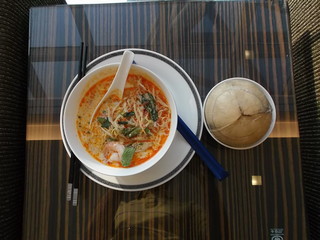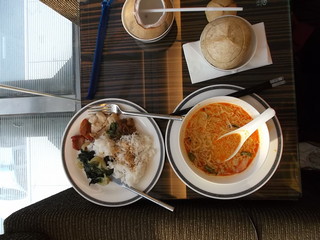 The best thing about Bangkok airport is not the Thai Airways lounge although it is their base airport. Thai airways lounge is ok, but I love the Singapore airlines lounge at BKK. They have the best noodle soup available at any airport lounge and to top it up they serve fresh coconut water. Last time I was at this lounge, I remember I drank atleast 3 coconuts, and I kept the record again this time by drinking water 3 fantastic fresh coconuts.
The criss-cross is going well so far. I am on my way to Taipei now. Thai Airways allows you to book special meals for their business and first passengers for departures out of their home base (BKK). Business class meals are already great but these meals are even special you can book beef, special seafood, etc. I booked special beef curry and that was just fabulous, and the accompanying service was amazing too. I like the Thai business class service; the flight attendants walk around with a trolley and serve you what you like.
This was a short flight to Taipei, and I had a night to spend at the airport. While booking the criss-cross it sounded fun. But today when I actually have to spend the night at the cold and dark airport I was not too excited about it. I think once you are 35 all these adventures you did when you were younger do not sound that appealing. Anyways, I had no backup option. I was not planning to leave the transit zone I had not booked any hotel in Taipei, so the airport was my only chance.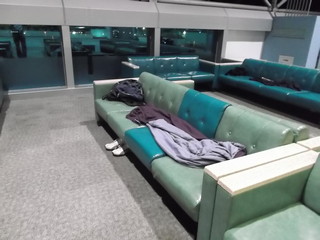 Just to keep me warm I took a blanket from the business class cabin. The last time I was in Taipei was in 2005 and 2007. I have always enjoyed my visits to Taipei. It is a pity I will not be heading to the city. But flight lands after 10pm and next morning my flight to Hong Kong departs at 7am. There is not enough time. To leave the airport and come back in the morning. In fact I might save time and catch some sleep at the airport itself.
I am at Taipei airport now. The ground handling person was looking for me at the gate. She was curious why i am doing this criss-cross. She doesn't understand that I just came from Bangkok, I will spend a night at the airport and tomorrow I will head back to Bangkok via Hong Kong. Why am I doing this, why did not I just go directly from Manila to Bangkok to Rangoon. Why am I taking 3 days and 5 additional flights to do the same route? I explain it to her about the special A380 segment tomorrow from Hong Kong to Bangkok. I told her this was the only way to add the special A380 segment to the itinerary. She appreciates my passion and tells me where the best place to spend the night will be. Anyways, I follow her directions and find some nice couches (long ones) to spend the night on. I realize I am not the only one in transit who will be spending the night here. There are few other passengers with long transit planning to do the same.
I have the couch, I have the blanket and it is time to sleep. I manage to get 3-4 hours of solid sack time. That really helps me and I wake up happy, ready for my short flight from Taipei to Hong Kong.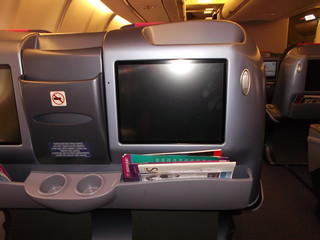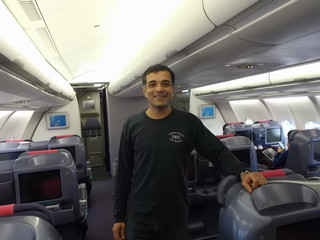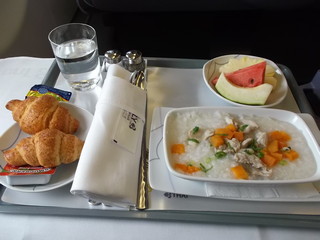 I board my flight and what do I see, it is the same great crew from yesterday's flight to Taipei. The crew also spent a night in Taipei and is now heading to Hong Kong. Flying in business is always good, as there are so few passengers the crew has time to talk to you and get to know you a bit. I was an instant star on the flight. The ground handling person had already updated the crew that I will be heading to Bangkok via Hong Kong and I am doing this special criss-cross and am passionate about the Thai Airways A380. The crew was quite enthusiastic to see me again. They were asking me about my trip, and my round the world adventure. The crew was planning to take a break in Hong Kong for a couple of days before resuming flight duties. In fact they wanted me to get down in Hong Kong with them and continue this adventure a day later. However, I told them that wont be a good idea as my wife will not approve of me to spend a day traveling with all the Thai flight attendants. I bid them farewell at Hong Kong and went to the United Airlines lounge.
I usually avoid any of the airline lounges offered by American' Airlines. American companies are well known for their customer service, except their airline industry. That is the worst in the world. Anyways, I go to the United lounge in Hong Kong not for their food, drinks or service, but their showers. They really offer good showers. Nice water pressure and large shower pods. I am refreshed and then I go to the Thai Airways lounge for food. With my business class boarding pass along with Star Gold I am entitled for almost all of the star alliance lounges in the network.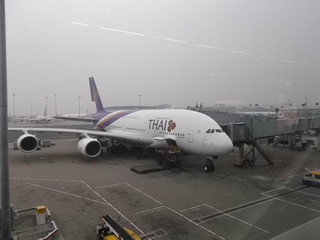 After the shower and some food I notice I am exhausted – I haven't been getting enough sleep over the last 1 week, because of all the flights and jet lag, etc. Anyways, I shrug my tiredness, take a short walk around the airport and prepare myself for the moment I have been waiting for. Riding the A380 in the business class. Hong Kong airport is fabulous for taking a walk – it has an open and airy design. After my walk around the airport, I go to my gate. I see the A380 standing in all its glory. I snap a few photos of the great big whale. Such a fabulous looking machine, and looks even more beautiful in Thai Airways colors.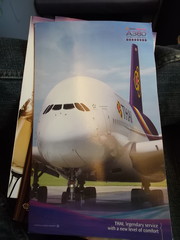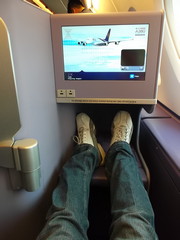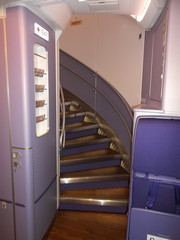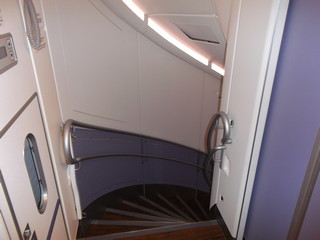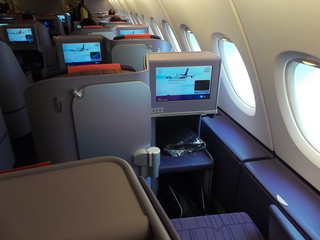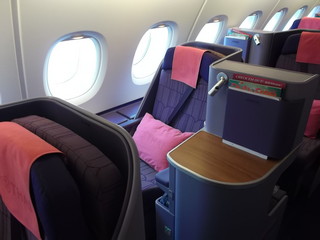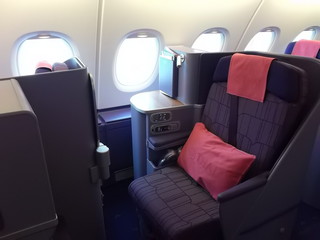 I board early, just to take photos of the business cabin. They have a nice setup in the business class – Royal Silk. This cabin has single suites style seats along the windows and double seats in the middle. Both First and Business class are on the upper deck. I like their seat configuration for the A380. Nice looking flatbeds in business giving a lot of privacy – almost like an exclusive first class experience. Unlike Lufthansa, which went for an angled flatbed on their A380. what were they thinking, by installing an angled flatbed on their flagship aircraft. I was bowled over by the hard product offered by Thai Airways on their A380 – the seat was good, lie-flat, decent size, offering privacy and a nice large screen to watch videos.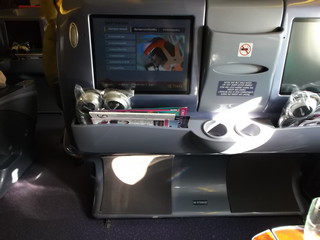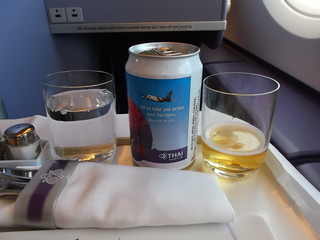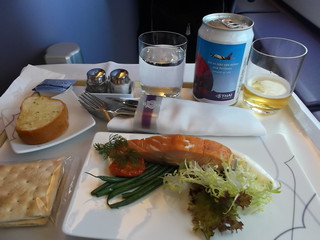 However, the service was a bit indifferent on such a short flight. I know HKG to BKK is a short 3 hour flight but even in business I saw that the flight attendants were a bit distracted and hasty. After last evening top-notch experience from BKK to TPE I was really expecting high class service on their flagship A380 but I was disappointed with their soft product. I think this is the problem with Thai Airways that their service tends to be hit or miss. That's why it is not up there with the top airlines such as Singapore, which consistently offers the best service in the air, anytime.
The flight in itself was uneventful. We had a late departure from HKG and due to strong headwinds were quite delayed coming into BKK. I was not too happy about this, as I had planned a nice foot massage at BKK airport and due to this delay that was not going to be possible.
Anyways, at this point I was too exhausted and I had a moment of weakness and wanted to really quit this criss-cross and head straight to Rangoon and relax for a few days. In this moment of weakness I went to the Thai Airways counter and told them that I would like to cancel my Singapore leg, and instead of bkk-sin-bkk-rgn…with a night in Singapore, I would like to go directly to Rangoon, either today or tomorrow. Thai air said no to this. I do not understand why., it was a win-win deal for them. They could have freed a business class seat, to and fro to Singapore.
What could I do, I had to go to Singapore. I decided to enjoy the trip. I tried going to the lounge spa anyways, but the attendant told me – no massage for me, as my flight is departing very soon and in fact I need to rush to the gate for boarding. I don't even have time to enjoy the lounge this time.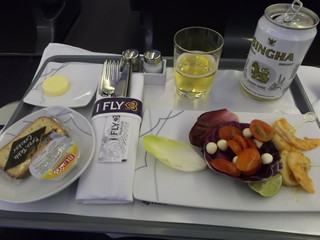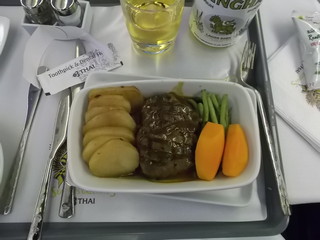 This flight to Singapore was quite uneventful, I just catch up on my sleep and grab a few bites to eat.
Once I land in Singapore, I expect my baggage to be delayed. What are the odds that my bag made this criss-cross since yesterday morning along with me. But it did! It was the last on the luggage belt but it was there. I quickly grab the bag and take the metro to the city. I love Singapore airport and the city, everything is so nicely arranged and things work very efficiently.
I have booked a night at the Tree Inn Lodge, Singapore. It is close to the Bugis MRT station. Quite a lively area with a lot of food options around. The hostel is a nice place to spend a night, with free wifi, etc. I checkin, grab a bite to eat and have a drink and I am ready to hit the bed. I have to wake up around 5 am to make it to the airport by 6.30am for my 8am flight back to Bangkok. I am getting tired of constantly having to wake up and catch flights.
I love hostel stays, but not when I have to wake up early next morning. As I was staying in a dorm, I did not get great sleep. People were always coming in and out and I kept waking up. Anyways now I am at the airport, all checked in for my flight to Bangkok and then to Rangoon. The checkin at Singapore airport was fantastic and I got a private checkin booth as I was flying business. But anyways, I am so exhausted at this point that I don't even care about the business class and enjoying the flight. I just wanna sleep and not fly for a few days. I can't wait to get to Rangoon.
Luckily I sleep well on my flight to Bangkok and as I have a quick connection in Bangkok for my Rangoon flight I go there. My flight to Rangoon is uneventful. I eat, drink and sleep and am looking forward to my next stop – Rangoon.