This article is part of the main article: Around the World in 2 weeks (2012-2013): Introduction and Planning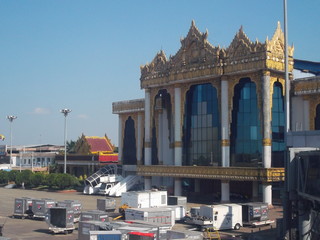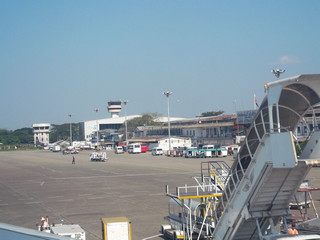 I land at the Rangoon airport. It is quite an eclectic airport – a mixture of old and new. I am in Rangoon just at the point when it is opening up to tourisms. When I planned this trip, not much information was available about visiting this incredible country. Even getting a visa was quite time consuming. Anyways, I managed to get one on time. The immigration experience at the airport was quite good. Things went pretty smooth. It is a small and efficient airport, and my bags were at the belt on time.
While planning this trip, one of my biggest concerns was finances. There were not much reviews about Rangoon, but whoever wrote things about Rangoon, mentioned their difficulties about currency exchange. And it was said that only crisp USD notes were accepted. Anyways, when I landed in Rangoon I saw that the agents also accepted Euro notes and I was able to exchange my euros for Burmese Kyat. The exchange was roughly 1 eur = 1000 kyat. I kept my crisp USD notes for later.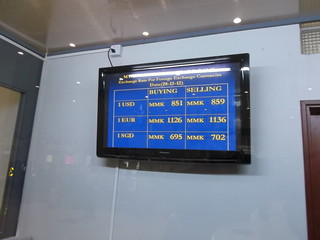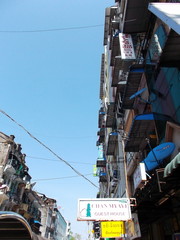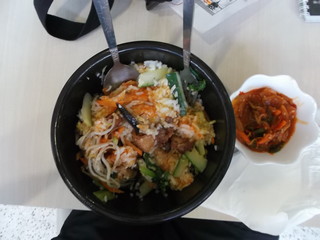 The taxis from the airport to the city are old vehicles from Toyota. The taxis takes me to the old part of the city close to the train station. As per the internet reviews I had a simple guest house, Chan Maye guest house, booked in the city center. It's a nice little guesthouse, but not for the faint hearted as it is located 6 storey high. I drag my luggage up there and check in. It is already late afternoon when I am settled in the guesthouse. I freshenup and then decide to take a walk. I feel right at home. Rangoon city center is very similar to Indian medium size city's center. After my walk, I head to the train station to look for any food joints. I found a local mall, with a nice looking, clean food court. I head there and check what my options are. I have always had a weak spot for Korean food. I order a nice claypot with rice and meat. It is quite tasty. After my dinner I walk to an Indian temple and relax there for a few minutes.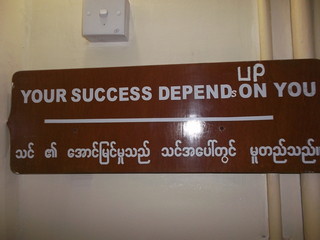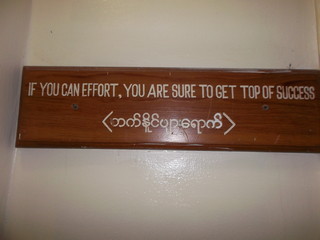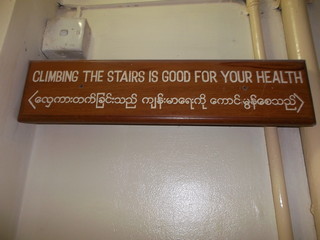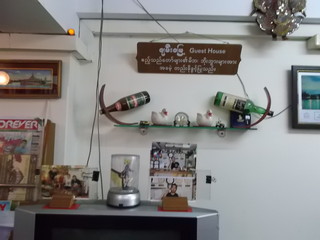 While returning to the guesthouse and while climbing the stairs I notice the sense of humor of the guesthouse owners. They have boards, with nice proverbs posted on every storey, encouraging people to climb to their guesthouse.
Next morning I wake up fresh. I have slept 14 hours straight. I have finally caught up on my sleep. I feel really happy and am ready to explore the city. I was planning to walk to Shwegadon pagoda today, but that aint happening. It is very hot and the mid-day heat is unbearable. I am surprised to see Rangoon so hot in December. Cities in India cool down in December. Although it is a neighboring country the weather is quite different here. Anyways, I decide to get some lunch and then take the circle train around Rangoon that the guidebooks talk about.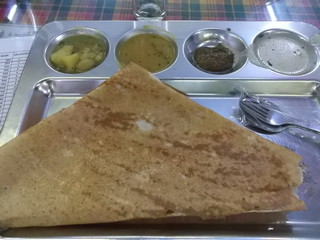 My dosa is amazing. This place is recommended by Lonely planet. The problem with lonely planet is that by the time they recommend a local joint in their guidebooks, and by the time you visit this joint it has changed completely from being a local joint to now exclusively for tourists.
Circle train in Rangoon, is a trip in itself. I thought indian trains are something special, but this circle train was a nice shock. A totally different experience – it is an open air train. Something along the lines of an Old Mumbai Suburban train, but without any windows and doors. The train stopped every few minutes. The local market was actually on the train rails. Everytime the train approached sellers moved their stuff out of the way so the train can pass and once the train passed, they put their wares back on the rails. People in the train could buy things right through the train windows and doors.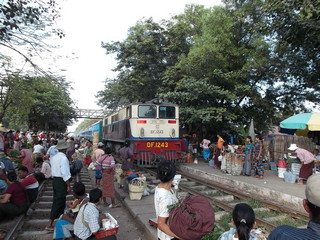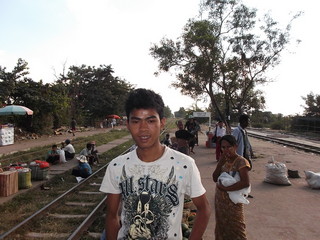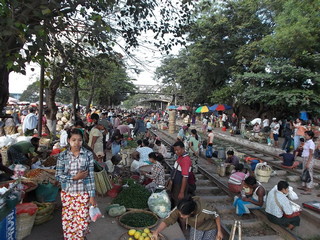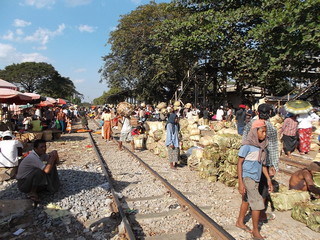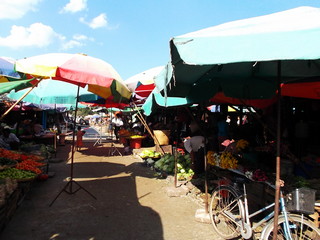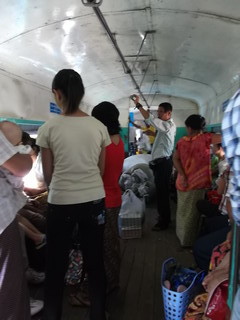 On the train I started talking to an young local guy. He was an English teacher and initiated the conversation with me to improve his English skills. We made a couple of stops around a few local markets. Then we took the bus and went to Inya lake. It is a very popular lake with teenagers. In the evening it is kinda romance capital, almost everyone in their teenage years coming to the lake to chill and take walk, hand in hand. In the past, Burmese political prisoner Aung San Suu Kyi, was under house arrest in her residence along the shore of the lake. We took a walk around the lake, and my new friend updated me about the life in Rangoon. We grabbed a couple of cool beers and enjoyed it along the lake, watching the sunset.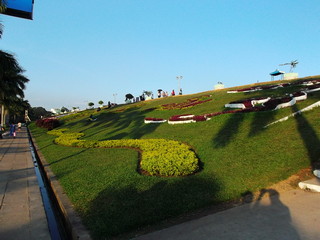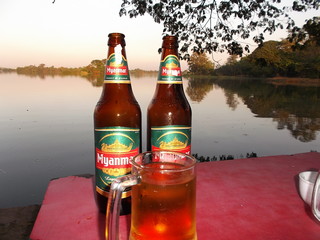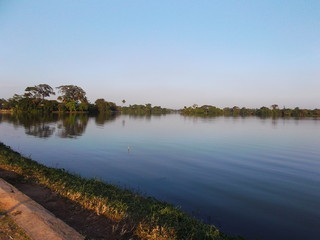 It was almost dusk; and time to go home. My friend took the bus home and I grabbed a bus back to my guest house. The buses in Rangoon are quite different too. Perhaps 20-30 years ago Indian city buses would be like that. The local population is very friendly, relaxed in some ways and very welcoming. I hope they do not change as the country opens up to tourism. Tourism can change people very quickly.
For dinner that night, I went to Bharat resto, again a Lonely Planet recommendation. It was good food. I had a nice thali of local, somewhat Indian, delicacies and I was a happy man.
I observed that many establishments around Rangoon have a photo of Aung Sui. She is quite famous. People seem very happy with the change in regime in Myanmar and they are glad that their country is opening up to the World. I can see Myanmar is changing, and will be changing, at a very rapid pace. For example, the reviews about Rangoon mentioned that only USD can be changed in arrival in Rangoon and there is no ATM in the city. And these reviews were only a few months old. However, now I could change Euros easily into Kyat and I already spotted a couple of ATM's in the city. I need not have worried about money/currency that much, it has really changed for the better.
Back at the hostel, I grabbed a couple of drinks and chatted with fellow travelers. I am just amazed by the number of German travelers. Anywhere you go, you will always see Germans. If they are traveling everywhere, who is working in Germany? 9 out of 10 foreigners in our guesthouse are Germans. Surprisingly no Indians, although we are a large neighboring country not a single Indian in the guesthouse. Perhaps Indians are not ready for adventure tourism, or perhaps they stay in hotels, etc.
But the connectivity between India and Myanmar is not that good anyways. There are 3 flights a week between Rangoon and Kolkotta and that's it. On the other hand Thailand, Malaysia and Singapore each have atleast 50 flights a week to Myanmar. India lost a big chance with Myanmar – they should have helped Myanmar during the opening up to the World. On the Rangoon roads, I see Toyotas and Lexus, but no Tata or Mahindra. Who is designing Indian foreign policy? Myanmar would be a fantastic new market, and not just a market but they have so many resources that India needs. A chance lost.
What I found unique about this city is that there is a mix of left and right hand drive vehicles. Some vehicles are left-hand drive and some are right. Fantastic! Never seen such mixture before.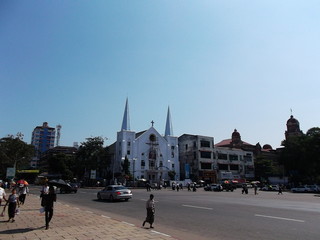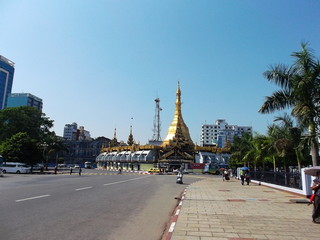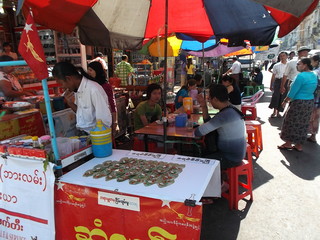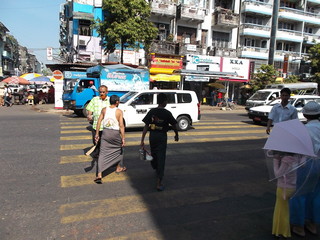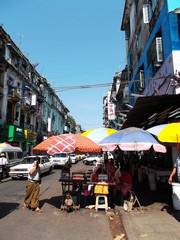 The next day, I head to the Scott market to buy some souvenirs. I take a walk around the market. It is such a tourist trap. Nothing local about it. Anyways, I find a couple of gifts for the family. It is getting noon and quite warm actually. I grab something to eat and head to the guesthouse for a mid-day siesta. I have a long afternoon ahead of me as I would like to go to the Pagoda today and need all my energy.
Once I wake up I head straight to the Shewe Dagon Pagoda. It is one of the largest temple complex in Rangoon and one of the most holy sites in Myanmar. It is a 30 minute walk from the guesthouse, I just walk there.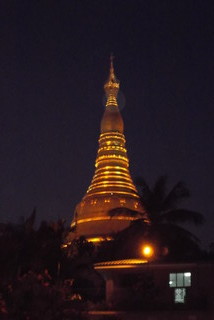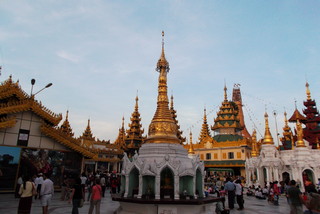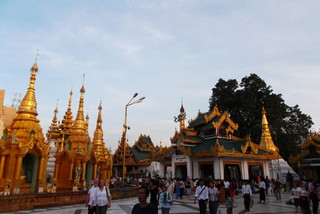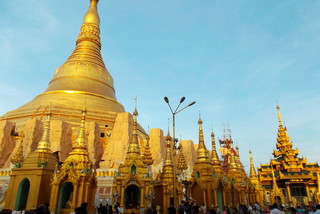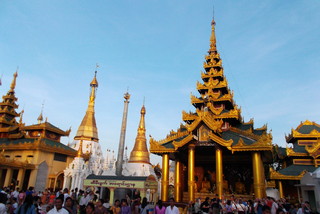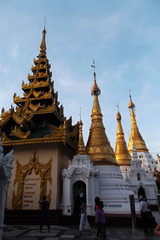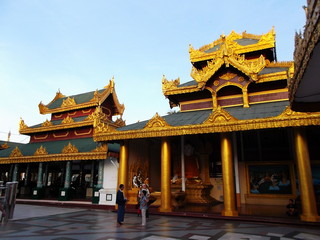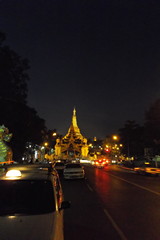 It's a beautiful complex, and in the afternoon sun the pagoda's are shimmering. Such a breathtaking site. I visit few of the temples within the complex and then sit down and watch people. I love people watching and here you can see people of different color and race all doing there own thing. The tourists are taking photos of the temple, and the locals are there to pray. I wait until sunset, and then walk back to the guesthouse. Although, I have slept well over the last 2 days, I am still not 100%. All these flights and cityhopping is taking its toll. Perhaps I am slowly getting old. Anyways, tonight is the last night of the Asian leg of the trip. Tomorrow night around midnight I will fly to Tokyo and begin my special trip in business class to USA. I hope it works out, as it is an error fare, I still have a bit of doubt if everything will be fine. Anyways, I have read on flyertalk.com that other people with similar fares went through their trip without any problems. So I am optimistic.
After dinner, I pop a paracetamol for body pain and go to sleep. I wake up fresh. I have nothing special planned today. Just to walk around the city and relax. Today is the last day of the Asian leg (I have a few hours in Tokyo, but it is still transit). I am relieved it is almost done. I am looking forward to go to Minneapolis and meet my friends. It is time to get back among familiar people, I feel exhausted. There were just too many flights and too many cities in a very short period.