Since Etihad launched their First Apartments on their A380 last year, I wanted to try that product. In this era of flying when more and more airlines are reducing their offerings and cramming more seats on the plane, Etihad has taken a novel approach and are in fact giving space to passengers. Not just space, like some extra few inches here and there, but actually creating a new revolutionary Apartment and Residence concept. Now this is what I call radical innovation.
As an avid frequent flyer miles collector, I was a great fan of 2 programs in the recent past. American Airlines advantage and British Airways Avios. Avios is a distance based redemption program and offered fantastic deals for business upgrades. My favorite was premium economy to club world upgrade on British Airways from Amsterdam to Mumbai or Delhi (via London). However, last year all of this changed. British Airways has completely devalued their Avios. Now it takes twice as long to collect Avios and the value of Avios have halved if you would like to redeem. Lose-lost situation, I say. Unfortunately, American Airlines will be doing the same with their Advantage program from the end of March 2016. Facing this devaluation, I am spending my AA miles before they lose value.
And what better way to spend it, then on Etihad A380 First class apartment product. Cannot wait to try this in May. I will be flying from London to Mumbai and back (via Abu dhabi) all the way with Etihad A380. Etihad has been flying their A380 to London since last year and soon (from May 1) will be flying A380 to Mumbai. On this trip to India in May – I will be flying in their Apartment 4 times! Great opportunity to review their product from different angles.
Etihad offers First Apartments only on their A380's. Usually airlines that offer first class, offer 1 seat to a passenger and this seat converts into a bed when required. But not with Etihad – at Etihad a passenger flying in an Apartment gets a separate BED and a SEAT. So I can sleep for few minutes and then get up and get some work done without having to waste any time in aligning and realigning the seats. Why waste precious time! after all time is money. The following 2 photos taken from etihad.com give an impression of their apartments.


More details about the First Apartment can be found here.
If you fly in the Apartment, it is a given that food and drinks will match the experience. Other than that you can take shower in the air, while flying at 30000 ft in the air. Isn't that amazing! I know I can always shower at home, but how many people can boast that they have showered while flying. Of course, if I am still bored there is still a nice lobby and bar for first and business passengers.
The ground experience should match my First class experience in the air. Etihad has a nice first lounge at London, and they are about to open a new First Class lounge at Abu Dhabi. Can you believe, the opening of this new lounge is in May. Hopefully it opens at the beginning or at least mid-may otherwise I will miss that experience. Etihad promises that their new First class lounge in Abu Dhabi will be 'spectacular'. I am not surprised, given their radical innovation with First Apartment and Residence, I do not expect anything less than spectacular. Etihad has shared a photo of their new shimmering lounge entrance. See the photo below (Source: Etihad).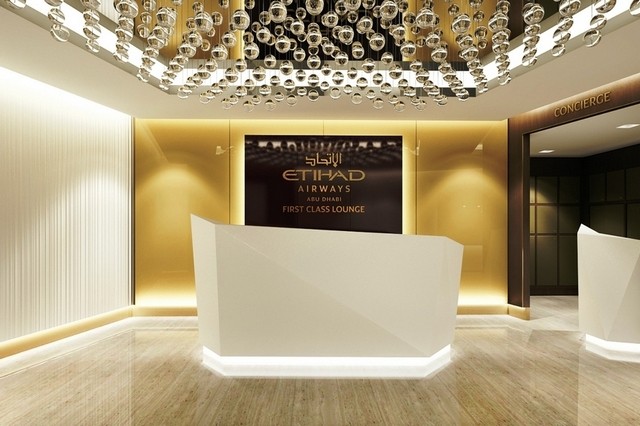 Unfortunately, if the new Etihad First Lounge is not open by the time I fly in May, then I will have to make-do with the old First Class lounge. My previous review about the current lounge can be found in my article Around the World in 2 weeks, Part 4: Abu Dhabi Airport Etihad First lounge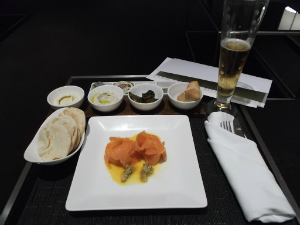 I am quite excited about my trip in First Apartment this May. I have already selected the seats and looking forward to a spectacular experience. Hopefully, the new lounge open by then otherwise I will not be able to experience that. After the devaluation of American Advantage miles, I do not think I will be able to afford flying in First Apartment any more.