As an Indian abroad, I usually face two questions every now and then. First is about the caste system and the second is about Indian women. I think both of the above are mis-perceived in the western mind-set. The media really portrays that the caste system is still very prevalent and plays a prominent role in India, and secondly most of the Indian women are really forced to stay at home where they cook and clean, and thats it! Even my wife earlier called Indian women jokingly as 'Accha girls', which means that Indian women just say 'yes, its ok' to whatever their husbands say.
The reality is very far from truth. Indian women are not ordinary – they are extra-ordinary. I thought, some research is due and it is important to check the ground reality and see how women in India compare to those in the Netherlands and the USA.
About the caste system – I personally belong to a backward caste and I have to say, not even once I have felt discriminated in India. When I say this to people, many of them respond that  – you are not backward caste. How do they know? Anyways, I have a certificate to prove it. One person even went as far to say that – Oh! you are backward caste, then its good that you left India and came to the Netherlands. However, they fail to see that my brother back in India is a successful doctor, and has no issues with discrimination. Not just that his wife, as an Indian woman, is also a doctor. I can see that some people in very small villages may get discriminated against based on their caste, but I cannot see such discrimination happening in medium or large cities. However, how is this different than the discrimination of white vs black or discrimination based on religion in the west.
Female CEO's at Global 500 companies
To start with I have researched women CEO's in India, the Netherlands and the USA. To start with I have downloaded the Fortune Global 500 rankings for the year 2015, which rank the top 500 companies in the World. The complete rankings can be found here. I have chosen a standard ranking system, such as Fortune, so that all the companies on the list have been chosen with the same criteria and methodology.
To carry out the analysis, I have selected Indian, Dutch and US based companies and visited each of their websites to identify if they have a female CEO. The aim of this activity was to find if there is a glass ceiling for women in the above mentioned countries, and whether determined women can reach the top in the business world. The data presented in the table below is up-to-date as per February 2016. The findings are summarized below.
There were 13 Dutch Companies in the Global 500 list. However, NOT A SINGLE one of them had a Female CEO. This is shocking – Netherlands is a very proud 'Equal' country, where Men and Women share all chores and try to be fair. However, this is not reflected in the board-rooms of large companies. Not a single female is leading a large company in the Netherlands.
There were 7 Indian Companies in the Global 500 list. TWO of these companies have a female CEO. Even a large petroleum company (petroleum industry has traditionally been a male bastion) is being led by a Female. 2 out of 7 companies have a female CEO for India, which is 29%.
There were 128 US based companies in the list. TEN of these companies have a female CEO. Surprisingly, one of those CEO's is Indian born – Indra Nooyi, who is the CEO of PepsiCo. 10 out of 128 companies have a female CEO for USA, which is 8%.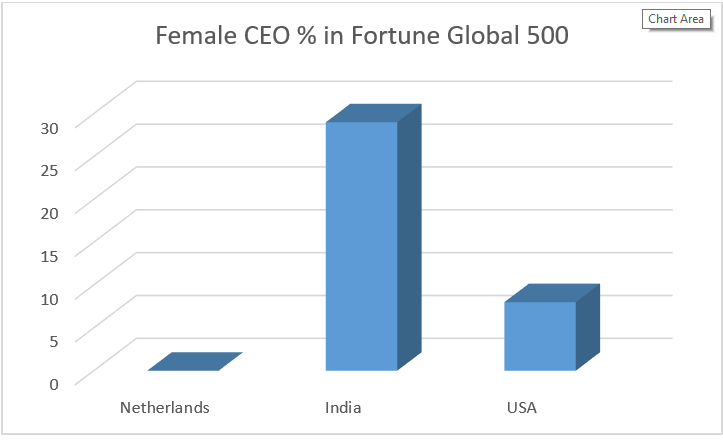 The list for Dutch (table 1) and Indian (table 2) CEO's for the top companies in the Global 500 rankings is presented below. For the USA (table 3) – instead of listing all the 128 companies, I have just listed the 10 companies that have a female CEO.
Table 1:  Dutch companies in Global Fortune 500
| | | | |
| --- | --- | --- | --- |
| Rank | Companies | CEO | Male/Female |
| 3 | Shell | Ben van Beurden | Male |
| 40 | Trafigura Beheer | Jeremy Weir | Male |
| 91 | ING | Ralph Hamers | Male |
| 151 | Louis Dreyfuss commodities | Gonzalo Ramírez Martiarena | Male |
| 163 | Aegon | Alexander Wynaendts | Male |
| 236 | Lyondell Basell | Bhavesh Patel | Male |
| 153 | Unilever | Paul Polman | Male |
| 248 | Royal Ahold | Dick Boer | Male |
| 331 | Achmea | Willem van Duin | Male |
| 385 | Philips | Frans van Houten | Male |
| 394 | Rabobank | Wiebe Draijer | Male |
| 460 | Gasterra | Gertjan van Lankhorst | Male |
| 463 | Heineken | Jean-François van Boxmeer | Male |
Table 2:  Indian companies in Global Fortune 500
| | | | |
| --- | --- | --- | --- |
| Rank | Companies | CEO | Male/Female |
| 119 | Indian Oil | B Ashok | Male |
| 158 | Reliance Industries | Mukesh Ambani | Male |
| 254 | Tata Motors | Cyrus Mistry | Male |
| 260 | State bank of India | Arundhati Bhatachrya | Female |
| 280 | Bharat Petroleum | S Varadarajan | Male |
| 327 | Hindustan Petroleum | Nishi Vasudeva | Female |
| 449 | ONGC | D K Sarraf | Male |
Table 3: USA companies, with female CEOs, in Global Fortune 500 (10 out of 128 companies)
| | | | |
| --- | --- | --- | --- |
| Rank | Companies | CEO | Male/Female |
| 21 | GM | Mary Barra | Female |
| 82 | IBM | Meg Whitman | Female |
| 137 | US Postal Service | Virginia Rometty | Female |
| 141 | PepsiCo | Indra K. Nooyi | Female |
| 237 | Lockheed Martin | Marillyn Hewson | Female |
| 300 | Oracle | Safra A. Catz | Female |
| 348 | Mondelez International | Irene B. Rosenfeld | Female |
| 386 | General Dynamics | Phebe Novakovic | Female |
| 410 | TJX | Carol Meyrowitz | Female |
| 462 | Duke Energy | Lynn Good | Female |
Female Pilots in India and the Netherlands
As an avid flyer, I was checking the numbers for Indian Pilots for commercial aviation. According to the Times of India, complete article can be found here, Almost 600 of the 5,050 pilots in Indian airlines are women, according to the Directorate General of Civil Aviation (DGCA). At 11.6%, this is way above the 3% global average estimated by the International Society of Women Airline Pilots. India is also seeing a steady rise in women pilots annually. The last five years saw 4,267 commercial pilots' licences being issued, of which 628 or 14.7% went to women.
Below Graphic shows the number of Indian Female Pilots on commercial aviation. Source: Times of India (Nov 2014)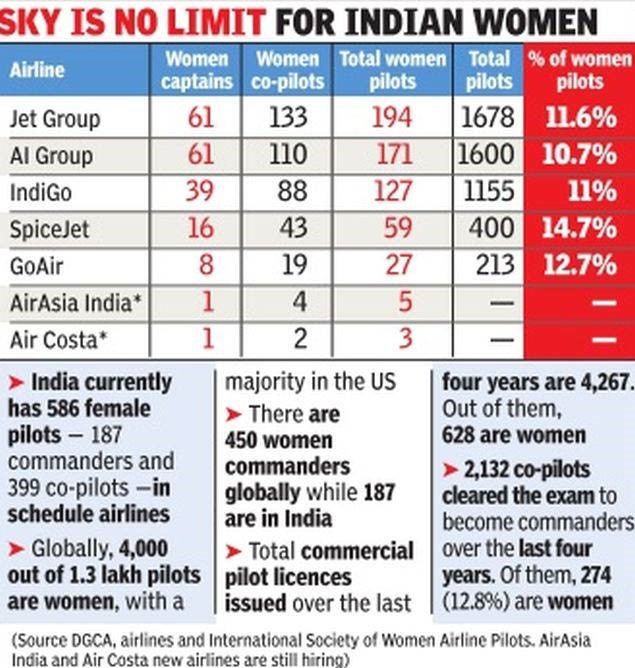 To compare, I checked KLM website. In their FAQ section, as available on this site https://www.klm.com/corporate/en/about-klm/students/faqs.html. KLM says that they employ 115 female pilots, out of the total 2700. That implies that around 4% of the KLM pilots are females. That is way below the percentage of Indian female pilots in commercial aviation, at 11.6%.
Many people perceive India as a very stagnant, slow moving country. However, that is not always true. If you work hard and are determined you can reach anywhere and achieve anything you life. Entrepreneurship is truly valued. India's current Prime Minister – Mr Modi, used to sell tea at a railway station. And today, he is leading the largest democracy in the World. Very few countries can boast of this. I guess the only other country where this could happen is the USA. Anyways, getting back to Indian Women – India had a female Prime Minister – Mrs Indira Gandhi. She ruled (sometimes ruthlessly) India for 16 years. She became the Prime Minister in 1966, when in many European countries such as Portugal and Switzerland not all women could vote. Women in Switzerland gained the right to vote in federal elections after a referendum in 1971. Women in Portugal received full legal equality with Portuguese men as mandated by Portugal's constitution of 1976, which in turn resulted from the Revolution of 1974. Because of this, Portuguese women received the right to vote and full equality in marriage. Now compare that to an Indian Woman becoming a Prime Minister of a nation of 1 billion people, in 1966!