Flight report: Air India in Economy class
Flight number: AI 866
Equipment: A320
Origin: BOM (09:00)
Destination: DEL (11:30)
Flown: August 2019
Cabin occupancy: 100%
This was the first time I was at the domestic terminal of the Mumbai airport Terminal 2. The new Mumbai Airport is fantastic, you can spend a few hours walking around the terminal and admiring the art exhibit.
Our Air India A320 scheduled to take us to Delhi this rainy morning. Fortunately, the rains cleared right before the departure time.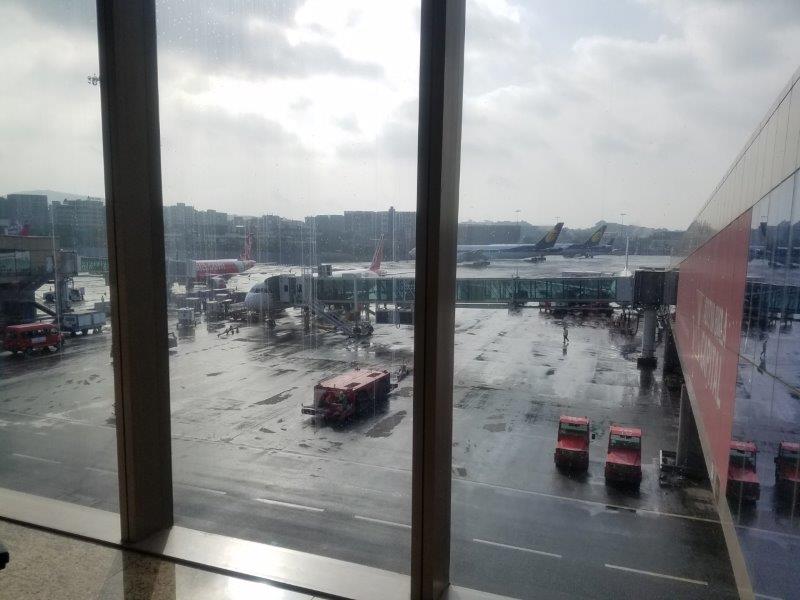 The flight was completely full, but as Air India allows free checkin baggage I did not notice any problems and fighting for the space in the overhead bins. The leg-room in the economy is quite decent too. I was quite happy with the hard product on this Air India flight.
Right after take-off there was a quick meal round. Air India offers a water bottle right as a part of the meal so no additional drinks round took place.
I chose the veggie option and I received potato paratha and chick pea curry. Although, it was airline food the quality and taste were quite good. I liked the mango yogurt I got as dessert – great way to finish off the meal.
Air India is made fun off, but they offer a very decent quality product. We had a free checkin bag, along with a warm meal option on such short domestic hop. I was happy with the flight and would definitely fly Air India once again.