At close to 4000m elevation, lake Titicaca is the highest navigable lake in the world – and truly a sight to behold. The lake is huge…and the water and sky at that elevation spectacular. The lake is split 60-40 between Peru and Bolivia respectively. We were in La Paz and you could easily make a day trip out of it. Although, the lake looks tantalizingly close from La Paz – it does take around 2.5 hours to get to Copacabana and back from there. I think the roads are fine most of the way, but the vehicles operate at slower speeds due to all the twists and turns. Furthermore, half way through you need to get down from the bus and take a ferry to cross at San Pablo de Tiquina, while the Bus is ferried too. This adds a lot to the time. Anyways, all things considered – this is a fabulous day trip out of La Paz.
We were staying at Loki hostel in La Paz. The hostel was advertising this trip for around 30eur/person – with food and transport included. We were tired from our Uyuni and salt flats tour and decided to take advantage of the day trip offer. Looking back we should have done this independently – take a bus there in the morning and a bus back in the evening. As we went with the hostel tour we wasted a lot of time everywhere. For example, they picked us from the hostel in the morning at 7am and we wasted a lot of time in La Paz – driving around while others are picked up and so. We left La Paz around 9am. Anyone wishing to go to Copacabana would be better off heading to the main bus terminal in La Paz, which is right in front of the Cerveceria Boliviana Nacional in the middle of the city. Please note that there is a terminal fee of 2 BOBs to depart from this bus terminal.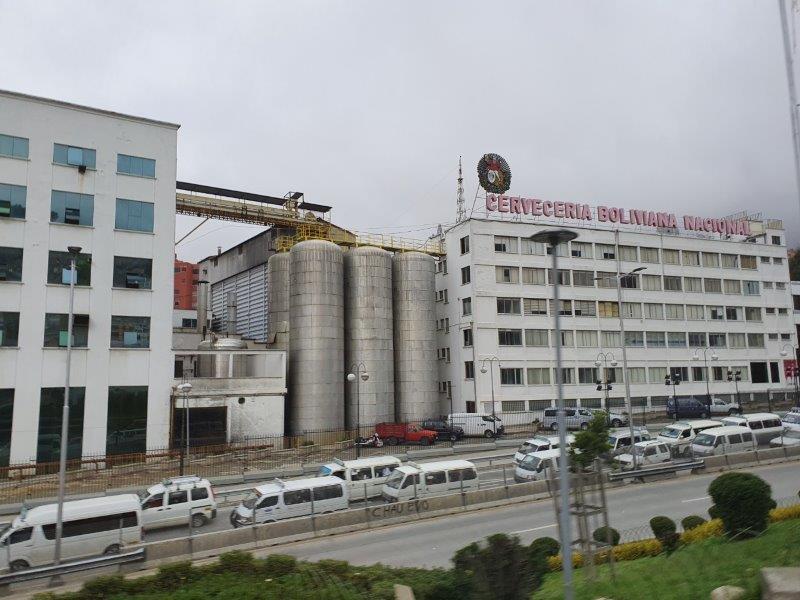 Half an hour later, after you depart La Paz you start driving around the eastern edges of the lake. The sight is gorgeous.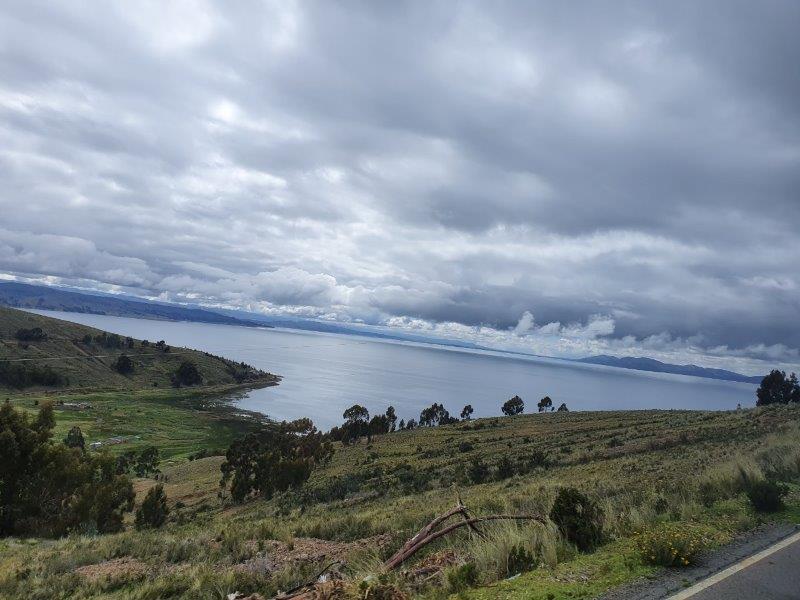 The crossing at San Pablo de Tiquina, where you have to get down the bus and take a ferry across. The bus is taken in its own ferry, while you take a smaller ferry. Again, you need 2 BOBs per person. The crossing takes 15 mins, but overall you lose around 45 mins of so – while all disembark and embark once again.
Once we came into Copacabana we were taken for lunch – which was included in the package. It is a simple daily menu, without included drinks. You get soup and a choice between fish and pasta. I chose fish and it was tasty. If you do this trip on your own, then you have a choice of more than 100 restaurants at Copacabana.
The dock at Copacabana. It was a gorgeous day when we arrived here – with clear skies and clean blue water. There is not much to see within the city, but I am sure it is a pleasant place to base yourself to visit sites around Lake Titicaca.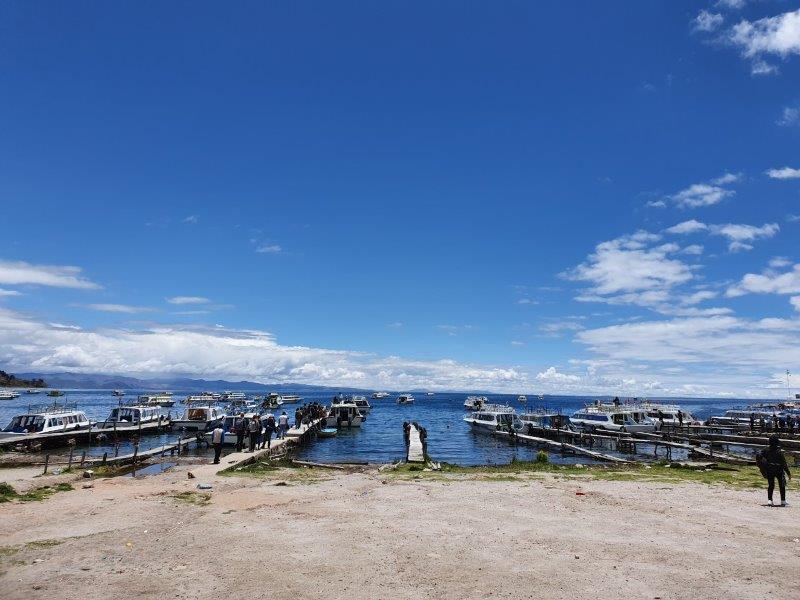 We took a ferry to Isla del Sol. The ride takes around 1 hour, and it is a very pleasant and relaxing ride. Offering 360 degree view of the lakes and its sites.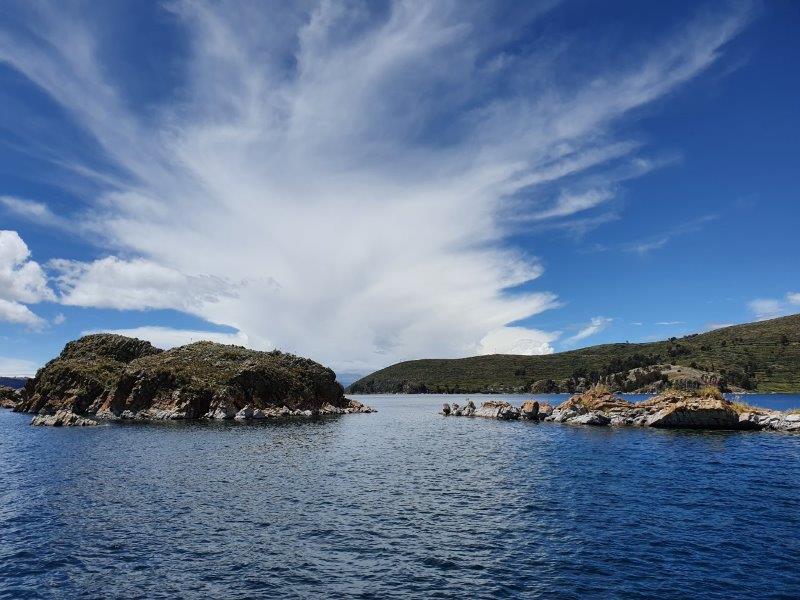 We landed on the south-eastern side of the Isla del Sol. It is the largest islands of the lake. It is a rocky, hilly island with no motor vehicles or paved roads on the island.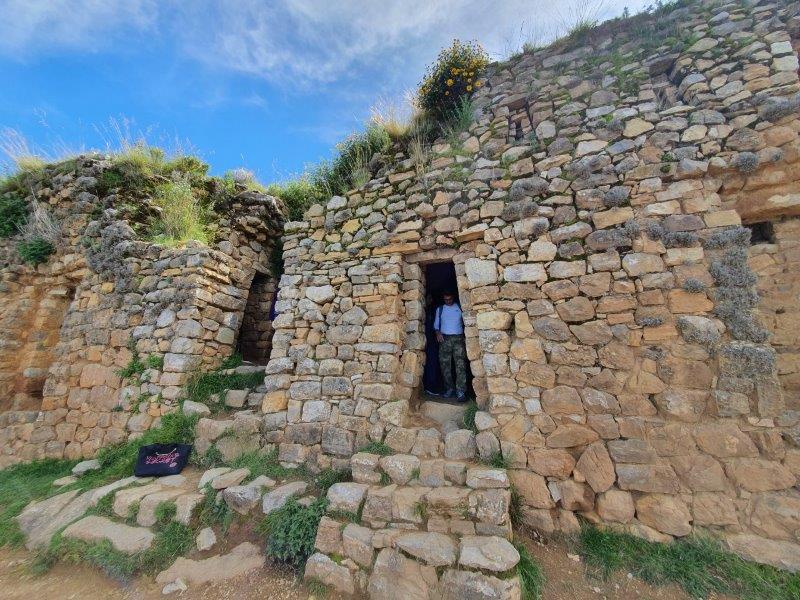 It is a large island, and nice to walk around. But beware – it is quite hilly and given the elevation you have to walk up and down in slow motion in order not to feel sick due to altitude.
As there aren't any paved roads the transport around the islands is still carried out with donkeys.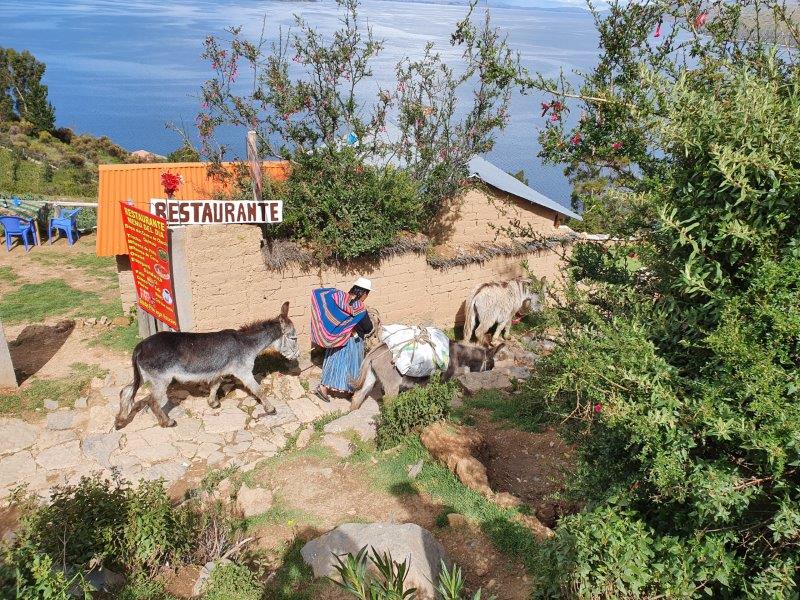 An Inca goddess protecting the island.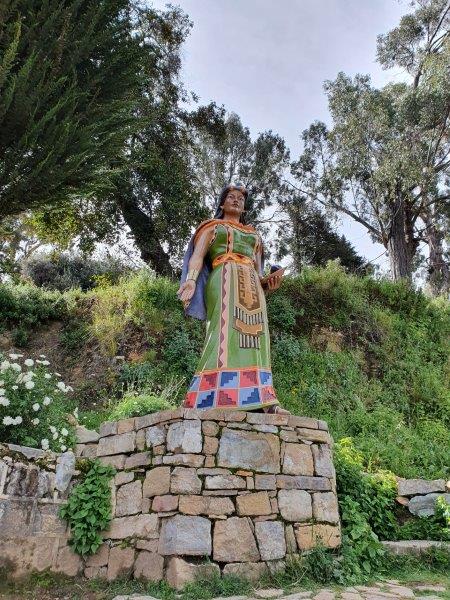 Nice colorful houses lining the dock at the Isla del Sol.