Flight report: Avianca in business class
Flight number: AV 247
Equipment: A320
Origin: BOG (20:41)
Destination: LPB (01:30)
Flown: February 2020
Cabin occupancy: 60%
After a wonderful day in Bogota, we were back at the EL Dorado airport for our flight to La Paz, Bolivia. El Dorado is a wonderfully pleasant airport – very airy and open checkin area and quite modern facilities. As we were flying business, our checkin took a few moments and we were on our way to security and immigration. The security took a few minutes and I saw a lot of queues were open.
Thereafter, we headed to the lounges. There are two Avianca lounges in the international terminal – one for business class and other for elite (including star gold) passengers. As we were flying in business, and I being a star gold elite – we had access to both. It was around 7pm now and dinner time. The lounges are quite well maintained – and right next to each other. Food wise, the business lounge is a notch above buts get very crowded, while the Elite/*gold lounge is much larger and many more facilities (such as showers/kids areas, etc).
Our flight to La Paz was around 20:40, and we headed to the gate around 20:10. The boarding had already begun. We quickly boarded through the priority lane and were onboard in no time.
Our ride to La Paz, Bolivia today…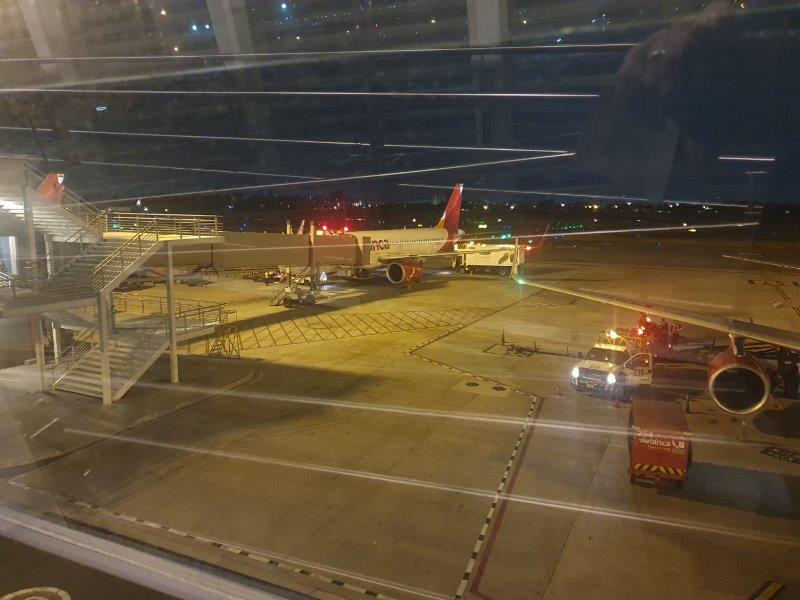 We were in row 1, right after the bulkhead. The business cabin is made of 3 rows, and the cabin was clean and nicely kept. On the seat was a pillow/blanket – wrapped in plastic. For this short 3+ hour hop to La Paz there is no amenity kit offered.
One thing I find strange about Avianca is that you cannot use the blankets during take-off and landing. The FA's ask you to store it as per the Avianca security guidelines.
The seat is fine for a short hop, but I would not be happy with it for a longer route. There is a lamp right by the head rest, and there are seat controls in the arm rest. The seat had a small recline and a single button to control it. As you can see that there is not much leg room (I am 5 11", and the leg room was barely enough. Luckily, no one reclined in my face.
Once on board we were offered a welcome drink. I took just water – as I knew I will be landing in La Paz soon at 4100m above sea level and did not want to drink alcohol, which would have made it more difficult to adapt to this high altitude. There were decent head-sets in the arm rest we could use.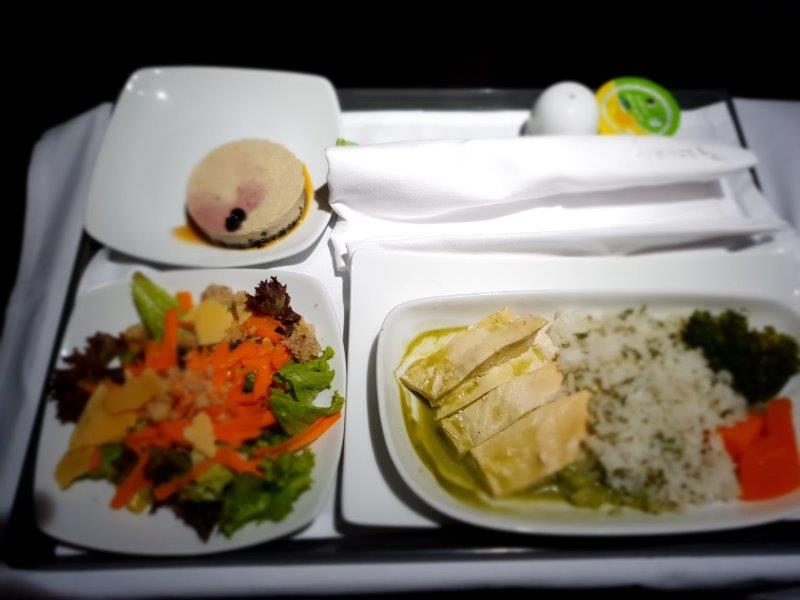 The crew was non-engaging and non-present. I flew in Business class and the Avianca business crew pales in comparison with what other airlines offer. The Avianca crew was not confident in English, and perhaps this is the reason they were uncomfortable engaging with the passengers. However, this lead to a boring and non-welcoming flight for me. Luckily it was a short hop and not much of a concern.