Flight review:
American Airlines in Business class
Flight number: AA 997
Equipment: 777
Origin: DFW (7:30pm)
Destination: EZE (7:55am)
Flown: October 2014
Cabin occupancy: 70%
Lounge at DFW: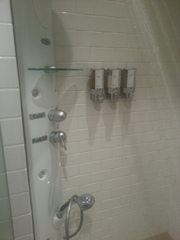 I was coming from Amsterdam, via LHR to Dallas and after a long flight was looking forward to a nice hot shower. The Admirals club in Terminal D offers a fantastic shower room. Once I checked in into the lounge I let the lounge reception know that I would like to shower. Surprisingly the wait wasnt too long and I was offered a shower room soon. The shower is quite good. Large enough so you have your personal space and the water pressure is quite decent too. There are water jets that can massage your body, whose height can be easily adjusted but lowering or raising the shower panel. After a refreshing shower I went to the lounge to relax. The lounge is huge and offers a lot of space to travelers. However, on the food front its offering are quite basic when compared to European lounges. Coming from LHR where BA lounge offers a fantastic buffet and an open bar with top-shelf liquor, this lounge was really a step down.
Boarding at DFW: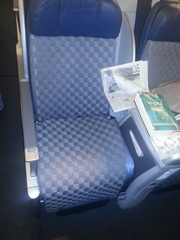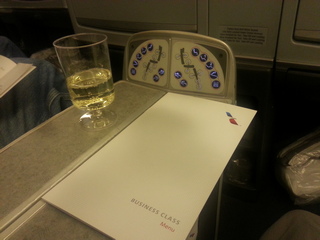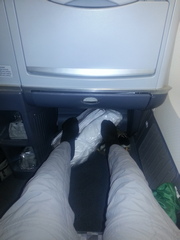 The boarding was quite organized. First were the premium passengers and then economy. Once on board, the cabin looked spacious. The 777 is showing its age though, the seats are not totally lie-flat but large enough to give enough personal space. I hope AA will offer its new herringbone seat layout (found in some of its 777 plying the JFK-LHR route), with lie-flat seats and access to aisle for every passenger, in all its 777.
Once seated I was offered a pre-boarding drink, and the business class menu was already in the seat pocket.
Food: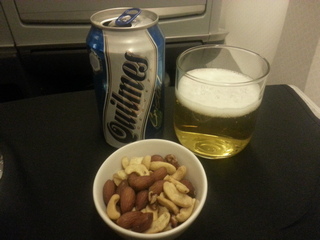 After take-off the service started with a drink and warm nuts. I chose a nice beer to go with the nicely warmed nuts.
Pretty soon the flight attendant came for the meal choice. I was debating between the beef steak or chicken. But quite a few times I have been burnt with the steaks, as they have been quite dry. Thus this time I chose chicken, which was the signature dish for this flight. I have to say, all the food was tasty. However, the presentation of the signature dish left a lot to be desired. Although, the taste was good and it was the signature dish, it was presented in a very hap hazard way. It seemed like the chef was in a hurry when it was put together.
A few photos of the appetizers and main course are below.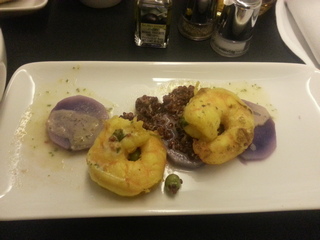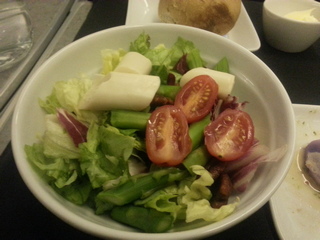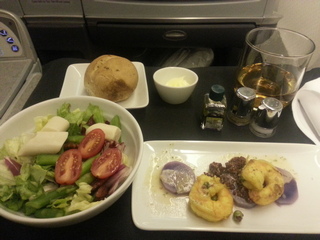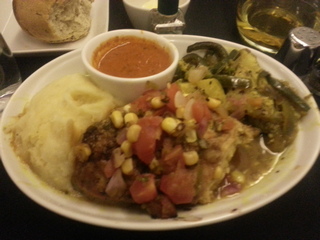 Breakfast: 
It was very nice. I opted for the Eggs and hashbrown, along with a fresh fruit platter. It was tasty and just what I needed before I headed into the city.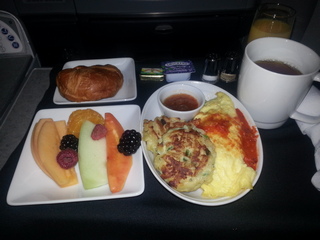 Verdict:
American business product is average, nothing special but nothing to frown about. The hard product needs refurbishment. The angled seats do not offer great sleep on such a long flight. I kept on sliding every now and then. The food and entertainment offerings were good, but the presentation could have been better. All in all, it was a good flight that brought me to my destination on time.