This report is part of the main article: An Epic Mileage Run – Flying to both Sydney and Singapore, twice in 14 days
It is almost 4-5 months ago that I had booked the Epic mileage run, where I will be flying for 5.5 days straight (Part 1 of the trip: 12 segment path: 38423 miles = 61835 km), then 3 work-days in the Netherlands and again 5.5 days of flying (Part 2 of the trip: 13 segment path: 39874 miles = 64170 km). I must have been crazy to have booked this. What was I thinking?
The reality is slowly sinking in. I checked the flight times and it looks like that once I enter Paris airport on Day 1, I will get out of Airport in Sydney, on Day 4. I will have around 10 hours to walk around and then again I will continue flying. It means that I just get to get out of any airport for 10 hours, out of 132 hours. This is insane.
At this point I am not sure I would like to go ahead with this craziness. The odds are 50:50. Fortunately, Iberia and British Airways have contacted me multiple times about schedule changes. Good thing about schedule changes is that if you do not agree with the changes, and if the changes are +/- 30 mins or more, you are able to get a full refund. Thats a good option to have at this point, if I would like to backoff this adventure.
However, if I really would like to pull this off, and do it in a safe manner, then I need to plan this properly. Firstly, I need to pack well (as it will be summer in Europe, but winter in Australia); secondly I have to have emergency meds such as pain-killers/anti-allergy; plan my activities properly on stopovers so I maintain my blood circulation… the list will go on.
At the back of my mind, I know I may be able to cancel and receive full refund if I decide to not go ahead in the last minute. However, just to be prepared and to give myself a fair shot of pulling this off successfully I get into action. Good thing is that I will be transiting nice airports. I personally know Madrid, London, Singapore and Sydney airports. The lounges at these airports for Oneworld Emerald are fabulous. It means that I will be well-fed, I can take showers when I need them and relax as much as I can when on ground. Luckily, the world's best airport – Singapore Changi, is the place where I will be transiting 3 times (during Part 1) and again 3 times (during Part 2). I love Singapore airport. The airport has nice gardens with water streams with nice fishes. A walk through such a park can always raise my spirits. On an earlier trip with my family, I took this photo of the airport garden.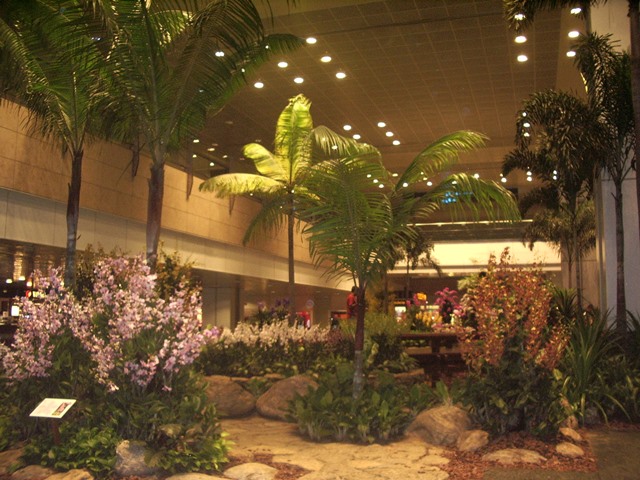 To get the planning going, I started by an internet search if any other flyertalker or crazy flyer have flown 5 days straight and how did they prepare themselves. However, such search comes out empty. I know, many people of Flyertalk.com have booked this fare, but no one has booked such a crazy itinerary. Where they are doing back to back Sydney/Singapore trips and flying so many miles in 14 days. Anyways, once their report comes in, and if they have successfully completed one Sydney return, it can help me gauge my chances of success.
On the internet there are various articles advising passengers about long-haul flights. I fly a lot long-haul, but I still decided to go through these articles to get some insight. As this time, I will be flying 6 ultra longhauls in a span of few days – take a short break – and repeat. Some useful advise from the internet forums, combined with my experience, I come up with the following list:
Packing
Pack light – no checkin luggage. given that I will have so many flights, it does not make sense to checkin luggage. However, when I miss connections, etc, any checked in luggage always delays the process. To minimise luggage, I am going to carry a sweater and a softshell jacket instead of a large jacket for Sydney.
Wear/Pack comfortable clothing. Focus on cotton clothes, which are soft and breathable. Nothing that will trouble the skin.
Pack emergency meds
Carry emergency cards/cash, you never know when the need arises
Scan all relevant documents (frequent flyer cards, passport, ID's, diploma, etc) and store them in email/online drive
A water bottle – I can carry it empty, but fill it up before the flight
Eye shades and ear plugs
Headphones for music and videos
Will carry a tablet (with tiny bluetooth keyboard) as a laptop and ereader replacement. This way, one gadget can perform all the functions, such as skype, ebook reading, typing the blog, etc. It is important to pack light.
A copy of the airport maps, and a list of activities that can be done. This is to optimize the time on ground.
Download apps of all the important Frequent Flyer clubs, which will give information about my status as well as in times of rerouting help me with a new (optimized) time schedule.
Content, content and content. I have downloaded music, ebooks and movies on my tablet and mobile. This should keep me occupied and entertained for more than an year. I think, boredom can bring about physical exhaustion very quickly. If I am entertained, I will be enjoying the trip!
At the Airport
Minimum amount of alcohol, before and during the flight (this is a pity, as I will have access to fancy first class lounges in London, Singapore and Sydney. However, if thats what it takes to win this, thats what I am gonna do. I will drink less – avoid hard liquor (I am gonna miss the Blue label in London Galleries First lounge), and focus only on beer (that too limited).
At every lounge, try to shower. I know I have access to showers in Madrid, London, Singapore and Sydney. Almost all the transit airports. This is to ensure that my blood circulation carries out normally. Hot water makes the blood flow nicely as you do not want any clots to develop due to prolonged sleeping
I know that there is a swimming pool at Singapore airport for the transit passengers. A bit of swimming will get the blood flowing nicely… a bit of exercise is always great
In Sydney I will have 10 hours twice – I will try to walk as much as I can. Fresh sun and air is always good for the body after prolonged exposure to airport/aircraft environment.
On the flight
Drink a lot of water – keep hydrated
Sleep. my plan is to sleep as much as I can on the flight and then once I am on the ground (within an airport) walk a lot.
Eat light. In fact my plan was to avoid flight food. I will be filling up in the pre-departure lounges itself. I will focus on greens and light food, rather than heavy greasy dishes.
With such planning I am atleast giving myself a fighting chance of pulling this off! However, only time will tell if I can do that in reality.