Qantas (Oneworld) Lounge at Singapore Lounge Report/Review
As all things in Singapore, this lounge too, is fantastic. It has great food, nice bar, clean showers and plenty of all of the above. It is not just that the quality is great, but even the quantity is fantastic. There are around 20 showers – imagine that for a lounge that is operated by Qantas as a satellite hub. Usually, such fantastic services are reserved for the first class passengers (not North American first class though), but at Qantas lounge in Singapore, even business class or Oneworld Sapphire can enjoy first class facilities.
As you know over the past 2 weeks, I was on an An Epic Mileage Run – Flying to both Sydney and Singapore, twice in 14 days. During which I visited the Singapore lounge 6 times. I have to say, every single time Singapore lounge impressed me. The service was consistently great. The lounge managers and attendants are fabulous and are genuinely interested in passengers well-being and comfort.
Airport impressions
Singapore airport has been consistently ranked number 1 in the world. It provides great service and is a fantastic transit stop. The airport itself is nicely constructed and the high ceilings gives it an airy feeling due to lot of natural light.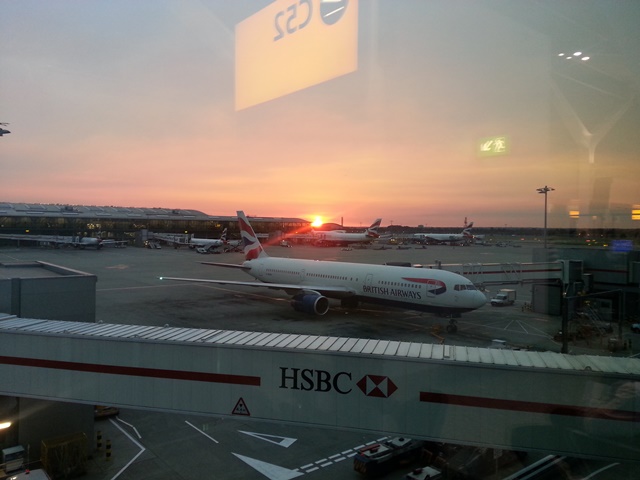 My BA 777 parked at the gate after landing from London
For transit passengers, the airport provides a lot of activities – shopping is one of the top ones, other than that there are gardens, koi fish ponds, you can shoot pool free, nice restaurants and a fantastic swimming pool.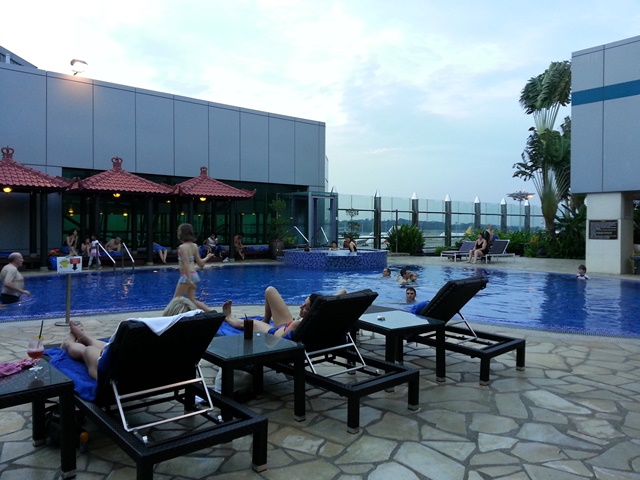 I made use of this pool a couple of times, during my 6 transits.
The pool gives nice view of the tarmac from the glass window on the far side.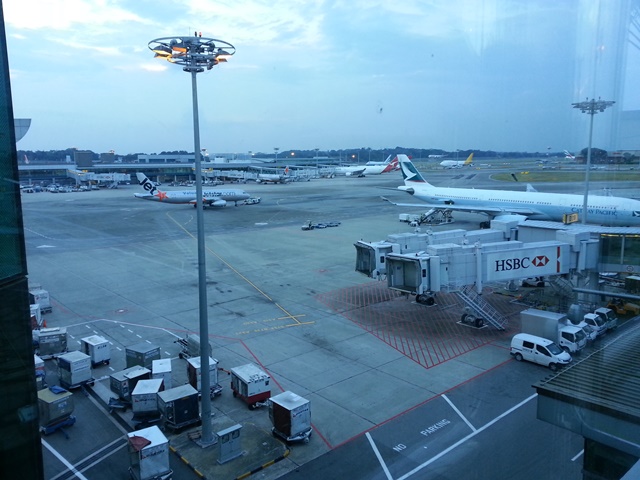 Of course, the highlight of my transit was the Qantas lounge. Although I was flying BA and has access to BA lounge due to my BA Gold card, I preferred to enjoy the Qantas lounge experience. Once, I even dared to visit the BA lounge, just to be fair to them as I was flying with them. However, I turned back in 10 minutes and headed to the fantastic Qantas lounge next doors.
Lounge Location
As per qantas.com, the location details are here
Airside, Terminal 1, turn left after Immigration, up escalators
Hours: 14:30 to 23:00 Daily
Contacts: Ph:+65 6543 8113 Fx:+65 6542 1380
A map obtained from qantas.com is shown below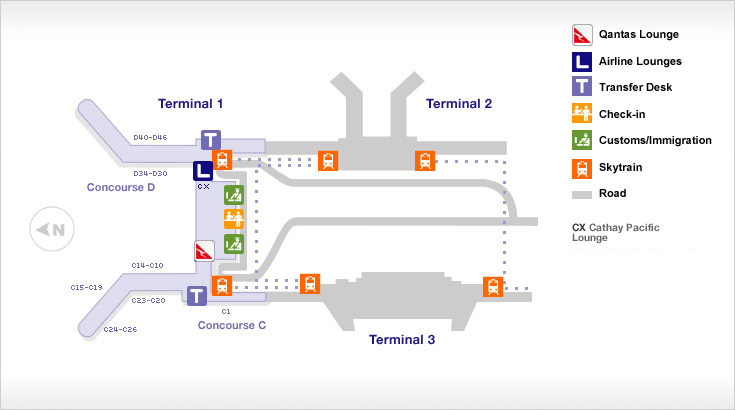 The lounge is located next to the BA lounge at Singapore.
Checkin
The lounge check-in agents were courteous every time I visited the lounge over the past 2 weeks. After my first two weeks, the lounge agents were a bit curious and I mentioned that I had a busy schedule and a lot of flights during this fortnight.
Food
The food in the lounge is fresh – there is a fully stocked warm and cold buffet whenever the lounge is open. Also, there is a fresh cooking station, with 3-4 counters where cooks can prepare hot food for you. A sample menu is shown below.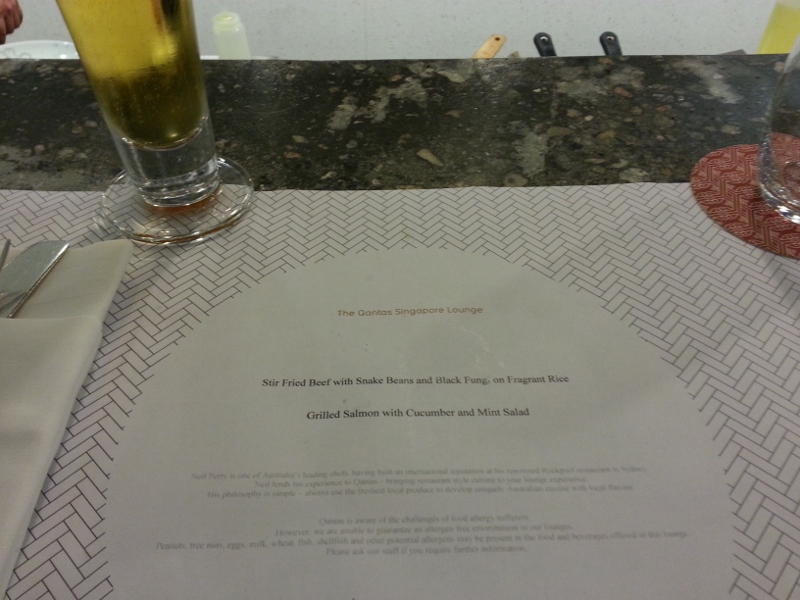 A couple of different versions of the beef and salmon are below. Even after my sixth visit I was not tired of the beef and salmon as prepared on the fresh cooking station.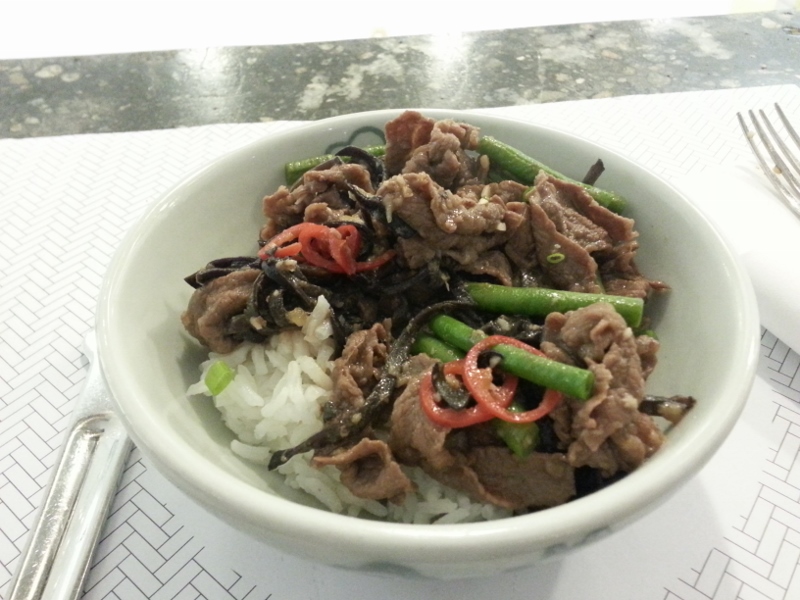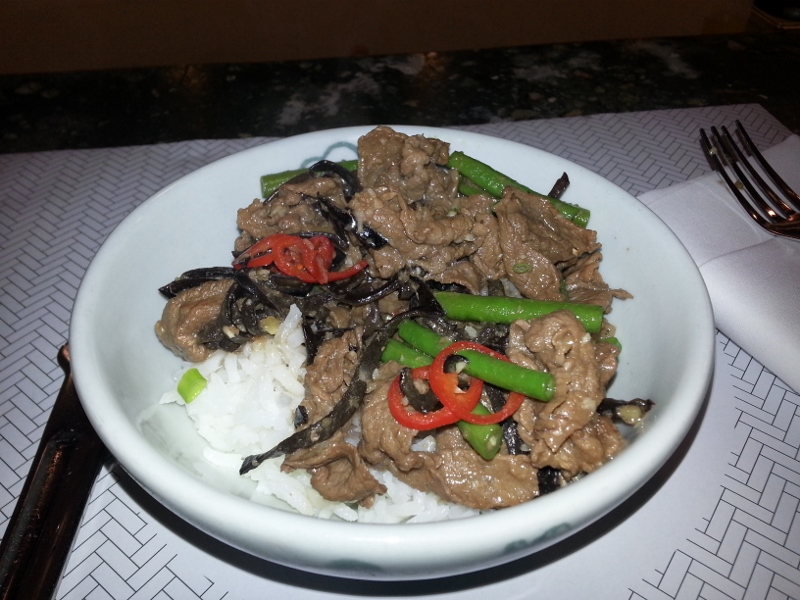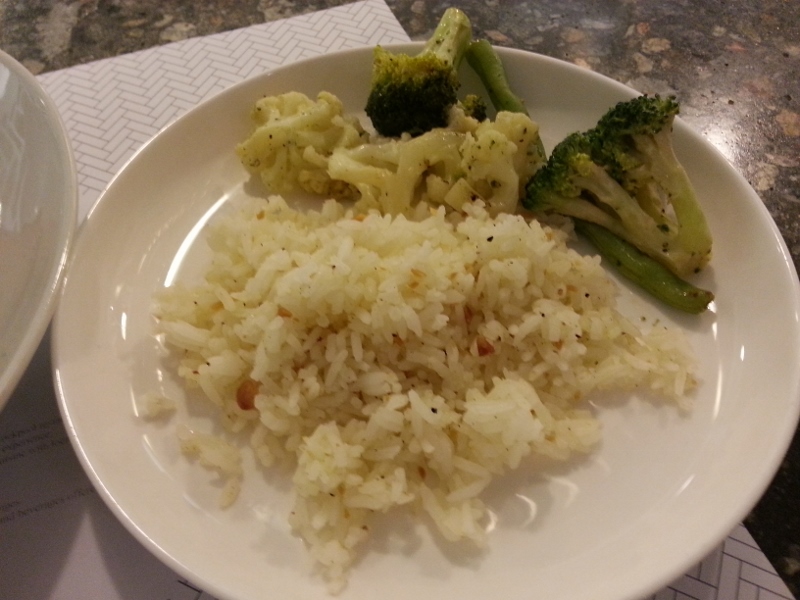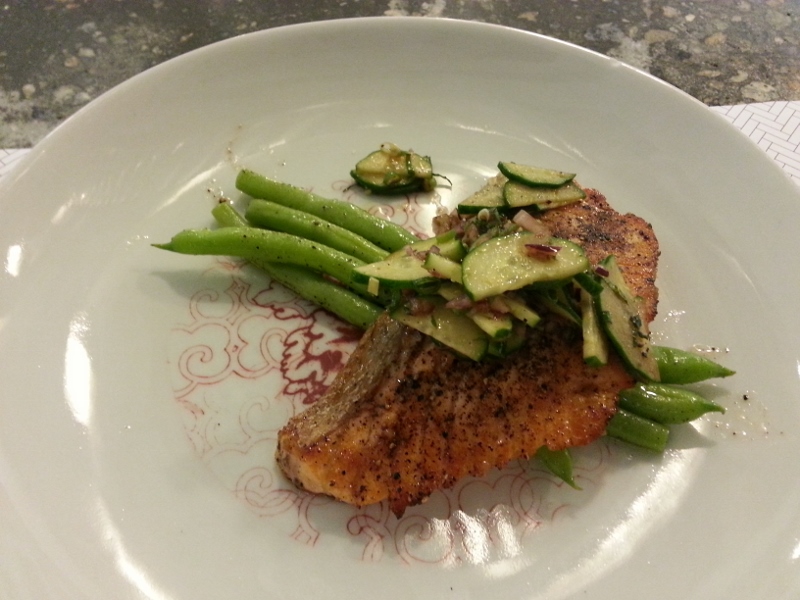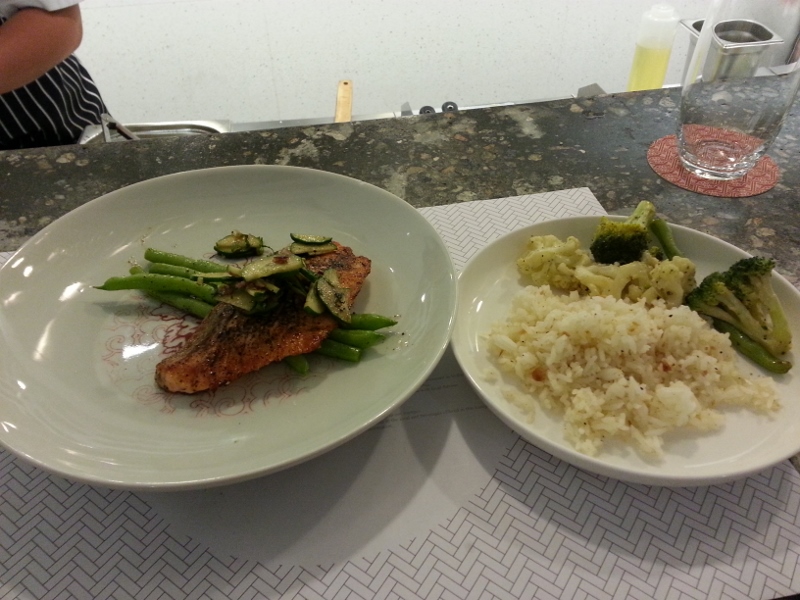 Few shots of the cooking stations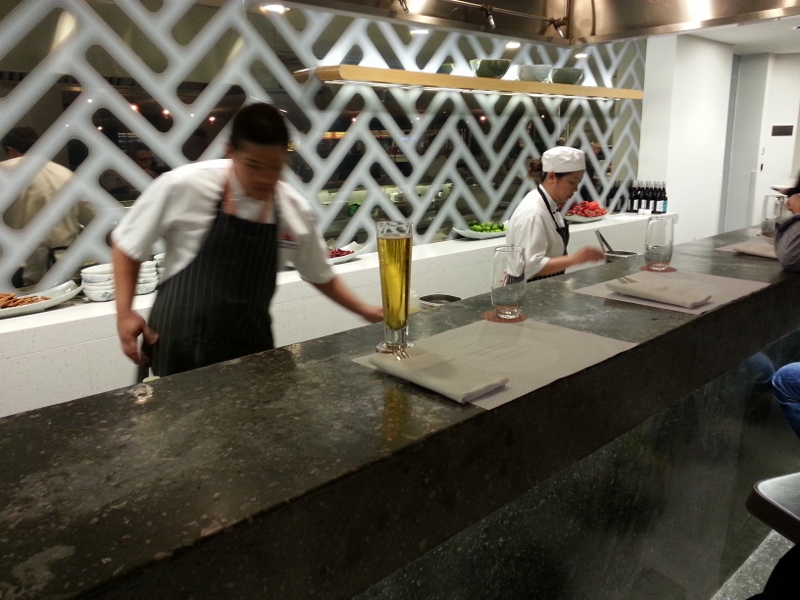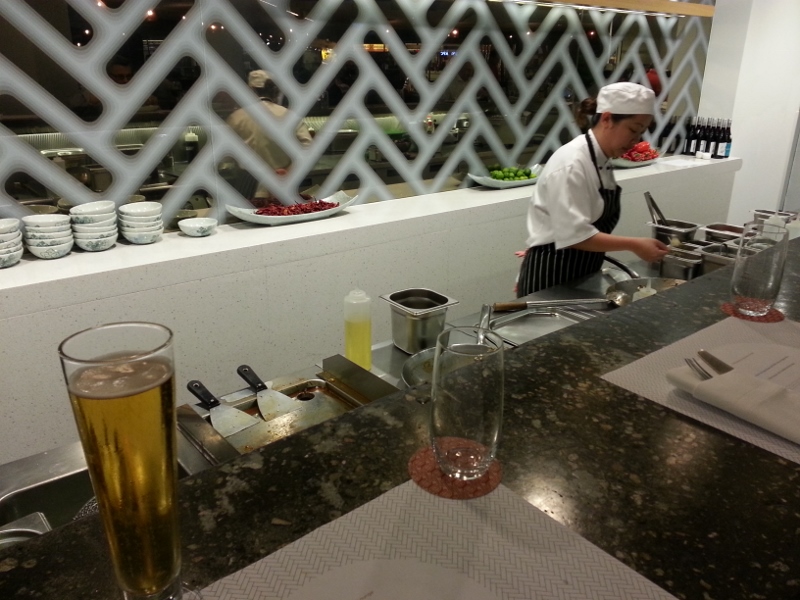 Verdict
This is a spectacular lounge – quite large actually. The shape is more or less Y shape. One side is a huge dining area where the cooking stations and buffet is located. Another side has nice relaxing chairs and TVs. Behind that are the restrooms and bathrooms. You can go to this for fresh food, a nice bar and a barman who mixes drinks as per your requirements and then nice relaxing chairs to refresh after a long trip. You wont be disappointed.