Flight review:
Qatar Airways in Business class
Flight number: QR 730
Equipment: 777
Origin: DFW (19:10pm)
Destination: DOH (17:30pm)
Flown: October 2015
Cabin occupancy: 80%
Airport experience:
For their flights within USA, Qatar codeshares with American (AA). I was coming from Nashville, with American (BNA – DFW), and my luggage was tagged all the way to Casablanca – my final destination. However, I did not have my boarding passes for Qatar flights from DFW – DOH – CMN. I was told in Nashville that I need to get these at DFW. Once I landed at DFW, I walked to the departure gate of my Qatar flight to Doha. The agent there told me that I can head to the lounge and the lounge agent can print boarding passes for me.
The Club at DFW – lounge
Dallas airport, terminal D, from where the international flights depart is a beautiful terminal. High ceilings, and large window give it a nice natural light. I walked around the airport and then headed to the lounge. Qatar Airways uses the The Club at DFW. According to the Oneworld.com website, the lounge details are
Location details: Terminal D, between Gates D21-D22
Opening hours: Daily: Approximately 4 hours prior to departure
Notes: This communal lounge facility is operated by Lounge Club. The reception area is shared by all carriers, but each carrier has their own dedicated room for the exclusive use of their own eligible customers.
The lounge check-in agent was not too friendly. Once I entered she gave me new boarding passes, but at the same time took away my luggage tags. Telling me that I will get new tags (tagged by Qatar Airways) before boarding, at the gate. I have flown enough to know, not to part with any document unless you get a replacement. And I was not wrong this time either. As you will read below. My AA luggage tags are my only proof that I have actually checked in my bags – if I dont have that, I cannot even claim anything with Qatar Airways. Anyways, more about that later.
The lounge is divided into two parts. One part with food and drinks and places to eat and the other part where you can relax. The food offerings were decent. I grabbed a bit to eat and drink and relaxed to enjoy the view from the lounge.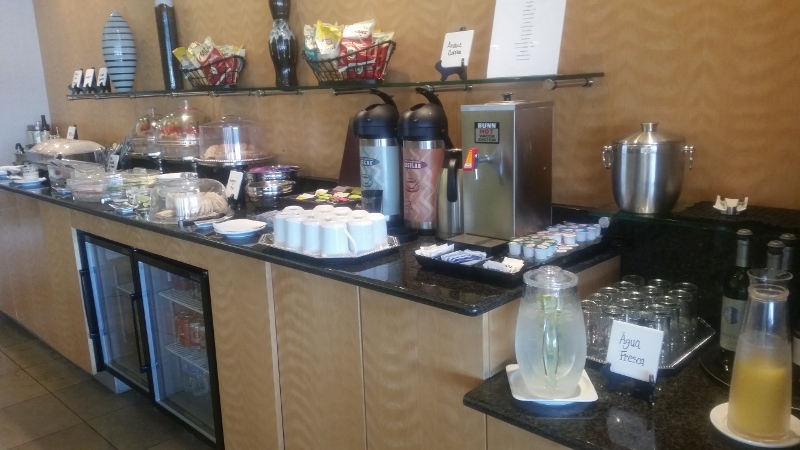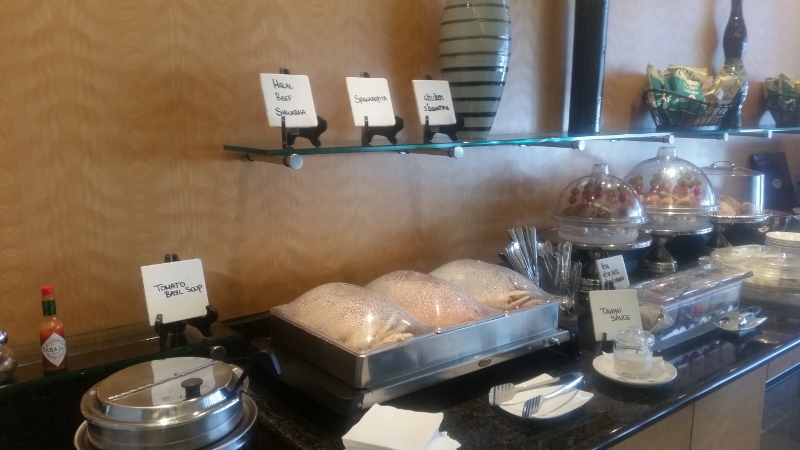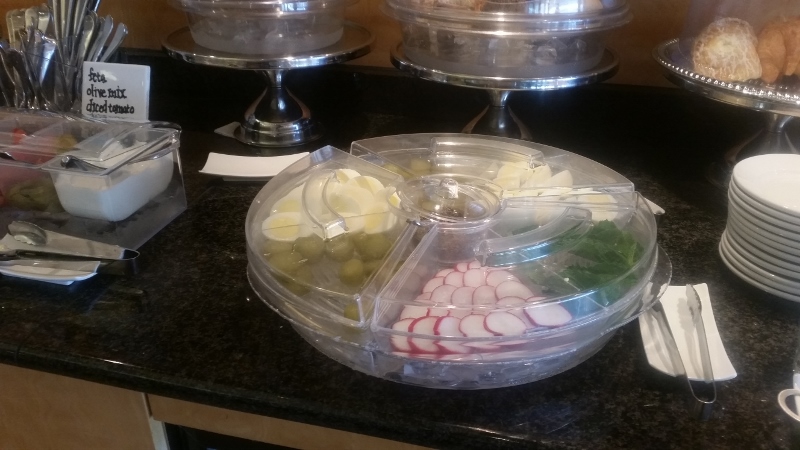 This is the list of spirits served in the lounge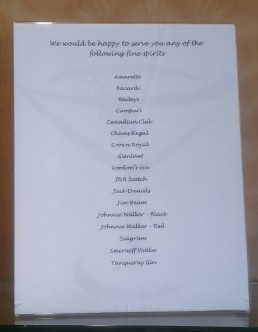 As I wanted to sort out my luggage tags, I left the lounge early and walked to the gate.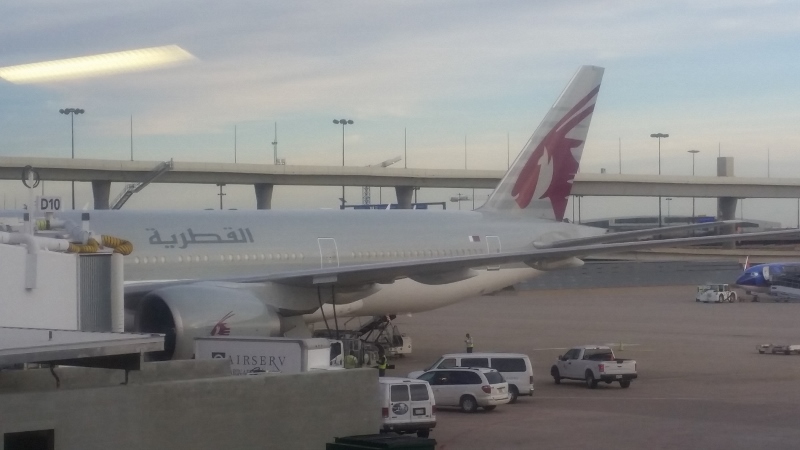 At the gate
I could see our flight was getting prepared for the long flight to Doha. There I asked about my luggage, and the agent told me that they have not received it from AA. Every 15 minutes I checked with a different agent, who tried to contact the baggage guys, but nope… my luggage was not received. This is what I dont like. If I have the luggage tagged in Nashville, all the way to Casablanca. Why take away my tags and give me nothing in return. Just let the old tags be, and somehow co-relate the old and new tags in the system. And if they really really want to re-tag them and give me new Qatar Airways tag, then why take away my old AA tags until they re-tag the bags and are in a position to give me new tags.
Anyways, least to say, I was not happy about this.
The boarding has long begun and I was still waiting at the gate for my new tags. At the end, the boarding personnel came to me and said I have to board now and if they locate my bags, they will re-tag it and bring me the new tags on board.
I boarded the flight as one of the last persons. And you guessed it right – No one came on board with my new tags. So at this point I was not sure if my bags were going with me or not, and secondly I didnt even have any proof that I have actually checked in any bags.
My message to Qatar Airways is that, if you codeshare with AA and use AA for domestic flights please smoothen the transit experience for your passengers.
In-flight experience
This baggage experience really set the tone for the long flight back. It was a long and boring flight, quite unlike my happy and wonderful experience on the Doha to Dallas flight. As it was a night flight, I saw that the FA's were not too enthusiastic about the service either. I was ordering a few things from the la carte menu and the FA was "I am not sure we have that as many other people want the same" or something along those lines. There were no recommendations for food choices by the FA. Just a very cold and distant service.
Anyways, after take-off I ate my meal and asked the FA to make my bed and tried to sleep.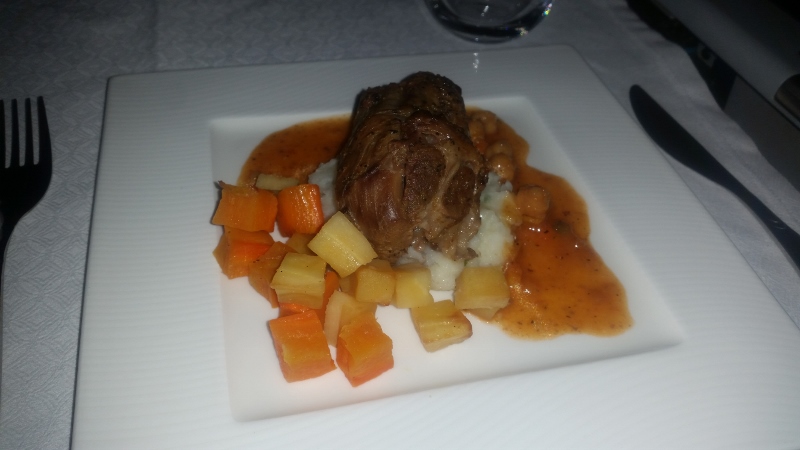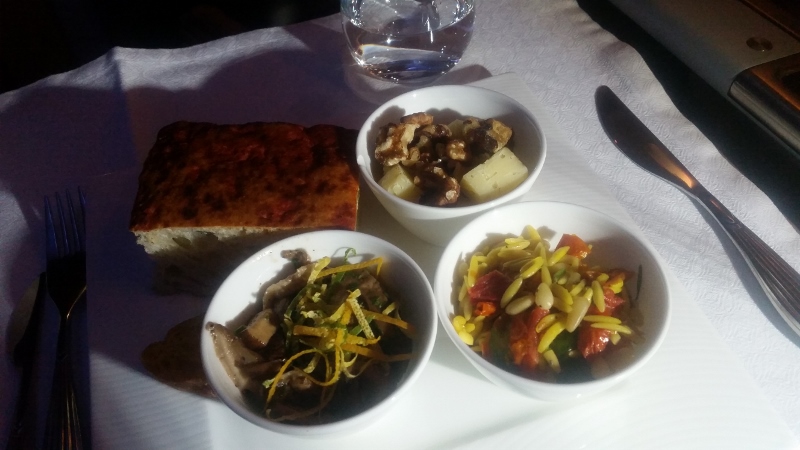 It was a long flight back and I could get a few hours of sleep.
Verdict
Qatar airways definitely has a good business product, but as its hard-product varies (between 787 and 777) so does the soft-product. The service can be really a hit or a miss. As a 5 star airline, Qatar cannot afford this. It has to up its ante and offer 5 star service, consistently!