Doha (Hamad International) Airport and Lounge Review / Report
Given the fact that the ME3 carriers are adding a lot of new destinations in recent times, many more passengers will be transiting these hubs in the coming future.This report will come in handy for the first-time Doha transit passengers. One of the top ME3 carrier is Qatar Airways – the only ME3 carrier that has 5 star Skytrax rating. Qatar has its home hub in Doha. It is a new airport, opened last year. The terminal itself is beautiful and the lounge huge. Although, the terminal is beautiful and modern, I noticed there are many drawbacks for such a new facility. Doha airport could have definitely done better.
In this review I will discuss both the Hamad International Airport as well as the Al Mourjan lounge. However, I will do it a bit different here than my usual reviews about airports and lounges. Instead of a straightforward travel report, I will discuss the positives and drawbacks of these two in this review.
Doha – Hamad International Airport
It is a new facility. Quite modern and compliments Qatar Airways well. The terminal is well-lit with high ceilings and large windows bringing in natural light. The terminal offers all the basic facilities required for a modern airport.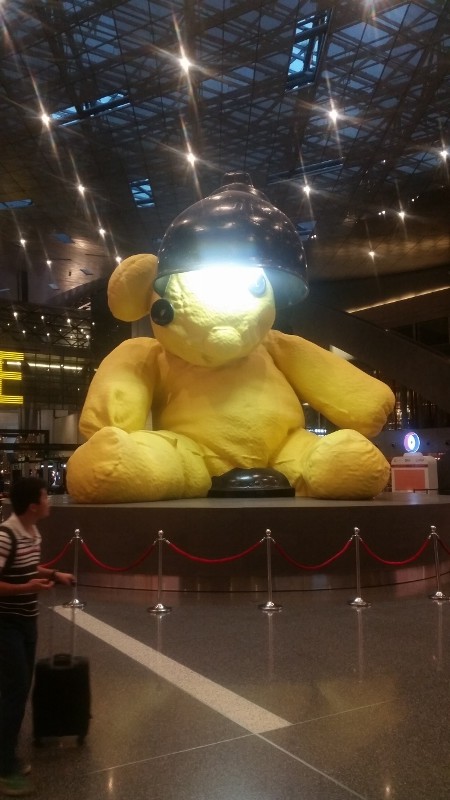 The most striking part of the airport I found out were the children play areas.Below, you can see a couple of photos. These huge brass structures are in fact slides, etc for kids to play. And I found a plenty of such play area dispersed through out the airport.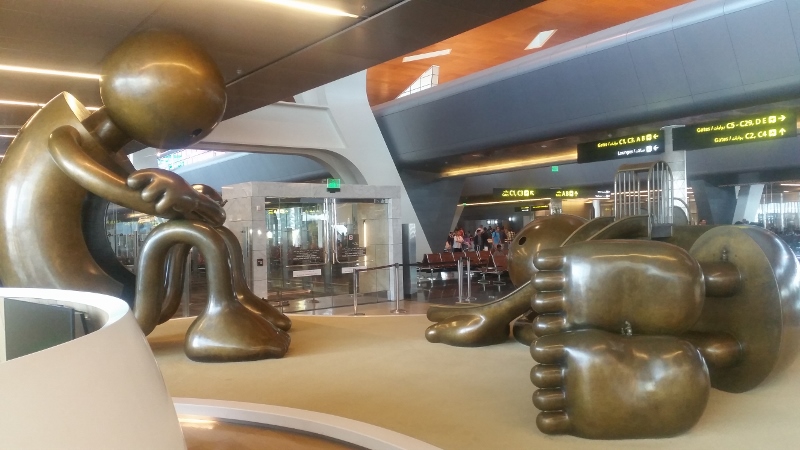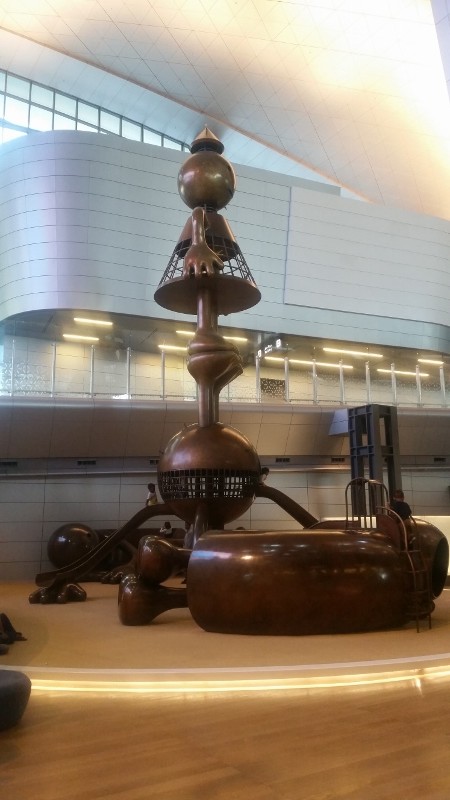 Al Mourjan business lounge at Hamad
Again, a clean and huge lounge. Food offerings are amazing, with a lot of variety to choose from. Furthermore, there is a fresh menu – ala carte, from which you can choose what and when to it.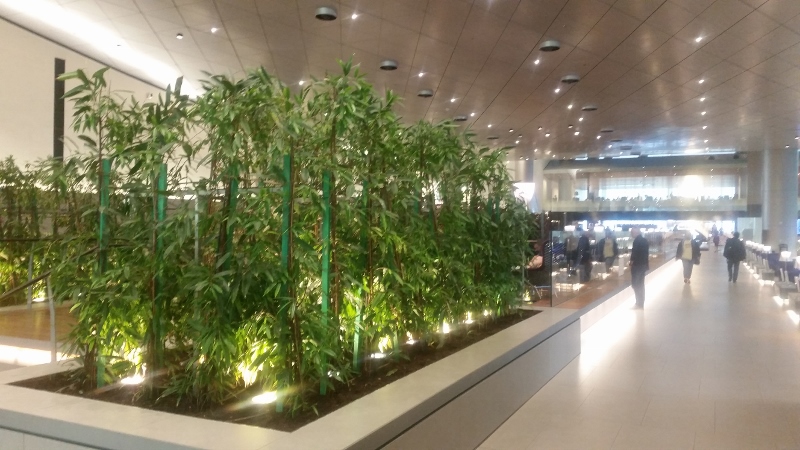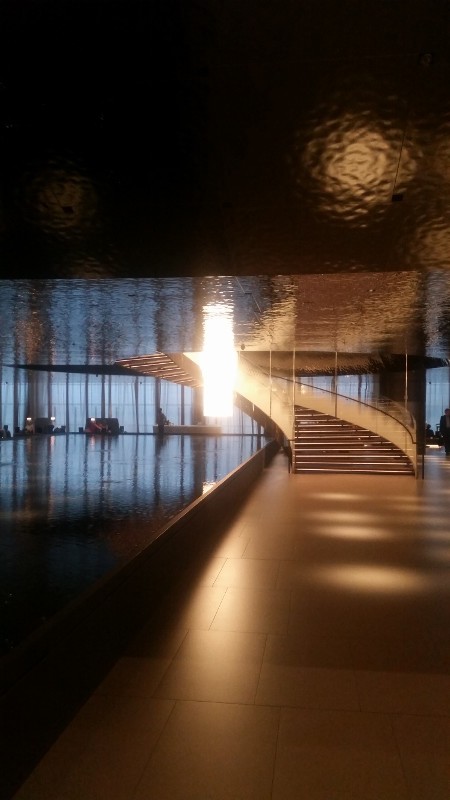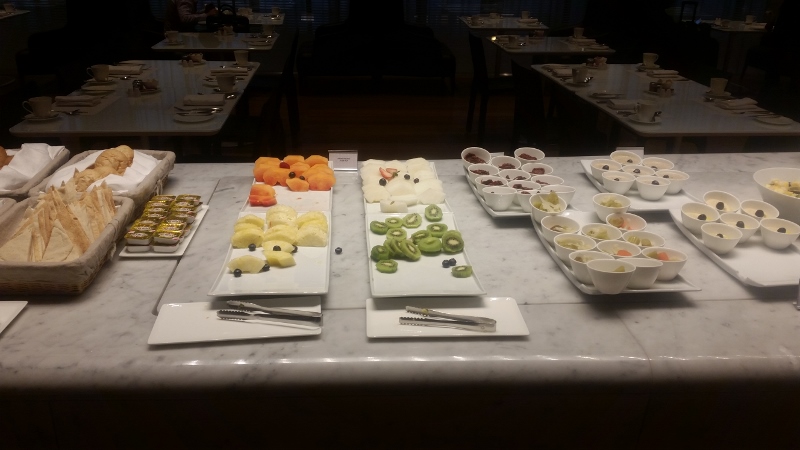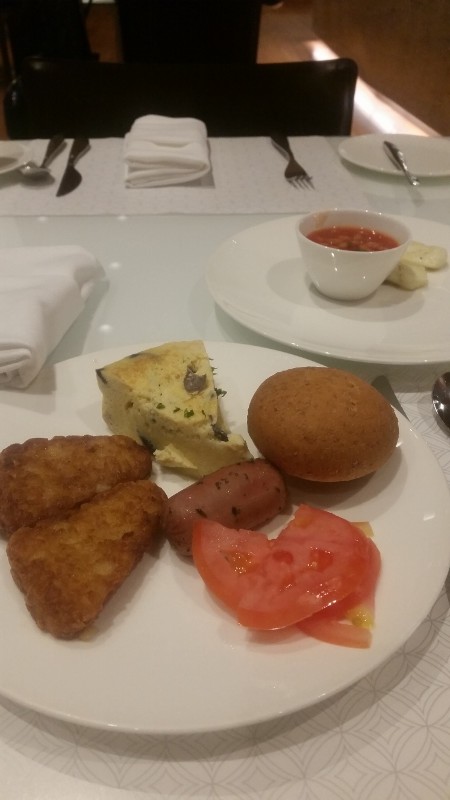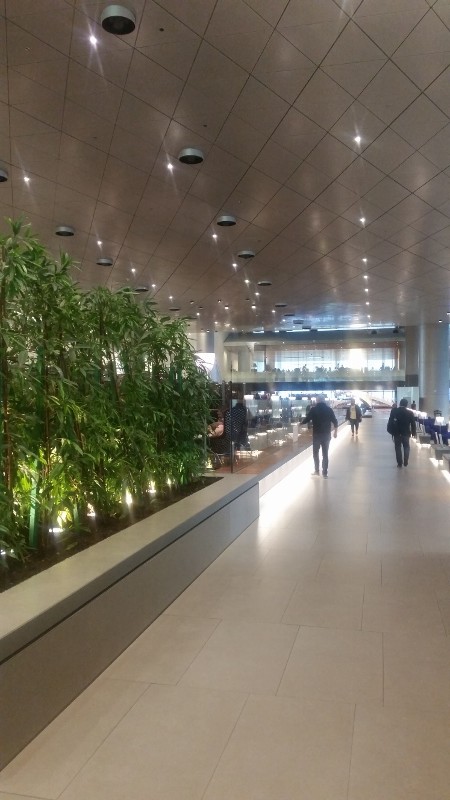 I also saw a game room, which is a nice idea.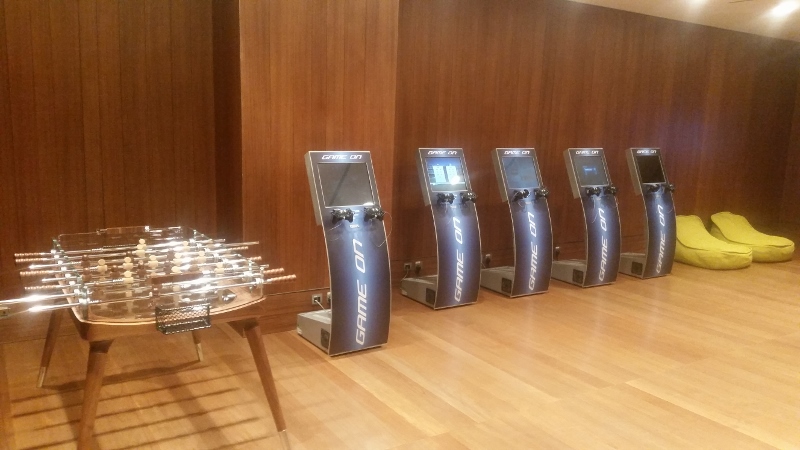 Drawbacks
Although, the terminal offers all the basic facilities, I somehow felt that Doha Airport and Qatar Airways missed a huge opportunity by not aiming higher. I found a plenty of drawbacks, which are discussed below.
It is a huge terminal with long walks from the central security to the gates. I would have expected such a huge facility to have a rapid people mover. However, the airport has just automated walkways. For an airport that is huge as well as so centralized with immigration and security they should have gone with a train in the terminal, something along the lines of DTW – Detroit international airport.
Even the Doha airport website does not give a good idea about the terminal. If you check the maps on this website (http://dohahamadairport.com/airport-guide/at-the-airport/maps), it seems there are only 9 departure gates in Doha. Who makes such stupid and incomplete website. Why misguide the passengers. On the above site, the only departure map with gate information or the departure terminal overview is as shown below.
However, this is not correct. The airport is huge and terminal B (as well as A) are smaller and closer to the central security. While other gates such as C, D and E are way away, with long walking times. I found a better departure terminal overview at Oneworld.com website https://www.oneworld.com/airports-destinations/airports-terminal-maps/doha-qatar, which is shown below
Now if you see the above image you will notice that security is only at the bottom/middle of the image. Any incoming passenger, which is transiting, will have to walk all the way from C, D and E gates to central security and walk back to the departure gates. For an Airport, where majority of the passengers will be in transit, why build such an non-optimized transit system.
Same thing about the lounge – any passenger in transit have to walk all the way, clear security and then access the lounge. Once the place begins boarding this passenger has to walk a long ways back to the departure gate.
Another drawback, specifically about the lounge. The signage in the lounge does not really make sense. First of all, you need to understand that the lounge is HUGE… length wise at least 100 meters, or perhaps more. Many of the sections are broken down further in numbers -theoretically. You will notice this only if you see some small plaques mentioning these numbers and what they are associated with. Lets say, that a game room is numbered 10 on that tiny plaque in some corner. If you would like to go to the game room, at this point you will start looking for a map which shows you where number 10 is in relation to the other points – or a map that shows where number 10 is located; or at least some arrows/signs pointing towards 10. Nope…nothing…nada. There is nothing guiding you to where you would like to go within the lounge. Your best hope is to ask someone and hope that they point you in the right direction.
Recommendations
It is easy to update the website and include proper overview/maps of the terminals. That should not be difficult.
Instead of one centralized security, they could have another security and lounge services at the intersection of C,D and E terminal. This will streamline the transit passenger flow. And if you can minimize the walking time for transit passengers, then they might not even need a rapid people mover and walkator should be enough.
Please improve signage within the lounge. There should be a proper map in place at multiple points as well as proper arrow signs pointing in the right direction.
Verdict
I think Doha Hamad Airport as well as the Al Mourjan lounge is quite good, but definitely there is a lot of room for improvements.