Eva and Marisa hosted a Portuguese cooking workshop. The menu for the evening was Bacalhau à Brás and Sopa de feijão verde.
Below, we will take you on a photographic journey through the menu and recipes of that evening – text and recipes is provided by Eva, while the photos are taken by me.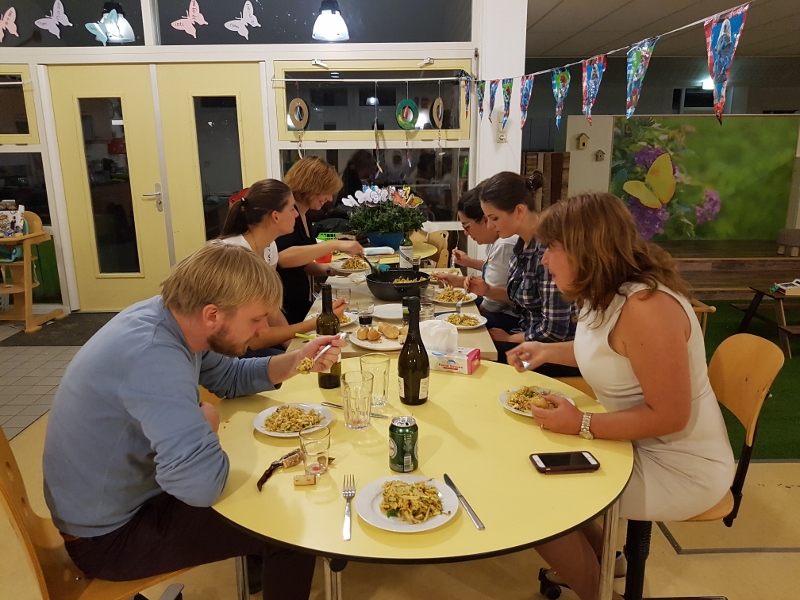 Bacalhau à Brás (Cod à la Brás):
Bacalhau à Brás is a simple, yet delicious traditional Portuguese dish.
Despite the inspiration of the recipe being uncertain, it is said to have originated in Bairro Alto, an old quarter of Lisbon. The noun "Brás" (or sometimes Braz) is supposedly the surname of its creator.
Although there is no magic behind this recipe – made from shreds of salted cod (bacalhau), onions and thinly chopped (matchstick sized) fried potatoes in a bound of scrambled eggs, sprinkled with fresh parsley and garnished with olives – it surprisingly brings out the traditional Portuguese flavours of cod, olive oil -and, of course – onions!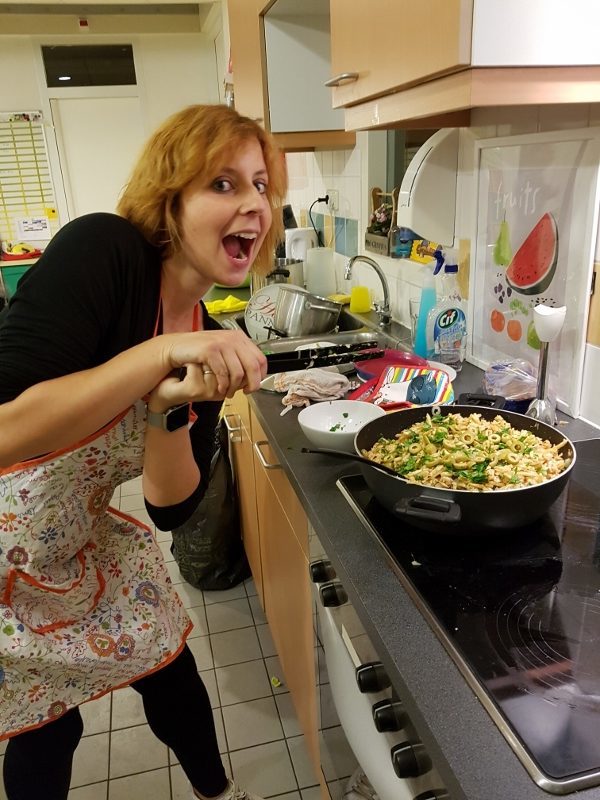 Where to buy the ingredients?
You may find the (Surinamese) bacalhau as well as the readymade matchstick crisps at Amazing Oriental supermarket in Ypenburg (https://amazingoriental.com/).
Ingredients
Salt cod 400 g · Potatoes 500 g
(you may use ready made crisps) same quantity · Onion 1 large/ 2 small · Garlic 1 head · Eggs ~6 (if you want more moist, add more eggs) · Pepper To taste Fresh Parsley To garnish · Olive Oil A bit more than enough to cover the bottom of the pan · Salt To taste · Black/green olives To taste
(These quantities serve 4)
Preparation time approx. 20 m
Cooking time approx. 20 m
PREPARATION
Start by having soaked the salted cod, then remove the skin and bones, and break it apart with your hands. You can use boneless pieces of salted cod and cook instead, wash it and cook it for 15min.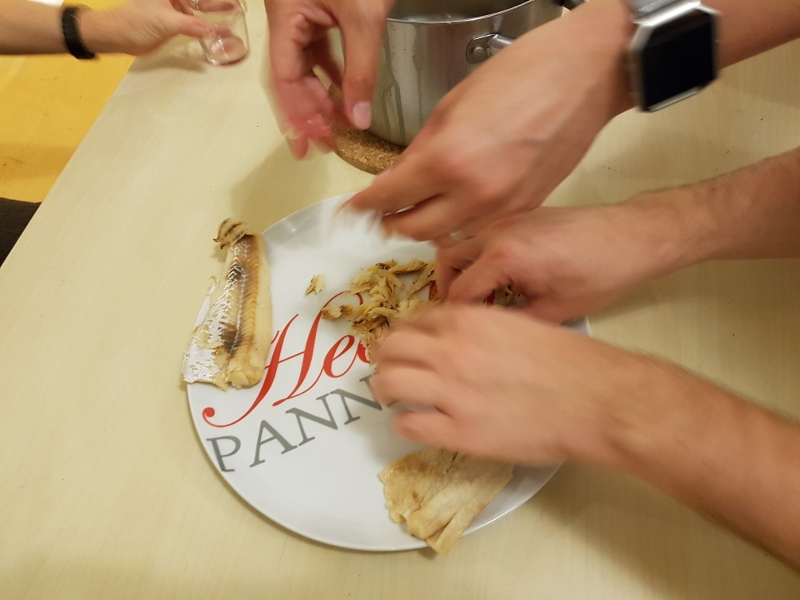 Meanwhile, cut the potatoes into matchsticks and the onion into fine rings.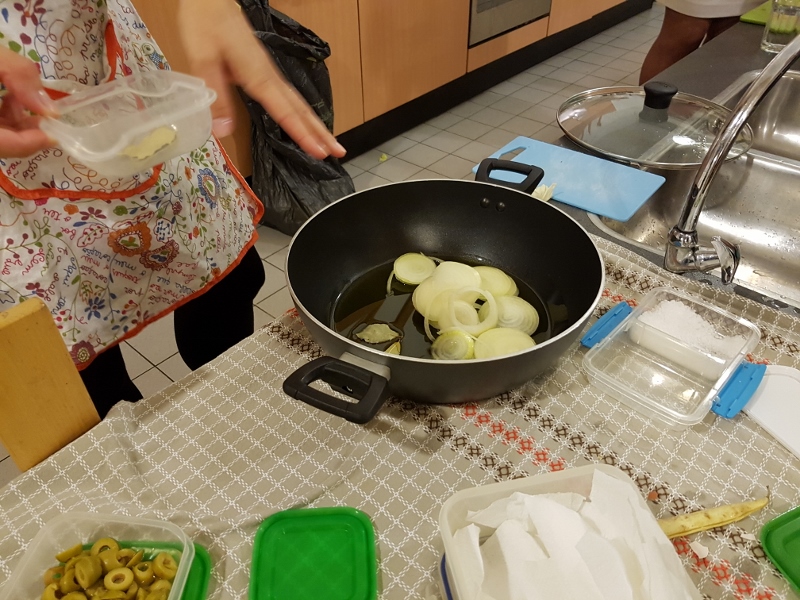 Fry the potatoes in a pan and set them to one side, drying them on kitchen paper.
At the same time, in a deep pan with olive oil (a bit more than enough to cover the bottom), sweat the onions and garlic until golden, then add the pieces of salt cod, and cook for a few minutes, until it soaks up the oil.
At this stage, add the potatoes and stir whilst adding the lightly beaten eggs with salt and pepper.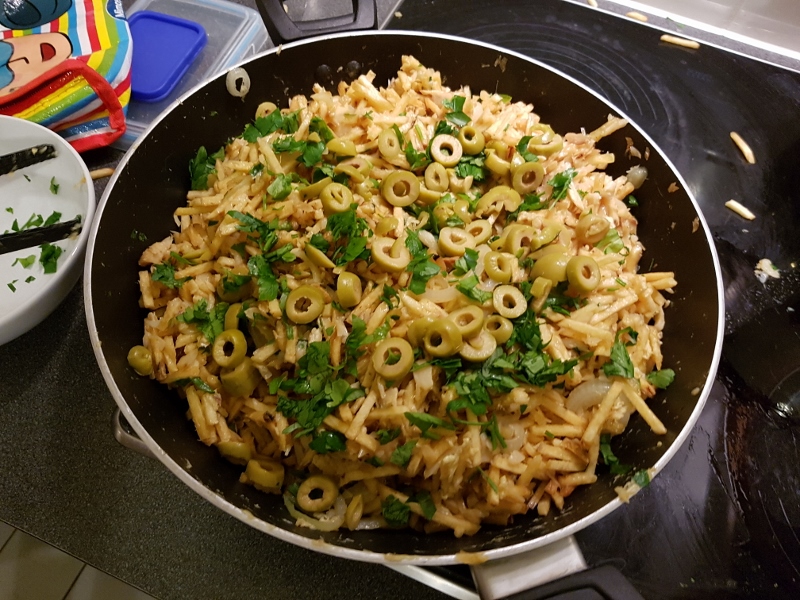 Stir for a few minutes, turning off the heat before the eggs solidify and become an omelette!
The Bacalhau à Bras has to be served hot, with parsley and black/green olives. Bom apetite!