Flight report: Aegean Airlines in economy class
Flight number: A3 626
Equipment: A321
Origin: ATH (13:40)
Destination: AMS (16:10)
Flown: Jan 2019
Cabin occupancy: 100%
Was pleasantly surprised by this flight. My first experience with Aegean airlines and I loved it. Although, this was a schengen EU flight we were served tasty warm food along with a few drink rounds and a smiling service. Sets a good bench-mark for other European airlines to follow.
The boarding was by a bus. Luckily, I got on the first one as the few last ones who boarded had problems with storing their luggage as the flight was completely full. It was a beautiful day in Athens – bright and sunny and nice 15deg in January. So boarding by bus was even welcome.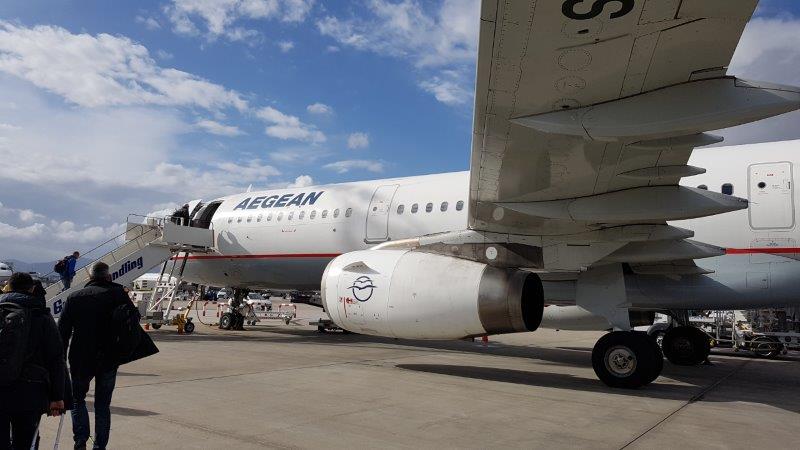 Took some snaps of the seats around me. The seat was comfortable leather seat, but the legroom was quite less. As a person, who was sitting in the middle seat I was suffering during the meal time.
The service onboard was fantastic, even in the economy class. Once we boarded we were offered a candy before take-off. And immediately after take off there was a drink round and a warm meal was served. Along with the meal there was a warm roll and crackers/Cheese & dessert to go along. This is the photo of the warm meal from Athens to Amsterdam.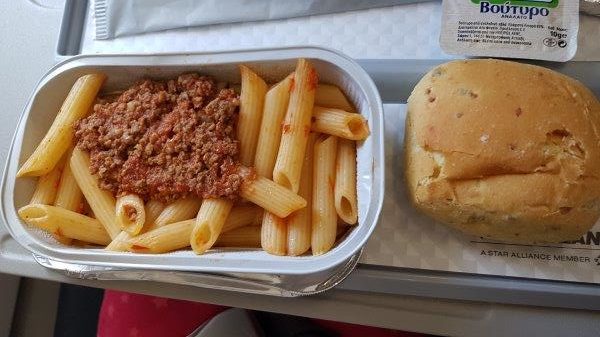 For your reference, I am also showing the warm meal offered on the flight from Amsterdam to Athens – the potatoes and chicken on this flight was truly tasty.