Flight report: Air India in Economy class
Flight number: AI 215
Equipment: A320
Origin: DEL (12:50)
Destination: KTM (14:35)
Flown: August 2019
Cabin occupancy: 100%
After our refreshing stay at the Air India lounge at the International Terminal in Delhi, we were ready for our flight to Kathmandu. We had an on time boarding and departure. Delhi airport is huge, with long walks from the central mezzanine area, where the lounge is located, to the departure gate. But we made it on time, and were soon on our way to Kathmandu.
We took off from the runway 09/27, eastwards flying over the airport apron close to the domestic terminals of the airport. The photos below give a good overview of the domestic operations. You can also see the construction in progress for the upgrade of these terminals.
I was again pleasantly surprised by the legroom – for a short flight it was extremely good. The flight was completely full – with a lot of people connecting in Delhi from around the world to get to Nepal.
20 minutes after take off the meal/drink service begun. We were offered a warm meal along with dessert, yogurt and a bottled water, all in one tray. I chose the veg option and loved the food. It was very tasty rice and curry. Air India does a very good job with catering, even on a short hop in economy, the food was amazing.
We landed on time in Kathmandu. We had a apron disembarkation on a nice sunny day in Kathmandu valley.
I opted for the visa on arrival. It is a very straight forward and quick process. Once you land I go to a computer terminal as pictured below. There are assistants helping you. You scan your passport there and enter some information, while the machine quickly snaps your picture. The computer prints out a receipt, with that you go to the visa fee collection counter and pay the fee. You can use credit card (with 3% surcharge) or pay in cash in various currencies. However, the bank will give change in USD. I paid in Euros while I got change back in USD.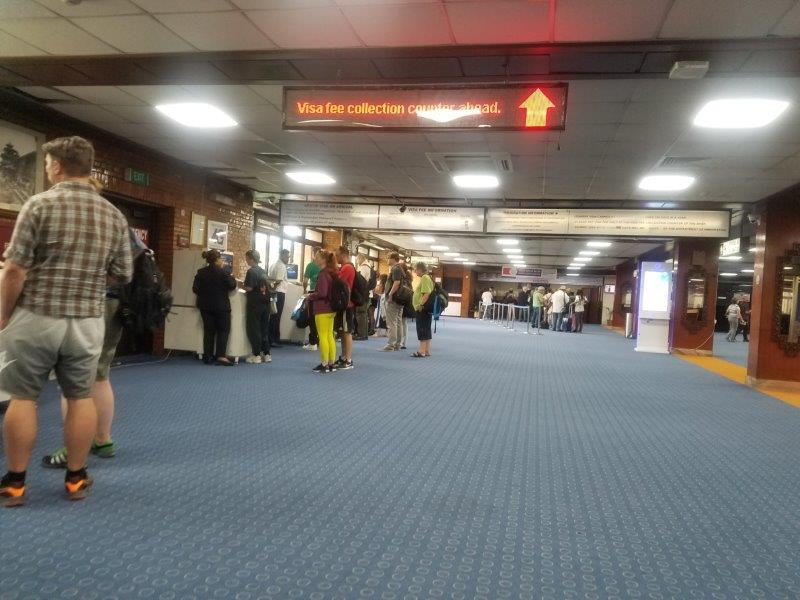 I was impressed with Air India. Even though we were flying economy, we received good service and as Air India is part of the Star Alliance and being a Elite member there we could use the *Gold lounge operated by Air India.