Turkish Airlines should have 3 lounges in the international terminal. But as of September 2019, only two of them are open – Miles & Smiles lounge and the Business lounge. Both are next to each other, next to the D gates, but the entrances to them are away from each other. This review is about the Turkish Airlines Miles & Smiles (*Gold) lounge.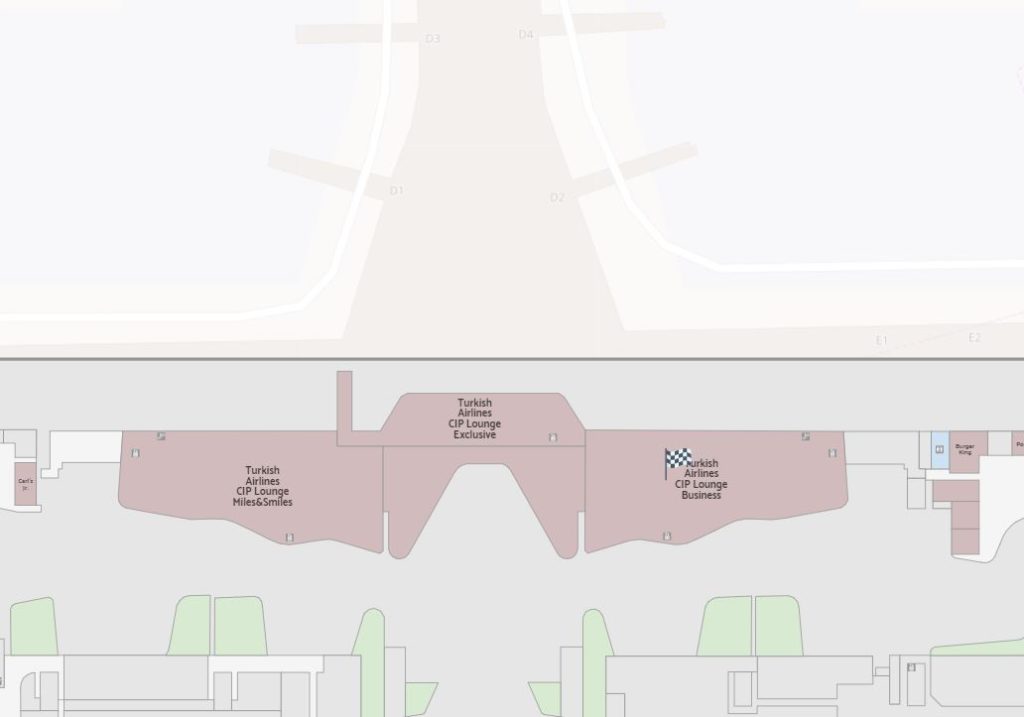 The entrance to the Business lounge is next to D1 gate. However, once you are in the central part of the airport, please follow the arrow towards the C4 gate it will take you to the lounge. The lounge is upstairs, and you take an escalator to get there. There is a person next to the escalator checking your credentials before you head to the lounge. Once you arrive upstairs, there are a few automated gates where you can check into the lounge. If you have any problems, there are lounge attendants waiting to help you. Once you checkin, there is a HUGE screen welcoming you to the lounge.
Once you enter, there is a Wi-Fi voucher terminal. Just scan your boarding pass and it will print a wifi code for you. Also throughout the lounge there is a placard showing you the estimated walking time to all the gates. As the new airport is HUGE, this is quite an informative placard so that you can time your exit accordingly.
Immediately after you enter, on the right side there is a baggage storage area, computer terminals as well as concierge who helps you with showers. While I was there, no one was using the computer terminals – I found out the computers (IMacs) to be quite useful, as I needed to print something quickly and this was a great way to get it done.
The lounge itself is huge. On the other (left) side of the entrance is the main food, drinks and entertainment options. This lounge is next tot he Business Class lounge and mirrors the layout more or less. Once you cross that you will see a lot of areas with food, drinks, and seating options. What I liked about the lounge is that each area is a bit different – thus you can choose to relax in a plush sofa or a nice upright chair to grab a quick bite or catch-up with work.
Food options are amazing – from freshly cut fruits, veggies to live cooking stations, including Asian noddles, Turkish Pide and other European options, etc there are plenty of choices to keep your tummy filled and satisfied.
I chose aubergine and beans, along with steam white rice and it was quite a simple but delicious affair.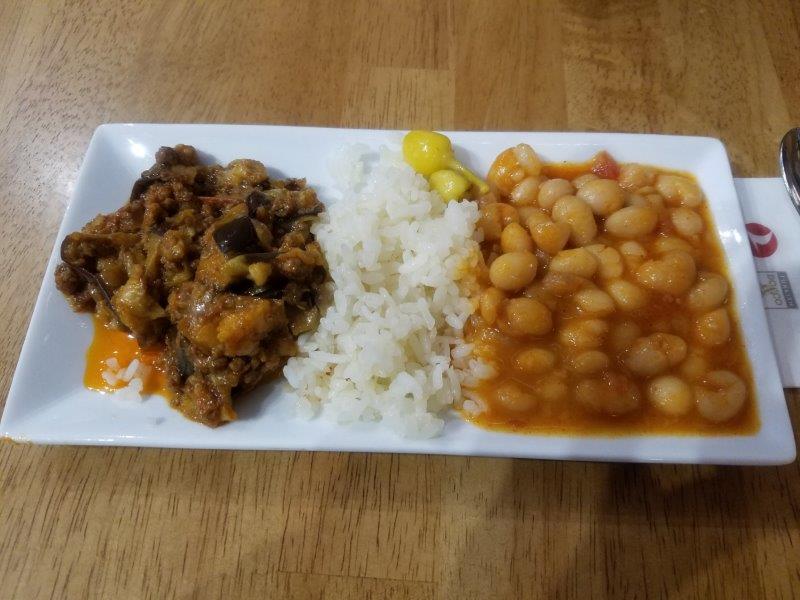 There is a theatre with relaxing chairs where you can catchup on your sleep or just relax while listening to the music. Also, as was in the old lounge there is a racing car set to keep the young (and the old) one occupied.
There is also a nice kids playing area, with a small dummy airplane and a slide to go with it. There is also a pop corn machine to keep children entertained.
A beautiful lounge for Turkish Elite members as well as the Star Gold (*G) counterparts. Turkish has really nailed it with the lounges at the new airport and I will like that there are separate options for Elite and Business customers. The old Ataturk lounge got quite busy, and hopefully these lounges can withstand the Turkish expansion – atleast in the near future.