Qatar Airways in Business class
Flight number: QR 647
Equipment: A320-
Origin: KTM (16:25)
Destination: DOH (18:45)
Flown: Aug 2019
Cabin occupancy: 40%
Qatar Airways flies 3-4 flights a day from Kathmandu to Doha. I would have preferred a wide-body in business class, but the timings of other flights wasnt suitable. Thus, I was stuck with the single-aisle A320 100/200 that Qatar flies to regional destinations. Thankfully, this was a day flight with a flight time around 5 hours, which made the flight bearable. For a longer or night-time flight I would not recommend anyone to fly the Qatar A320. Qatar has a fabulous business product and you just cannot enjoy it in a small and cramped cabin. Fortunately, the seat next to me was free giving me a bit of extra space.
Apart from the smaller seat and space the flight was fantastic. Very attentive staff on board, while the food and drink service was fabulous.
Kathmandu airport check in area is a bit crowded. The printers at the business class werent working and it took some time for a person to come and fix it. The staff was quite polite throughout and even checked in my bags all the way to Brussels as I was connecting to another Qatar flight after landing at Doha. The review of the Doha to Brussels can be found here.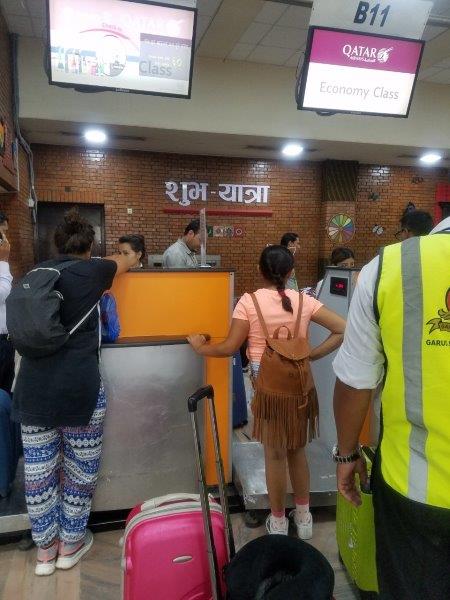 We were bussed to the aircraft. It was a glorious afternoon in Kathmandu and it was nice to board with the steps.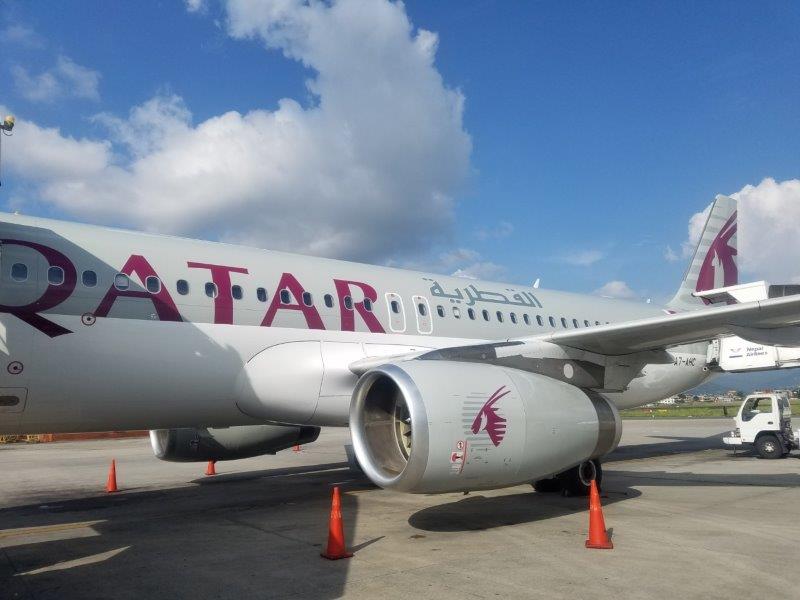 The business cabin on the A320 is very small. I think just 4 rows in all. Fortunately, it was 40%full so all of us had a seat next to us free. Although, the cabin was small it was clean and welcoming.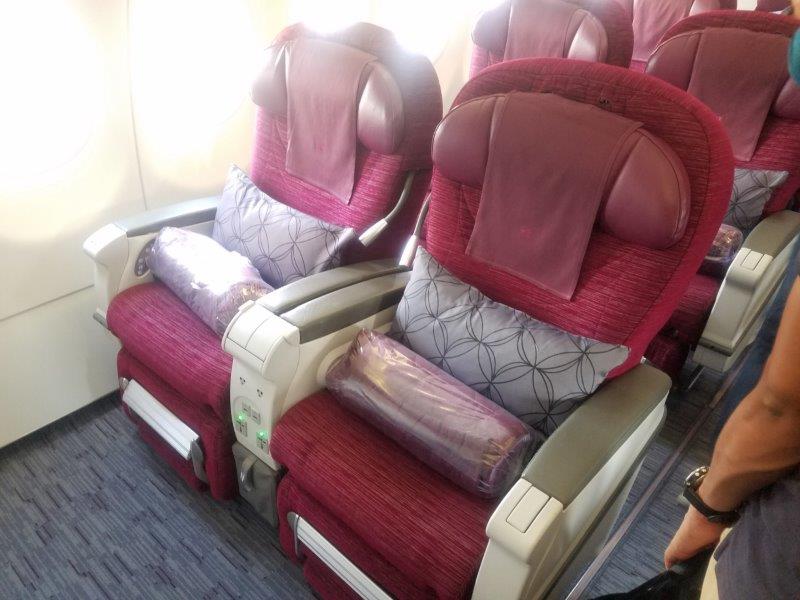 As you can see in the picture below, the seat has a small recline and I would think that it would not be that comfortable on a long or night time flight.
The legroom is fine, but once the person in front of you recline the seat back really comes in your face. There are some pouches in the seat back to store water/headphones, etc.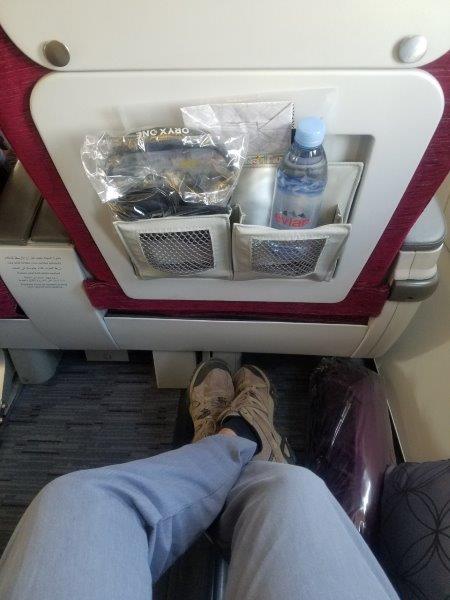 Screen is in the arm and you need to pop it up for viewing. However, the entertainment options are quite comprehensive and I am sure it will keep you busy for quite some time.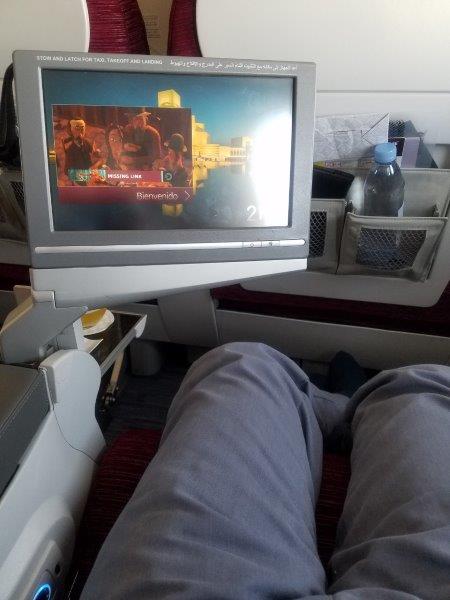 We received a small amenity kit pouch, which was different than the ones I received on another longhaul Qatar flights during my trip. But its quite an attractive pouch, and my kids loved it in an instant.
The take off roll gives you a nice view of the tarmac and the mountains behind. Kathmandu is a special airport, once you take off you still go around once or twice to gain enough altitude over the mountains before flying to your destination.
On your way to Doha, my recommendation would be to select a seat (I was seated in 2F) on the right side of the plane so you can get a nice view of the mountains. The views are just spectacular. We had a bit cloudy day, but on a clear day the majestic mountains would be breathtaking.
The dining service is again a la carte and on demand. Some photos of the menu are hereunder.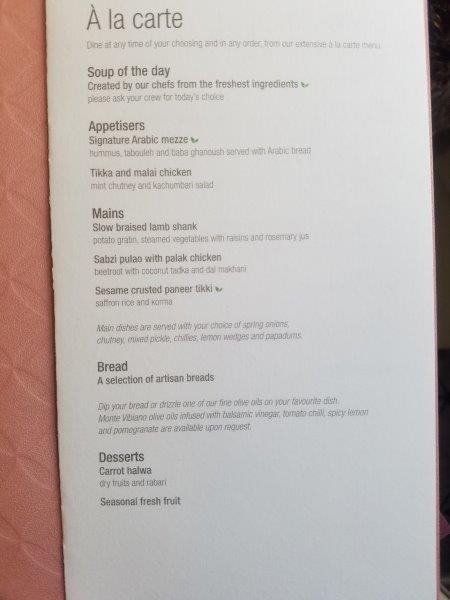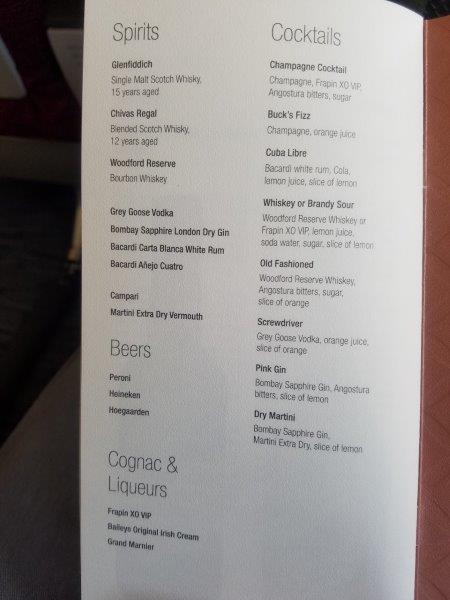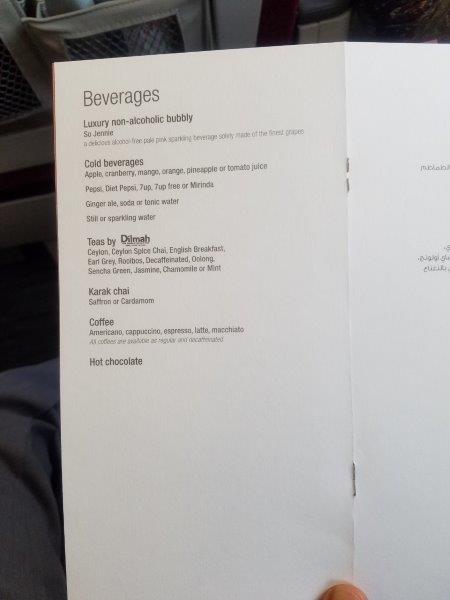 A nice drink and warm nuts to get you started before the meal service.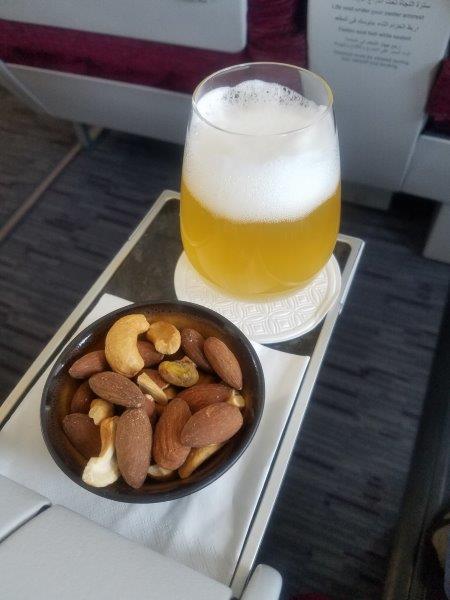 I chose the malai chicken as appetizer and the lamb shank for the main course. The food was great. Qatar also serves some spices/sauces and raw green onion on this flight. Interesting!
Our flight was on time and we had an apron disembarkation. People in business were picked up in a separate business class bus.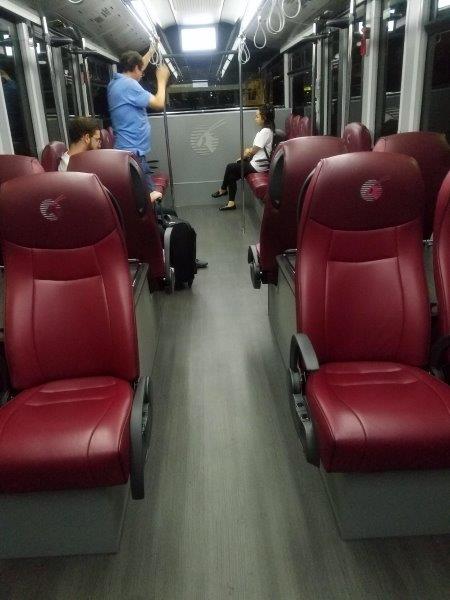 Very happy with the flight. I would have preferred a wide-body aircraft but on a short day run, A320 is fine too. The on board service made it a wonderful flight.