Qatar Airways in Business class
Flight number: QR 195
Equipment: B777
Origin: DOH (01:50)
Destination: BRU (07:30)
Flown: Aug 2019
Cabin occupancy: 40%
It was a late night (or in fact a very early morning flight). Fortunately, I could get a nap room at the Al Mourjan lounge and has already slept 3-4 good hours. I left the lounge on time and went to the departure gate. The boarding was on time and quick. Pretty soon I was at the seat, and could not wait to get it into sleeping position and catch up on my sleep.
Qatar Airways B777 seats are quite comfortable and large, with a lot of leg space. The 777 business class really offers a fabulous product. Very spacious cabin and the seats/beds are extremely comfortable. In the arm rest there are a small storage spaces where you can store water bottle or mobiles/tablet and close the sliding door. Right below the screen, in front of you, you can store your shoes or a small hand bag. The seat controls are in your hand rest.
Even on this short flight, Qatar offered us pyjamas made by the white company. Very good quality cotton pyjama and quite comfortable to wear. Thumbs up to Qatar for doing this, even on a short Brussels hop.
Dental and shaving kits are on offer in the washrooms.
As this was a late night flight, the meal options were pretty light – we had soup/salad options for the late night dinner while omelette etc for the breakfast. I was in no mood to eat now. I conveyed my choices to the flight attendant and requested to be woken up an hour before landing so that I could eat.
15 minutes after take off – I made my bed and was fast asleep for 3-4 hours. I like the B777 Qatar bed, which is very comfortable.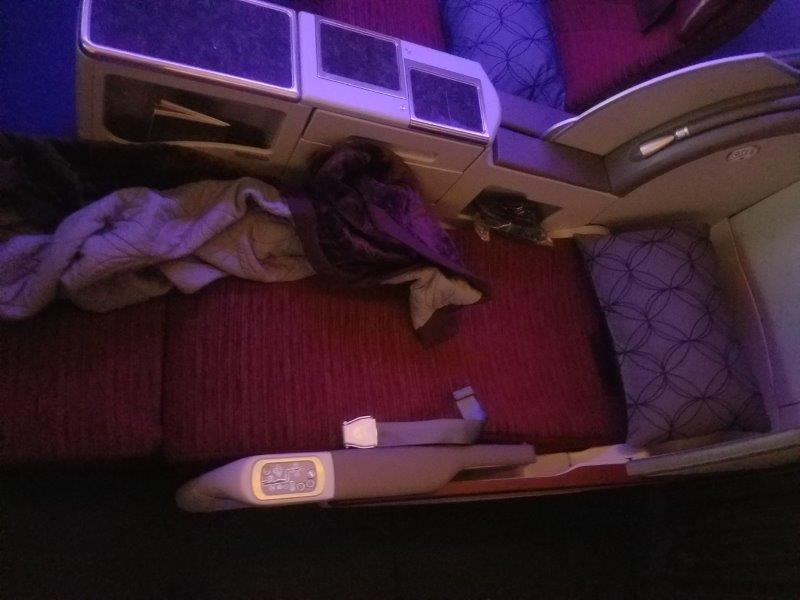 Upon waking up I received my omelette and salad options. As always the food on Qatar is top notch. What I like most is that I can chose when I would like to eat.
Once at Brussels I was surprised to see that all directions were also in Hindi, given that so many Indians travel I assume this will be a norm quite soon.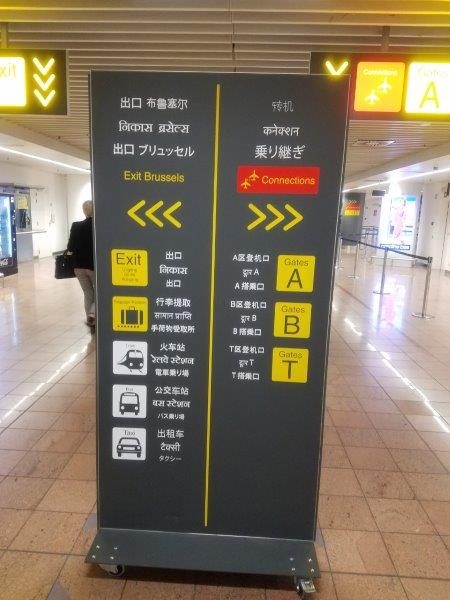 A great and relaxing flight with Qatar once again. I was at my destination – well rested and well fed!