This is a report about the 1-day tour from Cancun to Chichen Itza Pyramids, Cenote and Mayan Village experience
Once you are in Cancun, you have to visit the Chichen Itza pyramids – its one of the modern wonders. While staying in our hostel in Cancun, our hostel recommended the tour that includes the pyramid, a cenote (water well for swimming) and a mayan village experience. These tours are the most popular and there are quite a lot of companies organizing it daily from Cancun. When the hostel guys explained it – it seemed out of the world and something special.
I usually avoid such package tourist trips and prefer to explore things on my own. But the way this tour was sold to me – i thought it would be different, but not all. Its one of the biggest tourist traps, where you will spend more time in a fake mayan experience than actually the pyramids or the cenote. The latter two are spectacular and deserve more time than the fake mayan village with the gift shop. Anyways, you live and learn.
we were picked from our hostel around 7am by a small taxi, and then driven to a meeting point. The meeting point includes a large gift shop where you can buy souvenirs, etc. After all the people are gathered (around 9am), you are put up in a large bus. Our bus was the one as shown below. Throughout the trip (for around 1.5 hours) the guide gives information about the mayans. Some of it is truly interesting, but some is also a sales pitch as they are selling mayan calendars, other souvenirs and then also bio-degradable mosquito sprays, etc etc. They convince you that the mayan village you are visiting is never touched by civilization and we have to be careful about everything.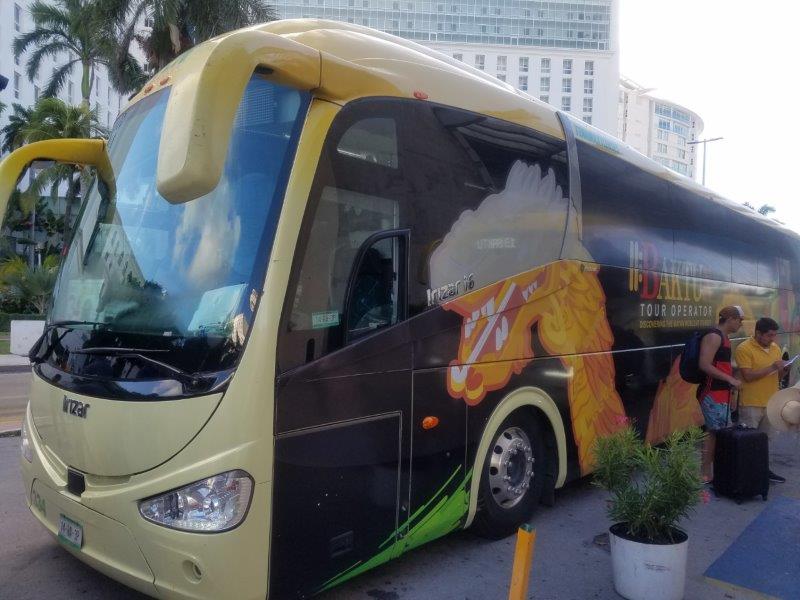 However, once you come to the village you notice the tourist trap. Its a place with a HUGE gift shop, A tequilla selling shop – where you are served trial shots in plenty of plastic cups and a large hut with buffet food. Before going to eat, you are forced to take a photo and there is a huge can of super market hand sanatizer (not biodegradable at all) to clean your hand. Fortunately, the food was tasty and I enjoyed that pretty well. But we left this place around 1pm – thus our complete morning was gone and the only positive that came out was decent food.
After that we drove for 15 mins and arrived at the pyramids. The pyramid complex is truly beautiful. Its much larger than I thought. I admire our forefathers who could design and build such majestic structures. Similar to the Egyptian pyramids, these pyramids align with the true north-south axis.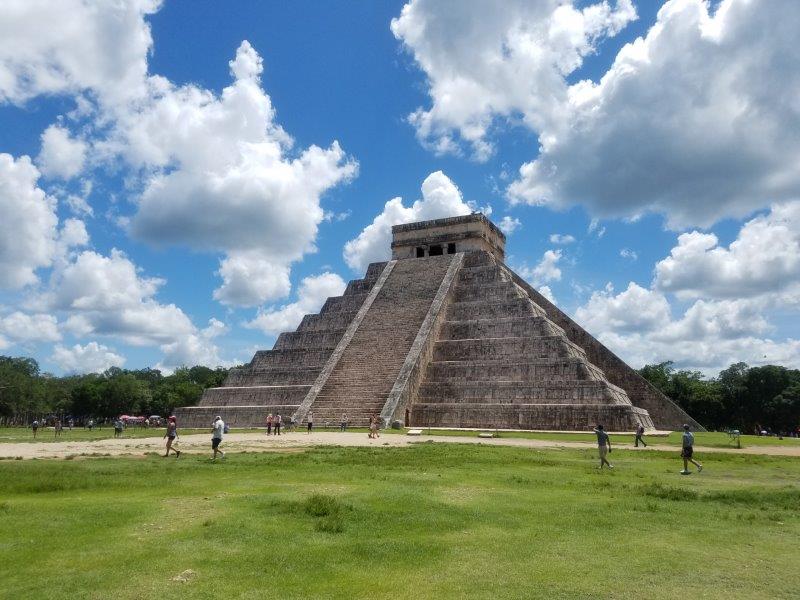 This is the ancient mayan play area – where they played with a leather ball and just using their shoulders and hips had to push the ball through the round hoop that was around 10meters in height.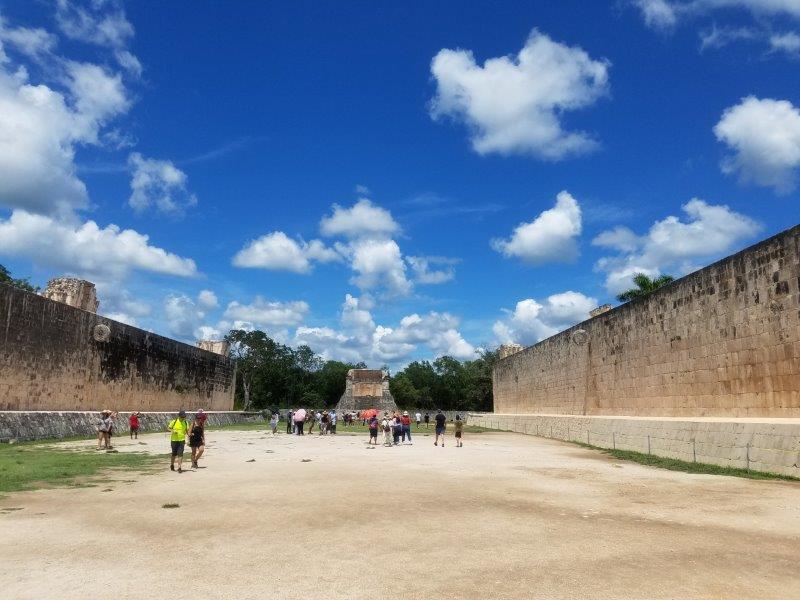 An overview of the pyramid area.
This is the sacred Cenote at Chichen Itza, which was used for sacrifices of young girls to please the gods and welcome the rains.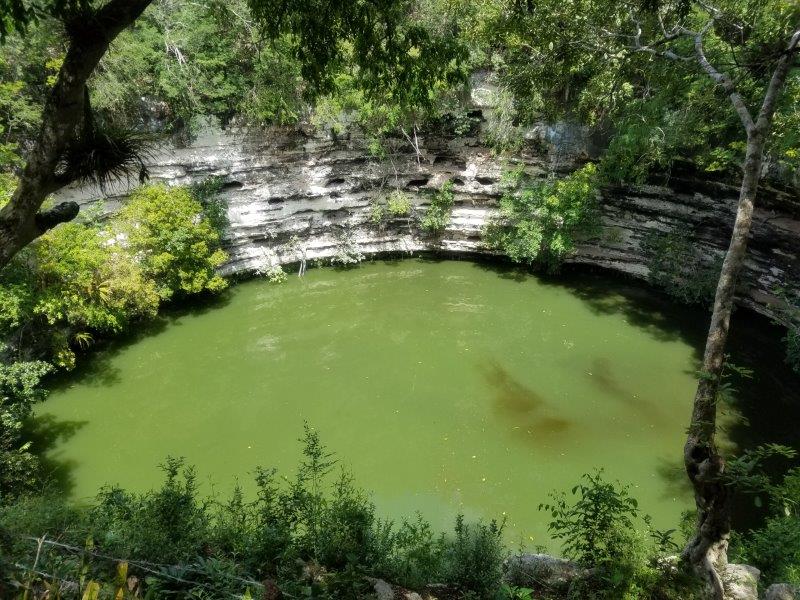 I loved the pyramid complex and wish we could spend more time there. But we were short of time and we had just under 2 hours in total at the pyramids. Once we gathered everyone back in the bus we set-off for the Cenote. Cenotes are water wells and now are used for swimming. The experience was amazing!
Our cenote was close to Vallodoid. As you see the photos below – it is a spectacular place and I would have liked to spend atleast a few hours there. However, we were given just 45 minutes. It was just enough to shower, put a life-jacket and get yourself wet and come out.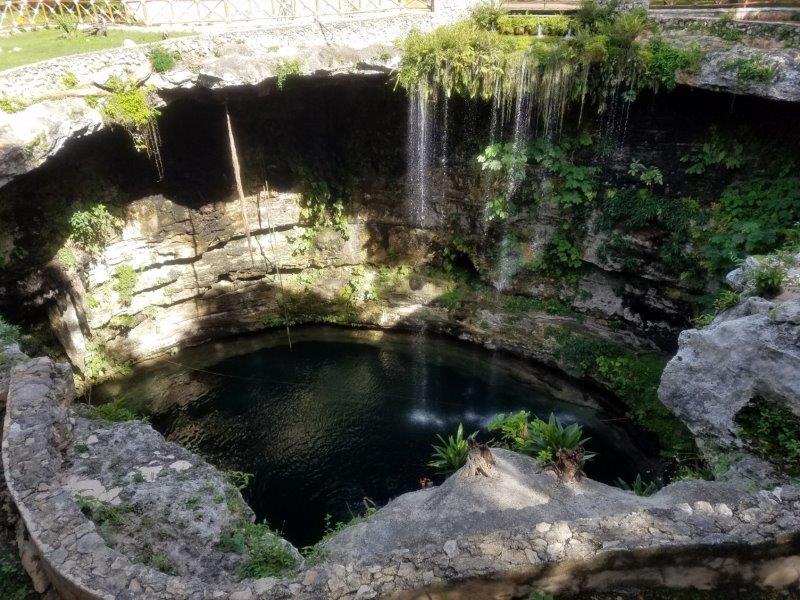 Looking back, I would not do such organized tour again. This was a waste of time. The two important things of the day were the Chichen Itza pyramids and the cenote – but we had really no time to enjoy these places, while we spent a lot of time gathering people and at the fake mayan experience.
If I had to do it again, I would just take a bus from Cancun to Chichen Itza – there are plenty of options and on the way back stop in Valladoid as there are plenty of Cenotes around valladoid to be enjoyed.