Flight report: Avianca in business class
Flight number: AV 246
Equipment: A319
Origin: LPB (02:31)
Destination: BOG (05:13)
Flown: February 2020
Cabin occupancy: 60%
After a fun, but exhausting week, in Bolivia we were back at the airport for our flight back to New York. My brother and I could both feel that we were tired and exhausted. Given the high altitude of Bolivia we were not able to sleep that well. At night, I remember staying awake due to the light headache and head buzz. That being said, it was an amazing trip. We loved it a lot.
At La Paz, the departure gates are 1 floor above. N gates are for domestic and the R are international. The domestic area is much larger than the international area.
NOTE – Avianca or Star Alliance has no lounge at La Paz International departure area. Although, we were flying in business with *Gold, there was no lounge option on offer.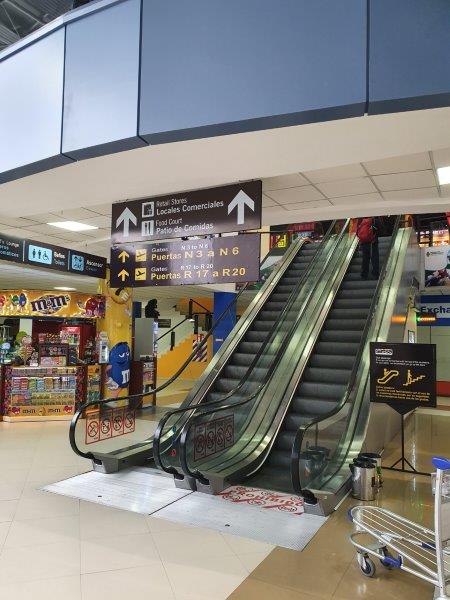 After the security, we seated at the R gates (International departure) area. It is a small area with 1 shop and 1 restaurant. Very different than the domestic area, which was airy and nice. Once the flight was ready to board, the gate agent first boarded people who need assistance and then priority boarding. As we were flying business, we were onboard pretty quickly. Avianca operated A319 for tonight's flight that was different than the A320 we used a week earlier. I saw that the A319 has less legspace than the A320. We were quickly offered a welcome drink, but once again I saw that the FAs did not engage with the passenger. They passed the drink and went on their way.
The seat was comfortable with a small recline. Although there were 3 manual adjustment buttons, only 1 of them worked and that to the recline was very small. Compared to the A320, the business class seat on the A319 has a smaller recline. The monitors were built in the arm rest on one side while the dining table was built on the other side arm rest. The seat controls and the USB charging points were next to your hips.
There is a reading lamp next to your shoulders. Blanket and a pillow was nicely wrapped in plastic. As it was a late night flight, I wanted to take some rest immediately. I opened the blanket and wanted to go to sleep. But as the flight begun the take-off roll the FAs asked all passenger to stove away their blankets as Avianca does not allow the usage of blankets during take-off and landings. This is quite a weird safety precaution and I have not seen this at any other airline.
A view of our seat. There is no leg rest for this seat. It is barely fine for a short hop to Bogota. I dont want to be seated in such a seat on a longer flight.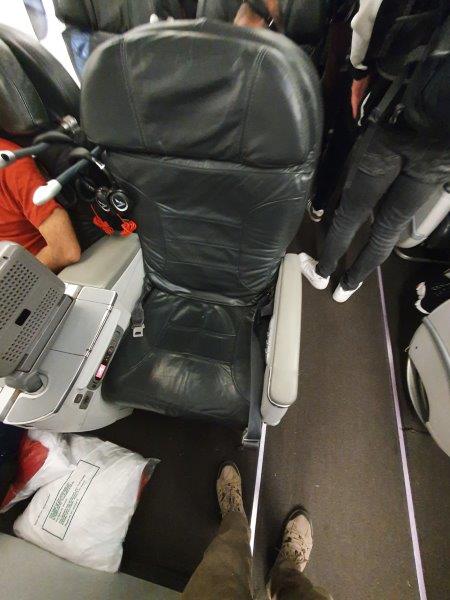 The restrooms were clean and maintained throughout the flight.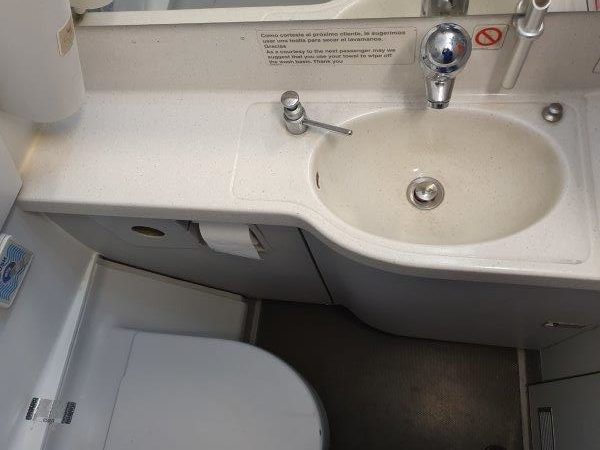 Avianca @ La Paz gets the job done. It is a short flight and we had no complaints. However, I wish Avianca offered lounge access to business passengers. It would be nice to refresh at the airport before the short hop, at a crazy late night hour, to Bogota.