This report is part of the main article: An Epic Mileage Run – Flying to both Sydney and Singapore, twice in 14 days
Its not a surprise, in the end I have decided to go ahead with the trip. Sense of adventure trumped sanity in my case.
A few months ago, the odds of me going through this adventure were 50:50, but now there is no looking back as I will not be able to refund the ticket. Guys…I am just gonna jump in and see what happens. Worst scenario – I will quit at some point and return home and for a few days sulk over my lost opportunity for an adventure of a life-time, and mop over my loss of money. We will just have to see how the next 2 weeks go.
I will be starting the adventure tomorrow. However, I am nervous with all this flying to be done. The schedule for the next 2 weeks is as follows: fly for 5.5 days straight (Part 1 of the trip: 12 segment path: 38423 miles = 61835 km), then 3 work-days in the Netherlands and again 5.5 days of flying (Part 2 of the trip: 13 segment path: 39874 miles = 64170 km). What bothers me most is not the flying – I love flying, but the fact that once I enter Paris airport on Day 1, I will get out of Airport in Sydney, on Day 4. I will have around 8-10 hours to walk around and then again I enter an airport. Don't get me wrong, I love airports too – but at the same time I love things outside airports too, and being out of airports for only 8-10 hours over the next 5.5 days is a bit unsettling. On top of that, imagine that if there are delays and I miss a flight, my time within airports will increase drastically.
On the other hand, there are reports from flyertalk.com that many crazy adventure flyertalkers have managed to complete their Sydney itinerary. British Airways and Iberia are honoring these tickets, so at least on that front there is no headache. It gives me some relief to know that others have done the craziness, their itineraries were not as intense as mine, but still craziness is craziness. At this point, I remember a dialogue from the TV series Seinfeld. When George and Jerry are having a conversation in the episode called "Pilot" – Laundry Talk. Jerry argues that wet is wet, if you can't over-wet, you can't over-dry. The same applies here – craziness is craziness. You fly this itinerary once or twice, you are equally crazy. By the way, I have loaded my tablet with Seinfeld to keep me entertained. The adventure starts tomorrow with a train ride to Paris.
—-
Thalys train ride from Rotterdam to Paris
The Thalys train ride from Rotterdam to Paris was nice. The train was packed to the rafters, not a surprise as this is the month of July, when tourists take over Europe. I am not complaining, actually it is great for the European economy. Anyways, I needed to get to Orly airport in Paris. Unlike Charles de Gaulle (which is on the TGV train and Paris metro line), Orly is a bit out of the way. After the train I took the metro Line 7 to Tramway T7 (Villejuif – Louis Aragon on Paris Métro Line 7) which connects to the Orly south terminal.
The check-in went super easy. I knew from other reports that Iberia and BA are honoring the fare, but still there is that tiny bit of chance they say no. The check-in agent was good, did not ask me any questions about my crazy itinerary, and as I had my BA gold card she pointed me towards the Iberia lounge in the airport.
The Iberia VIP Lounge, is located in the West Terminal, Hall 1, before security. Access is via lift, opposite the Iberia main ticket desk. Opening hours: Daily: 06:00-21:00
It is a small lounge, nothing compared to Galleries First or Club in London or Iberia Madrid VIP lounges. However, what it lacks in size, it makes up in personality. The lounge manager was a very interesting lady. She made sure all the offerings were fresh, all the leftover cleaned up and chatted with many passengers. As it is a small lounge and only a few daily flights to London and Madrid, I am sure she knew many guests personally. This is the professional but personal service I would expect from any lounge. But as the airline hubs are growing in sizes, they can offer quantity, but not this personal touch. At the Orly lounge, I grabbed some ham, sandwiches and drinks. As it was around 6pm, I was hungry at this point. Also, I knew that my connection in Heathrow is a short one, and I will not have time to visit the lounges there. However, it does not matter I was already full with nice and light snacks at the Iberia Orly lounge.
My flight was an evening departure to London Heathrow, from there I will be connecting to my Singapore flight. I left the lounge before the TV displays says boarding as I still had to go through immigration and security. The Iberia lounge at Orly is on the land-side, thus security and immigration is after the lounge visit. As I was traveling light, security and immigration was quick and within few minutes I was at the boarding gate.
Orly airport is quite small for the number of passengers it transports. There was practically not seat available next to the boarding gates. It was not a problem for me, as I did not wanted to sit as I will be sitting in the plane for next 5.5 days anyways. I walked around the airport, just observing and listening to music.
———-
Flight – Orly to London
Guess what? My flight to London is delayed by 45mins to an hour. Can you believe this – perhaps this is god's way of saving me from craziness. If I miss my connection in LHR, I can request BA to reroute me and spread out my flights over time, so my itinerary is not that intense. Secretly, I am praying so that I miss my connection in London, as 1 hour delay means I will just have 20 mins in Heathrow for transit. And given the craziness that LHR, 15-20 mins might not be enough.
I land at Heathrow, praying that it is too late and my flight to Singapore is closed – but NO. There is an BA agent waiting for me to guide me for my express connection. Man – I cant catch a break can I?
I make the connection – actually, I am the last person on board and the doors are closed. It means – Singapore here I come. Let the adventure begin!
——
Flight – London to Singapore
Flight to Singapore was fabulous. I slept all the way. Although, this was a crazy itinerary, and a few months ago the odds of me going through the craziness was just 50:50; but with whatever shred of wisdom I had left, I had pre-booked nice seats for myself for the entire trip. That was 1 smart thing I did.
Given that I was BA Gold, it was free for me to select seats in advance. The flight to Singapore was on their 747. The BA 747's in economy has 10 seats in 1 row. It is not a pretty sight for eyes on an ultra long-haul 14 hour flight to Singapore. However, there is a sliver of hope. The last 3 rows on their 747's have only 8 seats, with 2 on 1 side and 2 on the other and 4 in the middle. I grabbed one of these aisle seats on the side. Fortunately, there was no one sitting next to me. It was a full flight, barring 1 or 2 free seats, and luckily the seat next to me was free. I was in row 51C – Once we took off, I put my eye shades on, took the blanket and a couple of pillows and put them under my head on the aisle side and rested my head on the arm-rest, lied down on the seat and let my legs dangle on the window side. I am 5.11 and this 2 seater is not the perfect place to stretch out. But knowing that I will be sitting on my ass for the next 5 days, I grabbed this opportunity, to lie down, with both hands and was fast asleep.
A seatmap from seatguru.com, showing the seats for BA 747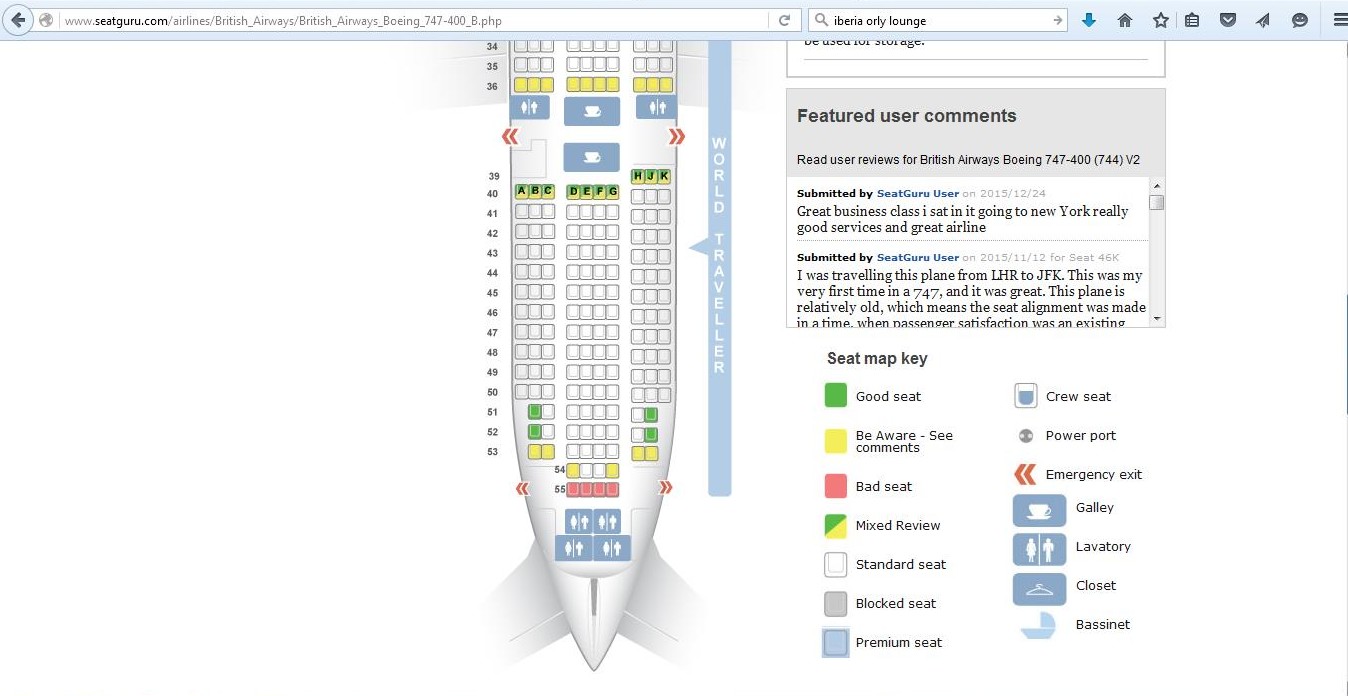 Thank god I had a good meal at the Orly lounge, I slept all night through. I woke up refreshed the next morning. FA immediately same to check on me and asked me that should she bring some food for me as I have not eaten anything on the flight. I told her, that we will be landing in 1 hour, I am just gonna wait and grab something in the Singapore lounge. Why waste my appetite on flight food, when I can eat in Qantas airlines' Singapore lounge. I grabbed some juice and water and kicked back to watch an episode of Seinfeld on my tablet.
——————-
Singapore stopover
Stopover in Singapore is going well. Once I landed here, I quickly went to the lounge, grabbed a bite to eat and went to the swimming pool in the transit terminal to get some fresh air and some exercise. Nice swim and fresh air was the thing I needed the most. although, I slept all night long, I landed in Singapore around 4:30pm. And quickly the dusk settled in. Imagine waking up after a nice sleep in the morning, and in 2 hours, its evening again. Just 2 hours of day light, this is how people in northern Sweden and Norway must be living for half of their year.
The swimming pool at the airport is a fantastic facility – its a rooftop facility with nice view of the parked planes. As all things Singaporean it is clean, easy to find and nice to use. Its located in Terminal 1, at the Departure Transit Lounge, near D Gates, Level 3, Transit Area. I spent less than 10 euros for the use of the pool, lockers and received a non-alcoholic drink for free. Not a bad deal at all. Perfect place for transit passengers to kickback and relax.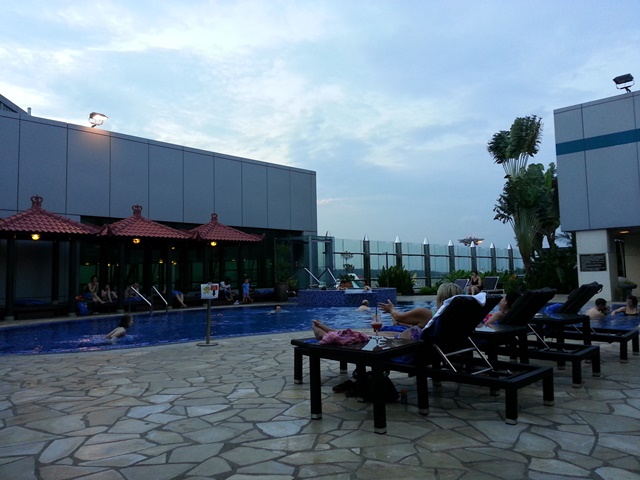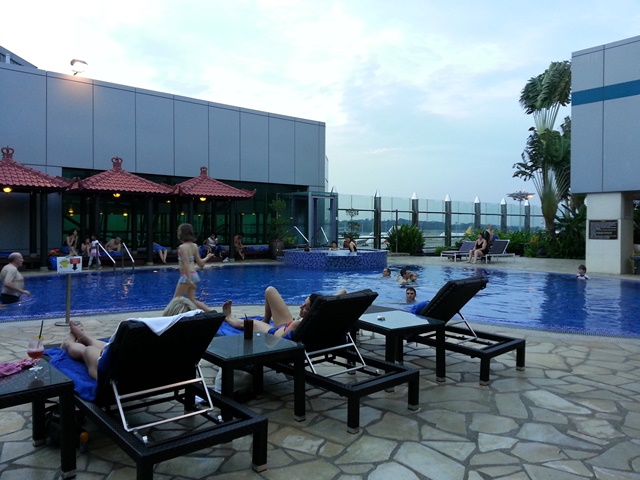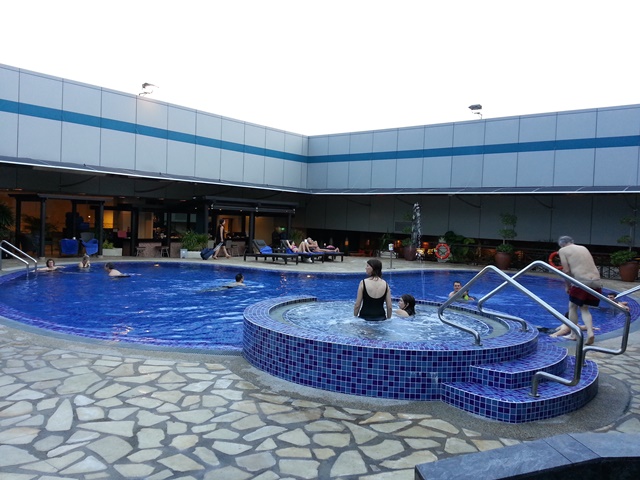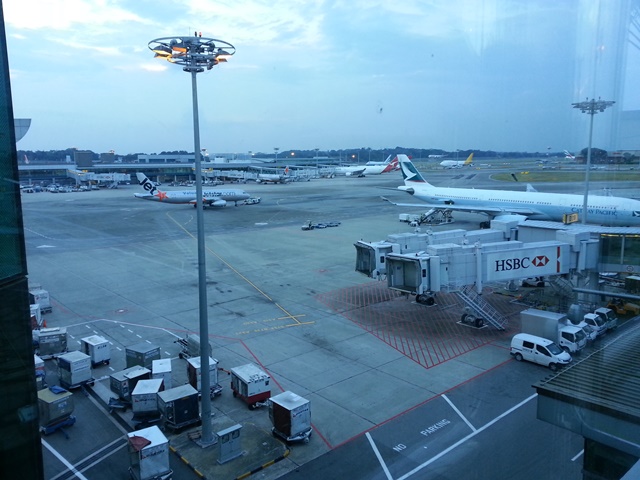 ———–
Singapore Qantas Lounge
After my swim, I walked to the Singapore airport Qantas lounge. This is one of my favorite lounges in the World. Although, the BA lounge is next doors, I prefer the Qantas Lounge as it has amazing food and great service. The best thing about the lounge is the fresh cooking stations as well as the bar. I will keep the description about this lounge short and write an independent review about this lounge as I will be visiting this lounge 6 times over the next 2 weeks. I think the lounge personnel will be my close friends soon.
——–
Flight – Singapore to London
I am getting ready to board my flight back to London soon. From there I will be connecting to Madrid, where I have a few hours before I turn around and fly to Paris Orly to begin my Sydney run. Although, I slept pretty well on my flight to Singapore and it is just a few hours ago my day started, I already feel a bit tired. Perhaps the swim has made my body relax and a bit tired. Hopefully I will get again a free seat next to me on my way back?
I have just boarded my flight to London, and NO! there is no free seat next to me. However, I think I can still sleep on my way back, I am a bit tired. Its been 3 years now, I have not slept properly – we have a daughter or 3 and 1. I guess my sleeping days at home are gone, I will just have to do crazy mileage runs and sleep peacefully on the plane.
—-
Madrid Stopover
I am in Madrid now. I slept well again on my flight to London and from there to Madrid. Luckily, I got upgraded to business class on the short-haul London to Madrid flight. And on top of that, it was a 767 run. So I had a nice flat seat to sleep on the way to Madrid. It seems someone up there is looking out for me. I have a feeling that I will easily pull this crazy adventure off. I know, I know, I just have completed the Singapore run, and I still have 2 Sydney runs as well as one more Singapore run. However, I know now I can do this. I am enthusiastic, excited and really looking forward to pulling this off.
I know its a short flight, and its just a simple upgrade to business. But at this point in my trip, when I was looking for some meaning for this craziness, this upgrade really came as a nice sign. A small inspiration to push me in completing this crazy adventure successfully.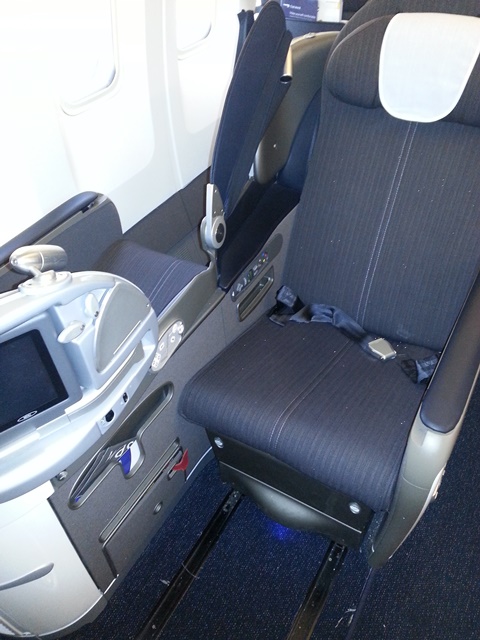 In Madrid, instead of heading to the lounge I just walk around the airport to keep the blood flowing. I have slept enough on the planes and I am feeling refreshed. Also, I am expecting to eat my dinner at Orly before the Sydney adventure. It seems like I am in a time warp, I will be back at Orly, repeating the same trip one more time.
———–
Back at Orly
Hello Again – I am back at Orly. Right where it all started. I was just here it seems – you know with all these flights and sleep on the planes, I am not sure which day of the week it is or whats going on around me. Although, the trip is similar now – Orly to London, and from there to Singapore – same flights and same timing as the one a couple of days ago; but there is one major difference – this time I do not want the flight to be delayed. I really would like to continue this crazy adventure. No sir, no misconnects for me – I cannot afford them!
——–
Flight – Orly to London, London to Singapore and Singapore to Sydney
I have landed in Sydney. My flights were all good. Nope – no misconnects, flights were pretty much on time. I got some reading done and slept a bit. Only one incident was disappointing.
When I boarded for my Sydney flight in Singapore it was the same crew on this flight, that came with me from London 3 days ago. As I was sitting again at the back of the plane, the same FA was serving us. Of course, this time I did not have a free seat next to me. On seeing me she came to me and we started chatting. After a 3 day break the crew was heading to Sydney. She asked me why I do not eat on the plane, etc. I told her I am BA gold and usually eat before in the lounge. etc etc. Then a crazy incident happened. The flight purser was upgrading people from economy to business (not to premium economy, but directly to business). The purser must have asked my FA to get these people in the business cabin. She found 2 people to go and stand near the galley and then came to me and said – surprise, you are lucky that you are being upgraded. I proudly grabbed my belongings and was so excited that this mileage run is going in the best direction possible. If BA keeps on upgrading me like this, then this will be the most luxurious mileage run for me and 700 euros well spent. Anyways, I reach the galley and wait for the purser to assign me a seat. He assigns the other 2 people their business seat and looks a bit lost. He is checking my boarding pass and then his seat map etc etc. And keeps muttering something to himself. He asks me, who asked me to come to the front. I told him the FA asked me to be here as I was being upgraded. He says, he is sorry, but this upgrade is not for me. He leads me back to my seat and promptly points to my neighbor girl that she is being upgraded. My excitement turns into shame and I quickly take my seat and sulk at the lost opportunity.
There is just a very thin airline curtain between pride and shame!
Anyways, no harm done. Now I have the seat next to me free again. I had already eaten well in the Singapore Qantas lounge and given the seat next to me is free I can sleep well again. I grab the blanket and pillows and go to sleep again. In the morning, when the FA who led me to the front stops by to serve breakfast she is shocked to see me back here again. I told her what happened and she is really sorry about the miscommunication. I assure her its not a problem and I still relaxed well on the flight. We are soon going to land in Sydney. I was in Sydney 7 years ago and am really looking forward to getting into the city. I know its winter here in Australia – I have my jacket and fleece ready. Sydney – here I come.
——
Sydney stopover
Its early morning here. I just breezed through the immigration and now on the land-side. Its dark and cold outside. I stepped out for a few minutes and it seems I will need my jacket and fleece.
I am at a cafe next to the arrivals, within the airport. And guess what – the Dutch are playing Costa Rica in their quarter-finals encounter. Its dark outside, and cold too – what a perfect way to spend a stopover. I grab a cup of tea and enjoy the social event of watching the game on public TV. Its quite fun to watch the game along with fellow passengers. Also, during the game people keep on coming and going as their flight is called. If you know this game, you will know that it was quite a long game. As the game was a draw they went into extra time, and then penalties and the Dutch won it 4-3 in the end on penalties. This really perked me up.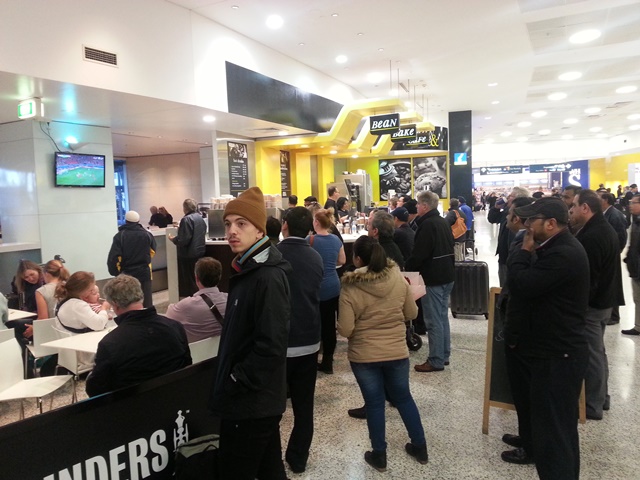 As you know I had roughly 8 hours in the city. The game took a few hours away. Now I am not sure if I will head all the way to the City. I might just walked around the airport. I need to prepare for next weeks adventure, when I will walk to the Wolli Creek station and take the suburban train from there to Circular quay to save on the Sydney Airport Gatepass fees. Today, I will do the practice run.
Review/Report: Sydney International Airport to the city – Bypass the Gatepass fees
That's what I did – I walked around the airport and went to the Wolli Creek station. I have written a separate review for people, who would like to walk to Wolli Creek from Sydney Airport to save on the gate pass fees.
You know, I was in the airport and airplane environment for the last 4 days … continuously. I love flying, really I do, but what I was doing now is not just because I love flying, but there is a point to prove. I am sure people who do marathon or running for a few days continuously – its not just for their love for running I think, but there is some point to prove. There may be a very few people who must have flown for 5.5 days straight…come back to work for 3 days and repeat that again for 5.5 days. Its good to be one of those people who have done it. Once this is done and dusted, it will be a fabulous story to tell. One things is for sure, no matter how long any flight it, compared to this flying it will be just like a puddle jumper.
After this walk around the airport, and the Dutch win over Costa Rica, I can see I am in high spirits. Of course, it does not hurt to know that I have already flown for 4 days straight and after this last leg to Europe I will be home for a few days. That in itself is a bitter-sweet thing, as I know that my family is in Hungary and there will be no one to welcome me home. No pain no gain. Anyways, it is good that the family is in Hungary, as I do not have to feel guilty for leaving them home along to follow this crazy 2 week flying adventure. I will just go home, relax a bit, and anyways I will be working for 3 days. I will not have anytime to be lonely.
After my walk, I head to the Qantas first class lounge at Sydney Airport. As I did for the Singapore airport Qantas Lounge, I have written a separate report about the lounge. It is a fantastic lounge, and it deserves its own report.
Review/Report: Singapore Airport – Qantas Lounge (Oneworld)
——
Flight – Sydney to Singapore, London and Madrid

After the Dutch win, a nice walk around the airport area in Sydney and a over the top lounge experience in the Qantas Sydney First Class lounge, I was ready to say goodbye to Sydney. The flight back to Singapore boarded on time and I was luckily seated in a row with 2 seats at the back of the aircraft. I was just very proud of myself that I came this far. Now it was the last leg back to Europe and I was looking forward to a day in Madrid. The flight back to Madrid was uneventful, but I could get a lot of reading done and ofcourse catchup on my sleep.
I had an entire day in Madrid, I landed around 9am there and I was supposed to take the evening flight from Madrid to Amsterdam. I had it all planned. I went into the city, had a nice meal and then went to Retiro to relax. I have written a separate report about the Madrid day trip, which can be found here.
After a nice sunny day in Madrid I headed to Amsterdam and sweet home Delft! Half of the mileage run was now over, and in a few days I will be begining the second half.