Flight review:
Qatar Airways in Business class
Flight number: QR 1396
Equipment: 787
Origin: CMN (14:45pm)
Destination: DOH(23:59pm
Flown: October 2015
Cabin occupancy: 100%
Casablanca Airport impressions
Casablanca airport is not for the faint hearted.They are in the process of upgrading the airport, hopefully it is done soon.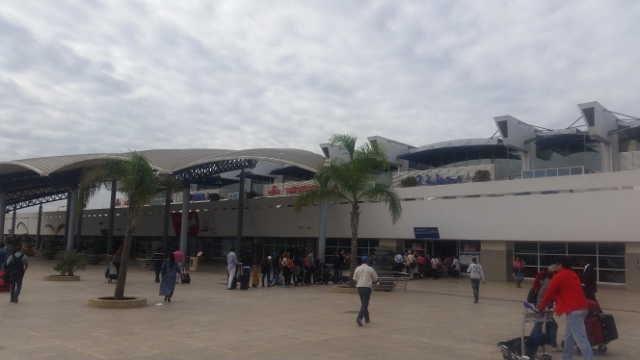 The above photo is the entrance to terminal 2. Theoretically, there are 2 terminals, but even then most of the checkin is done in the basement of terminal 1. So I had to wander a bit before I found my Qatar airways checkin in terminal 1, which looks like a basement storage area, with low ceilings and no windows.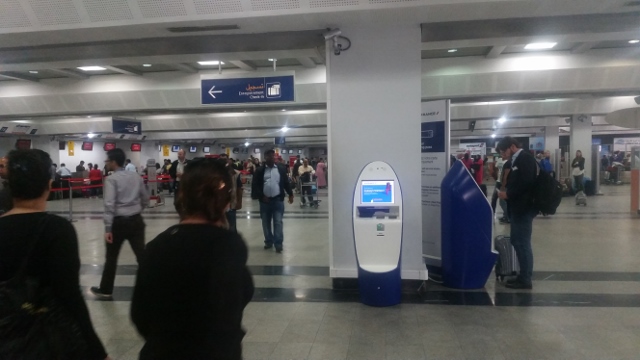 Anyways, as I was flying business I had a separate queue with only 1 person ahead of me. The checkin was quick and my bag was checked in all the way to Nashville. At the checkin counter I was given a lounge entrance card. After that I went through priority security and immigration and headed to the lounge.
Royal Maroc Lounge
Qatar Airways uses the Royal Maroc lounge at CMN. As per Oneworld website, the lounge information is
Royal Air Maroc International Lounge
Location details: Terminal 2
Opening hours: Daily: 24 hrs
The lounge itself is ok, but too crowded. I was there in the afternoon, and the lounge was packed with Royal Air Maroc USA departure passengers. There was not a single seat available. The food options were decent – nothing too fancy, but nothing to frown upon. I grabbed a beer at the bar and tried a few options. I knew that on board Qatar Airways, I will have La Carte menu and will have a great feast waiting. Thus I just wanted to eat a bit in the lounge.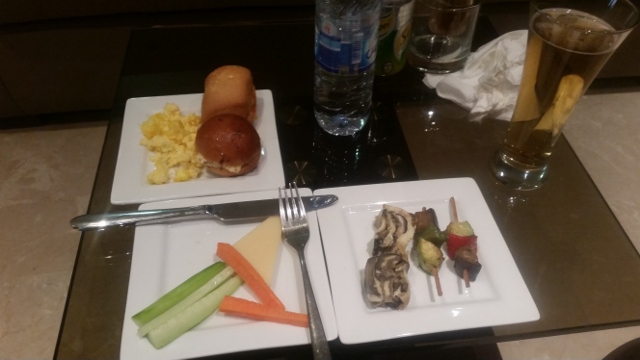 Once I saw that Qatar Airways flight was boarding, I left the lounge and went to the departure gate. It is a long walk to the gate from the lounge. Also, the departure gate is a bus gate, so you are practically going to some airport corner, basement to catch this bus. The gate really looked like a bus station.
Boarding
There were 2 separate buses – 1 for economy passengers and the other for business. Boarding passes were strictly controlled to make sure only Business passengers were in the bus meant for them. But having a separate bus does not matter where the aircraft is parked somewhere in the middle of the field. As the 787 holds only a few business passengers, our bus had to wait a long time for it to get full. In the mean time the economy bus went ahead. And when we reached the aircraft there was a huge queue to climb to the door. However, I did not mind it. It was my first trip with an 787 and I knew Qatar 787 was relatively new and the business class service is as good as some other carriers (especially US based carriers) first class service. I took this opportunity to take photos of the aircraft.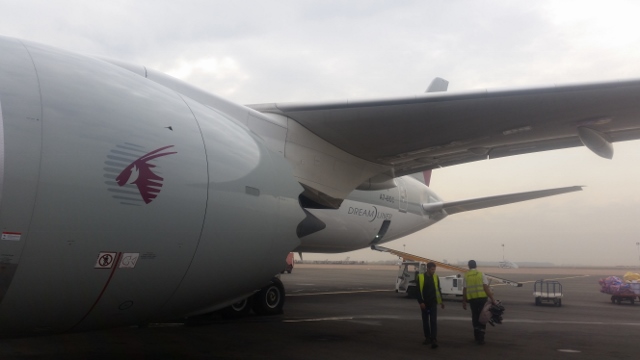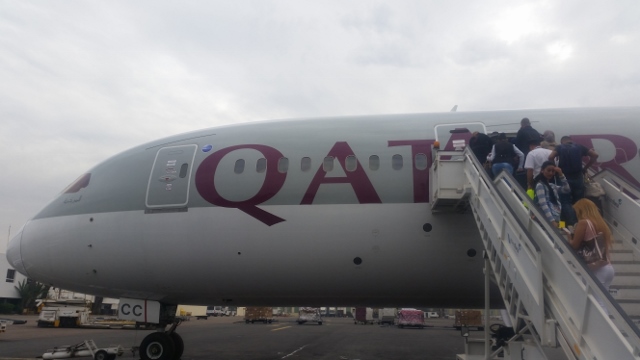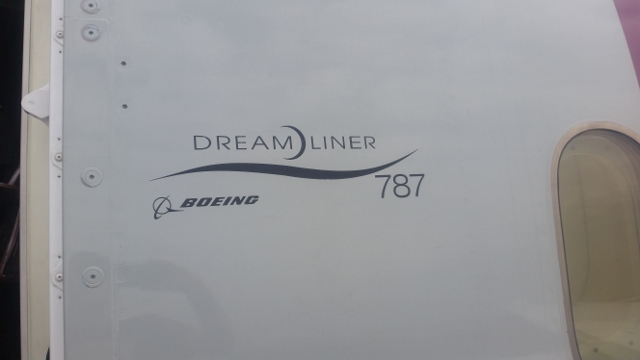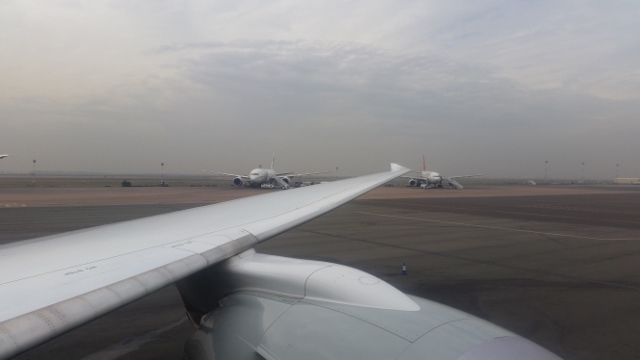 Cabin
Qatar gets full marks here. The 787 business cabin has a luxurious feel to it. The colors are soft to the eyes, with nice grey and burgundy (matches Qatar Airways livery). Each seat has an access to the aisle – no more jumping over other passengers. The window seats are single seats and are perfect for solo travelers. The middle two seats are perfect for two people traveling together.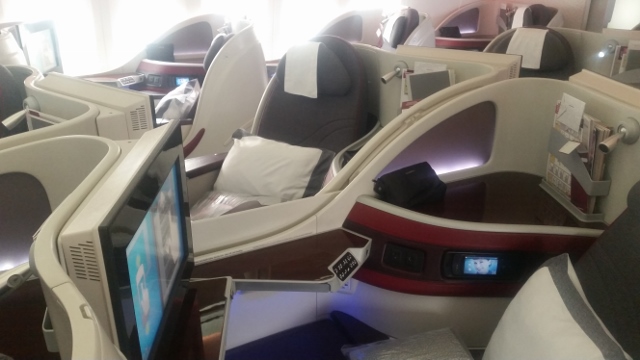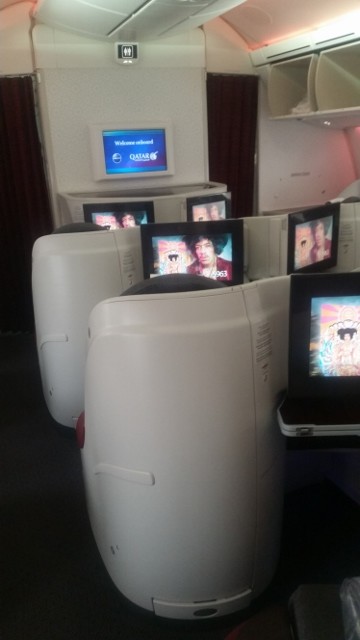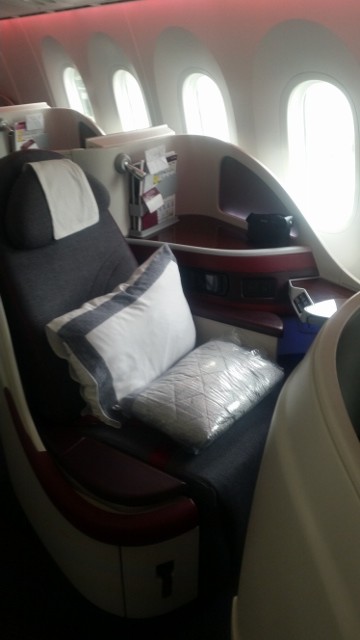 Immediately after boarding the flight purser came and introduced herself. She was a wonderful lady, and was quite enthusiastic about her job and the new plane (787, as Qatar has started the 787 service just a few weeks earlier). I was quickly offered welcome drink, which was great and refreshing – some fresh lime + mint juice.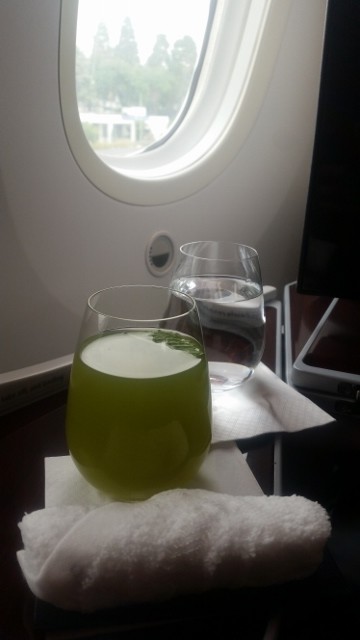 Seat
It is lie-flat seat. Quite comfortable to sit and enjoy the flight. There is a small storage next to the sit. I could store my phone and tablet during the flight there.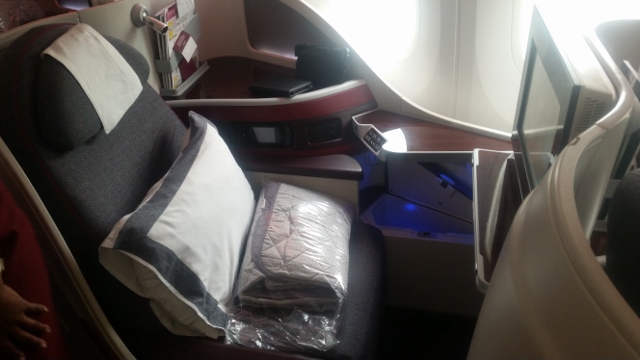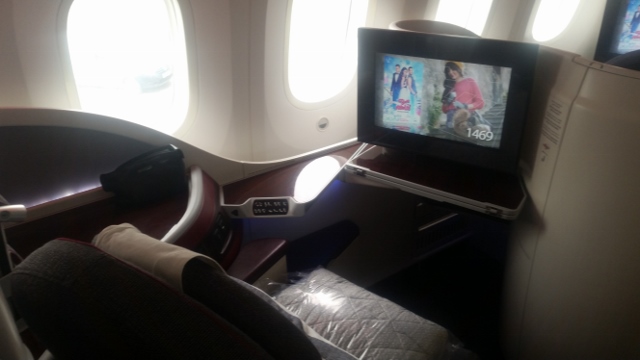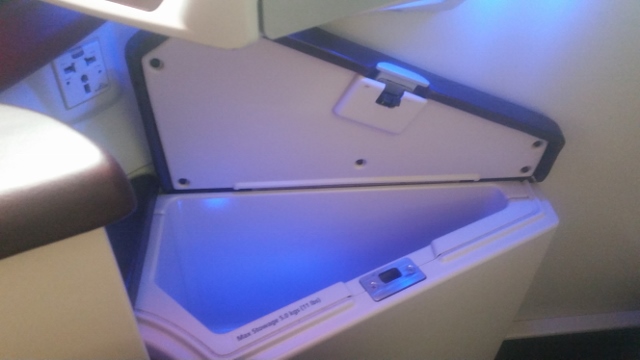 However, the only negative about the seat is that the area where your legs are supposed to be in the lie-flat mode is quite small. When I slept during the flight I could not move my legs much during my sleep and it was a bit difficult to get the right position for a good sleep. In the photo below you can see the small bench where your feet is supposed to be in sleep mode. Its quite restricted.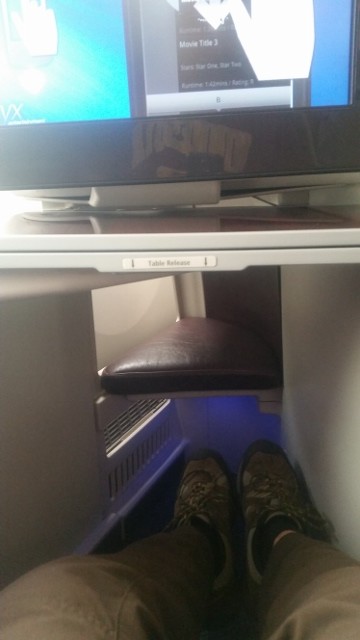 Amenity kit
Qatar offers Armani kit – there are 2 separate versions, for him and her.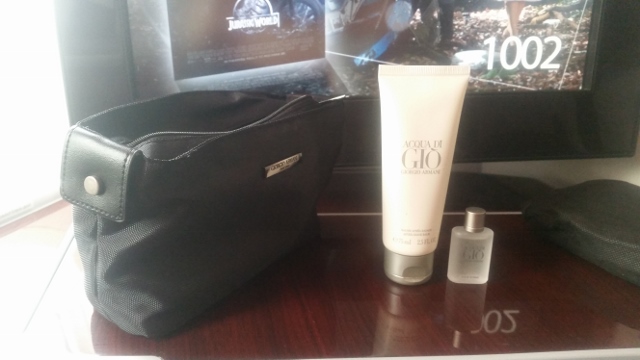 Entertainment
Qatar has on-demand entertainment on board. There was a decent choice of movies to pass the time comfortable. The screen size is pretty good too, and in fact on the larger size. Qatar calls it Oryx entertainment.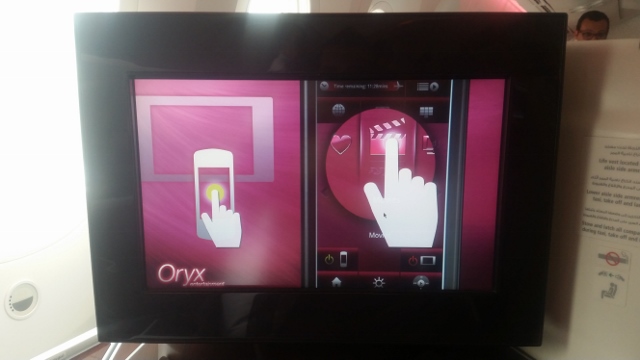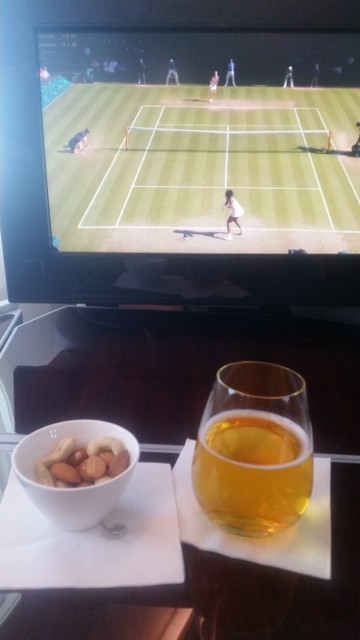 Restroom
I usually do not rave about aircraft restrooms – but this one was special. It was huge and with a nice window. Literally – a room with a view!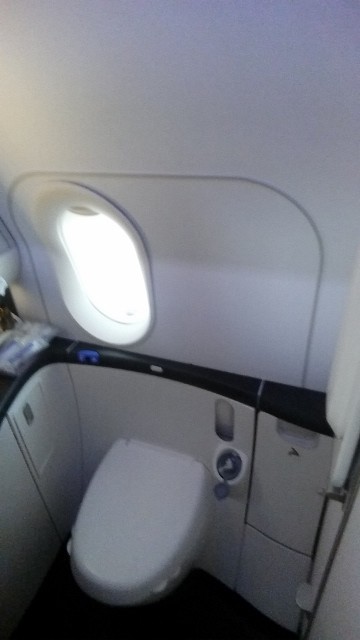 Food
The food was wonderful, and as it was la carte I could mix and match whatever I wanted on the menu. The FA serving me was quite fun and recommended a couple of different things to try. It was nice to see people still enjoying their jobs. The lunch was tasty and well presented. The FA anticipated my needs and paced the servings accordingly. Thus I was neither rushed nor waiting.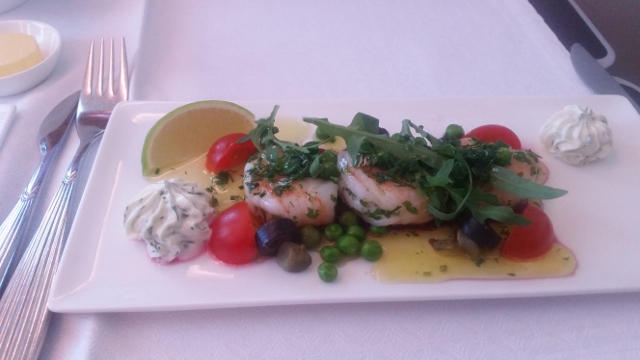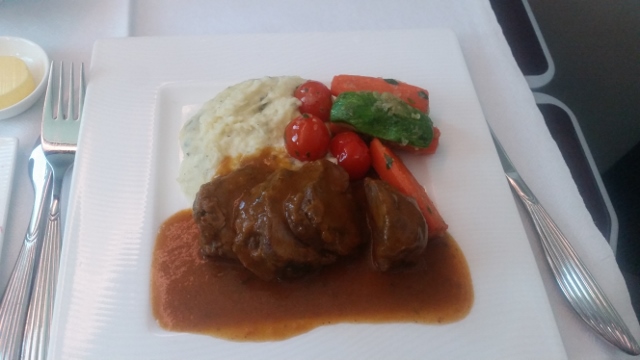 Verdict
Fantastic! With their business class product on their new 787's Qatar has nailed it. Only small negative would be the small space for legs in sleep mode, and secondly they do not offer pyjama's on this flight. I would have loved to change into pyjama and relax for the 6.5 hours flight.