Flight report / review
Royal Air Maroc in economy class
Flight number: IB 7971 (operated as AT971)
Equipment: 737
Origin: MAD (7:30pm)
Destination: CMN (8:20pm)
Flown: October 2015
Cabin occupancy: 60%
While searching the internet I founds very few reviews of Royal Air Maroc in economy. Royal Air Maroc codeshares with Iberia on their Madrid to Casablanca route. I was flying from Brussels to Casablanca, and although I had booked with Iberia, this Madrid to Casablanca was operated as Air Maroc flight. This was a great opportunity for me to try a new airline and review their product.
One important thing I would like to mention beforehand. Although, I was booked on Iberia flight numbers, and had a boarding pass issued on Iberia stationary, I was still not allowed in the Iberia Madrid Lounge in terminal 4S. The lounge agent said that as the flight is operated by Air Maroc, I cannot get access to the lounge with my AA Platinum card. I pretty much expected this, but still wanted to try. You never know when you get lucky.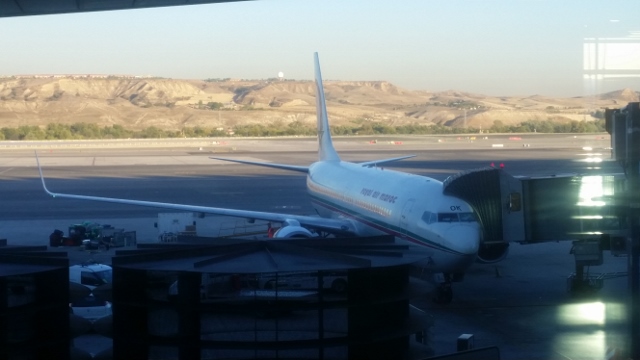 Boarding
As I did not have access to the lounge, I was at the gate quite early. What I saw that even before the gate agents arrived people had started queuing for boarding. By the time the boarding agents came the line was already quite long and in fact blocking other transit passengers. Anyways, I was in no hurry to board. I saw that there was priority boarding for people in need as well as Air Maroc's business passengers. Then the whole queue started to board, orderly. It was quite a nice orderly boarding!
Food
Even on such a short flight, Air Maroc served food. I also saw that a couple of people received wine in economy – free. However, I usually avoid drinking if I am about to enter an Islamic country.
I was quite hungry by the time the food was served. The sandwich and the accompanying yogurt was quite tasty.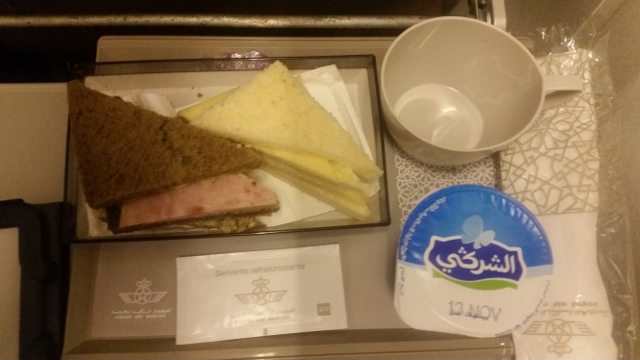 I saw that the crew went around for second drink round – tea, coffee, water during the dinner.
Verdict
I liked Air Maroc's economy service. It was prompt and professional. And at a time when all European airlines are cutting down on food and drinks, they still offer food, even on a short flight such as this. Also, the flight interior was well kept and clean. It is a pity that Air Maroc is not a part of any alliance, otherwise I would have loved to try them again one day.