An age-old Japanese proverb goes something like this…
"If you come to Japan and don't climb Mt. Fuji, you're a fool; but if you climb it more than once, you're an even BIGGER fool."
Apparently, I have climbed Mt. Fuji only once – so at least I am not a bigger fool. However, I climbed Mt Fuji on my third visit to Japan, so I still may be a fool. Who knows! Anyways, that is not the discussion topic for this article. Herein, I would like to talk about planning your Mt. fuji trip and climb.
Brief background:
Mt Fuji, is the highest mountain in Japan at 3,776 m and lies about 100 kilometres south-west from Tokyo. Usually, I am not a mountain climber so when my brother mentioned that he is going to Tokyo in July, and once my wife and I decided to join him, we were searching for things to do around Tokyo. During our trip to Kenya a couple of years ago, we wanted to climb Kilimanjaro, but due to lack of time could not make it happen. Thus when opportunity presented itself to go to Tokyo, we thought climbing Mt Fuji would be an interesting activity. Given its proximity to Tokyo, it is a great activity that can be done within 2 days. We decided that instead of climbing up and down in a day, we would overnight in one of the huts on Mt Fuji.
Quick background about Mt Fuji
Mt Fuji is …
… a beautiful mountain. Very symmetrical cone!
… as high-tech as it gets – can you believe that there is a free wifi, on the climbing trails, all the way up until the summit.
… easily accessible. There are regular buses from Tokyo and can take you there in around 2.5 hours.
… very well organized and as clean as it gets
… as comfortable as it gets on such a tall mountain. There are huts at regular intervals where you can sleep for a few hours and have dinner/drinks
… NOT a stroll through the park. It is a serious hike and many climbers do not make it to the summit. My brother and I made it to the summit, however, my wife has altitude sickness kick in at 3200m elevation and had to stay behind in a hut. It is a serious mountain, and needs good preparation.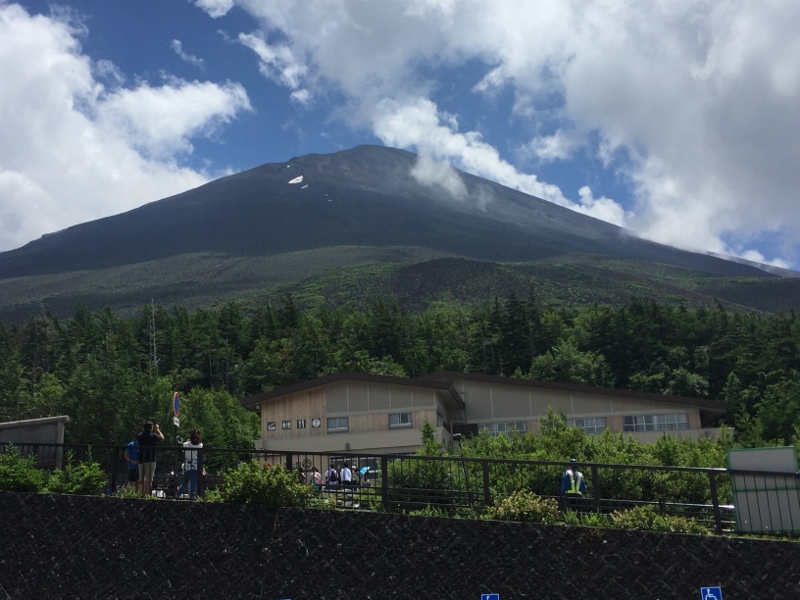 What to take with you for the climb
Winter cap
Headlamp
Eye mask and ear plug for sleeping in the hut.
Shoe gaiters
Layered clothing as the temperature changes quite often.
Hiking socks
Energy bars
Walnut n cashew
Energy gel
Thermal underwear
Winter jacket
Hand-gloves
Rain gear
Wet napkins
Sunscreen
A lot of CASH – You need coins to buy food/water or other important items, as well as to use the toilets on the trail)
A lot of FOOD
A lot of WATER
We even took a couple of small pocket canister of Oxygen (just in case).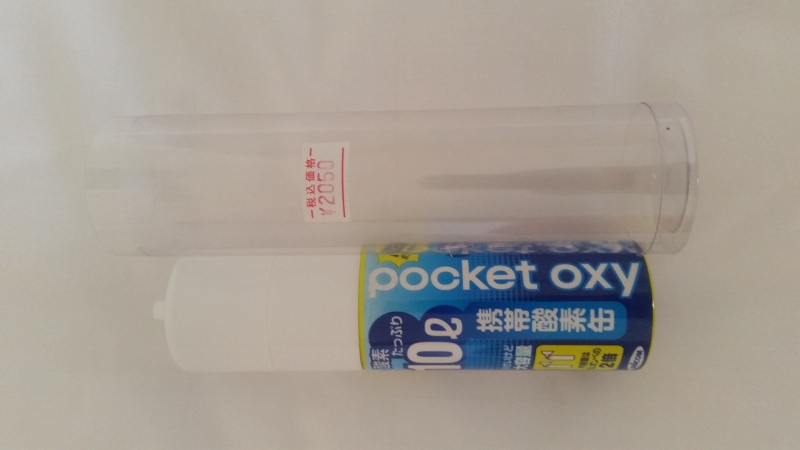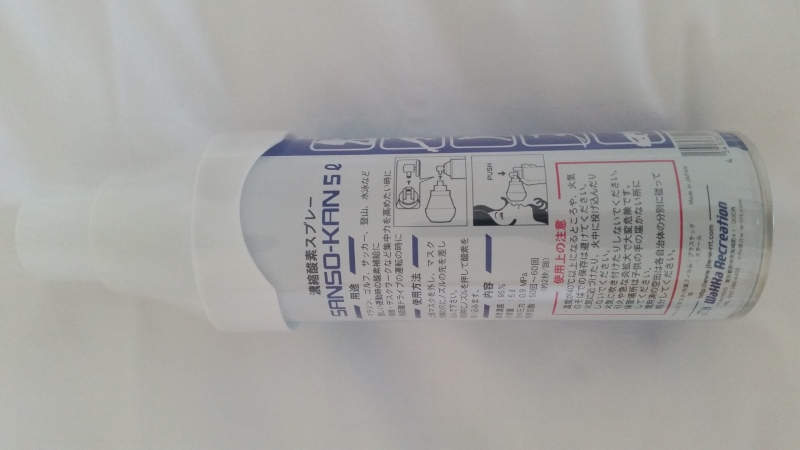 How to book bus ticket from Tokyo to Mt Fuji 5th station
If you are going to climb Mt Fuji from Tokyo, then the Yoshida trail is the best suited one. You can take a bus to the starting point (Fuji 5th station) and there are many huts along the way to relax and buy supplies.
We booked a bus from Shinjuku to Fuji 5th station (Starting point for the Yoshida trail). we were able to book the tickets in advance on this site. 
http://highway-buses.jp/
They have an English language booking tool, where you make a reservation and then on the day or earlier (once you are in Tokyo) you go to their Bus office to pay for it. We did the same, and could pay with our online booking code before we left for Fuji.
The Shinjuku expressway bus terminal is easy to find. Just leave the JR Shinjuku station via the south gates and you will see the large bus terminal.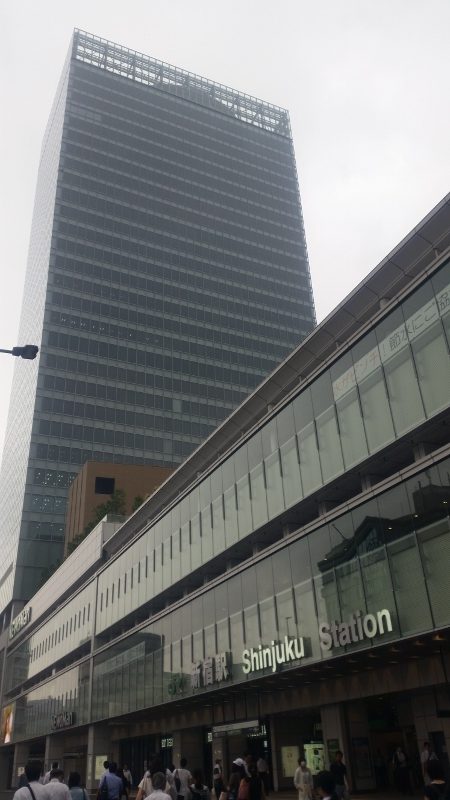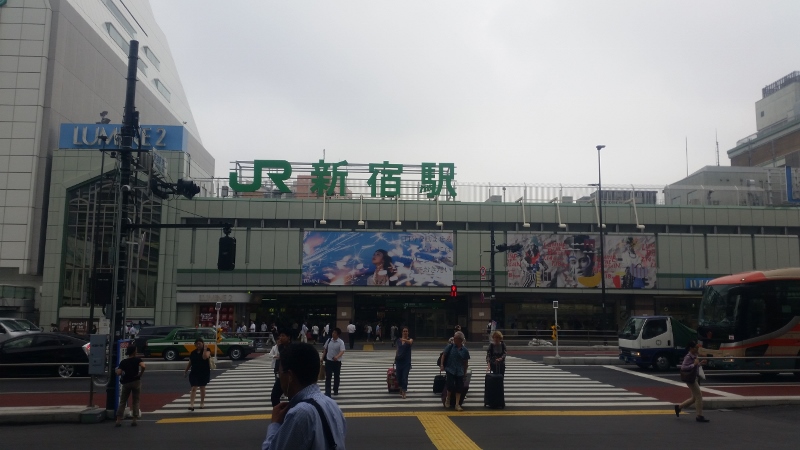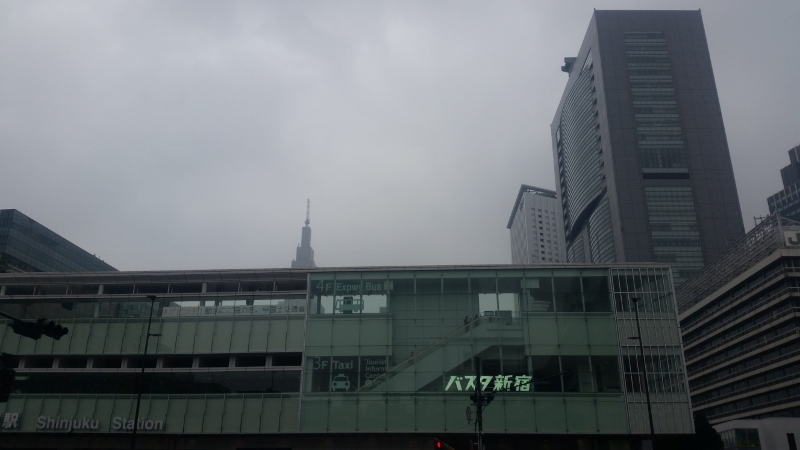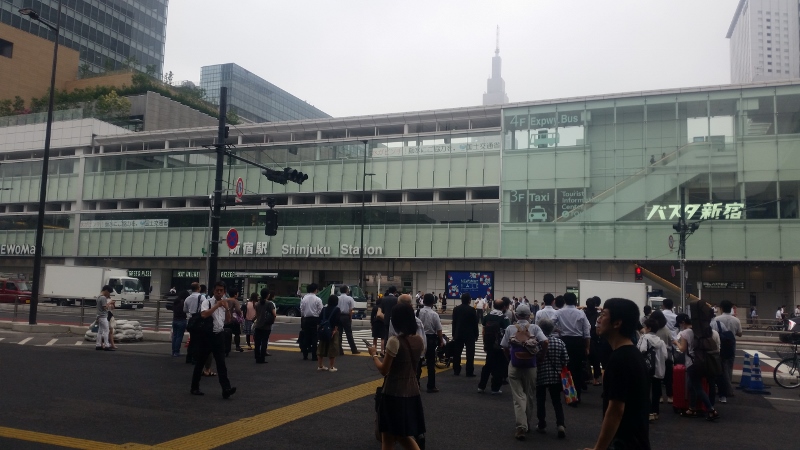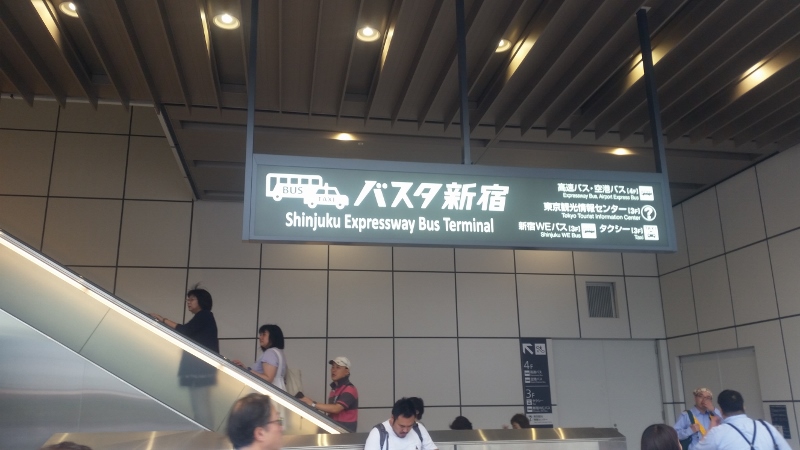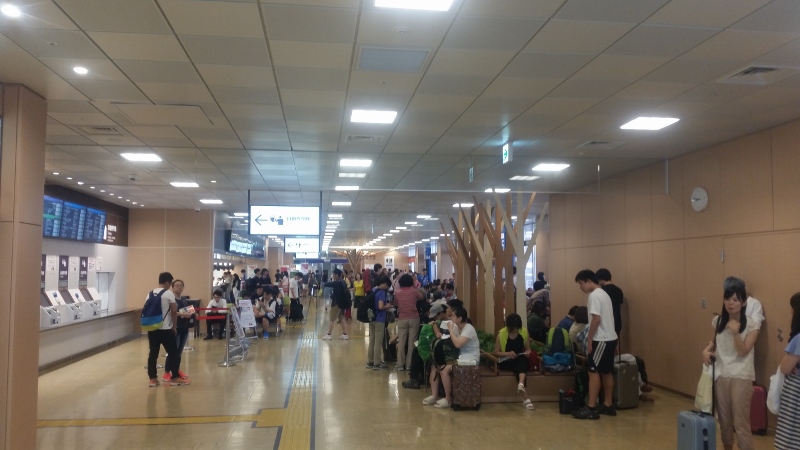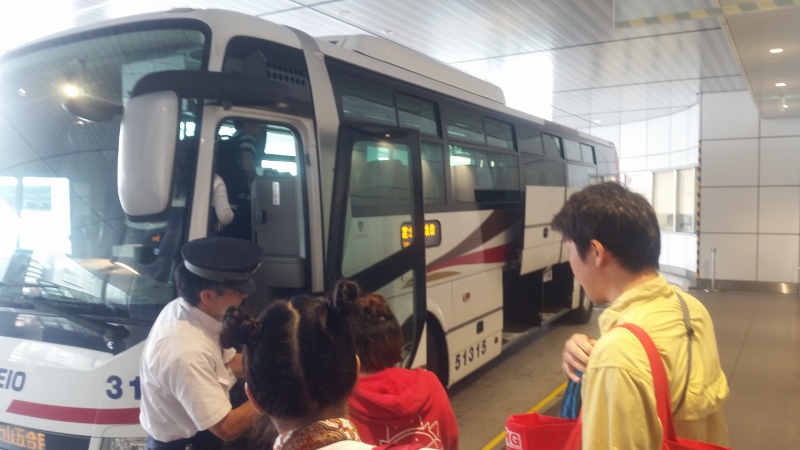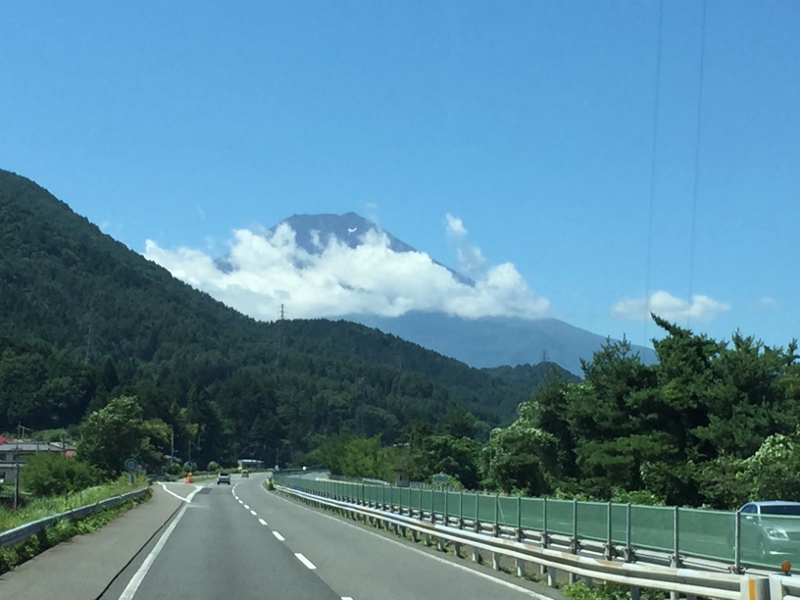 How to book the Huts
For more information about the huts please see this website.
The following huts are able to book in English
http://tomoekan.com/
I would recommend to spend the night (or a few hours in the night, as the wake up call for everyone begins at 2.30am or so, for the hikers who would like to see the sun rise on the summit) at the 8th station or 8.5 station – this way you will have a shorter walk next morning.
Where and how to store luggage at Japan train/bus station
Before our trip to Mt Fuji, we had a dilemma. We were supposed to change our hotels before and after our trip to Mt Fuji, and we were wondering where should we keep our luggage before the Mt Fuji climb.
During our stay in Tokyo, we saw that locker facilities to store luggage are ubiquitous. There are various types and sizes of lockers are available at almost all the train/bus stations. Shinjuku train station offers a vast variety of lockers. Please walk around the station to see the best prices, as the prices vary from spot to spot.  I think, busy areas are more costly, while lockers that are a bit at a distance from important entry/exits are cheaper.
We could use the lockers in English – no problem at all.
First step is to find the right size locker and good price
Secondly, you go to an ATM like machine and enter the locker number you would like and pay for the first day. The machine will give you a receipt with a PIN number to re-open the locker and retrieve your luggage.
You are allowed to keep the luggage for multiple days
When you pick up the luggage, you can pay for additional days and the locker will be opened for luggage retrieval.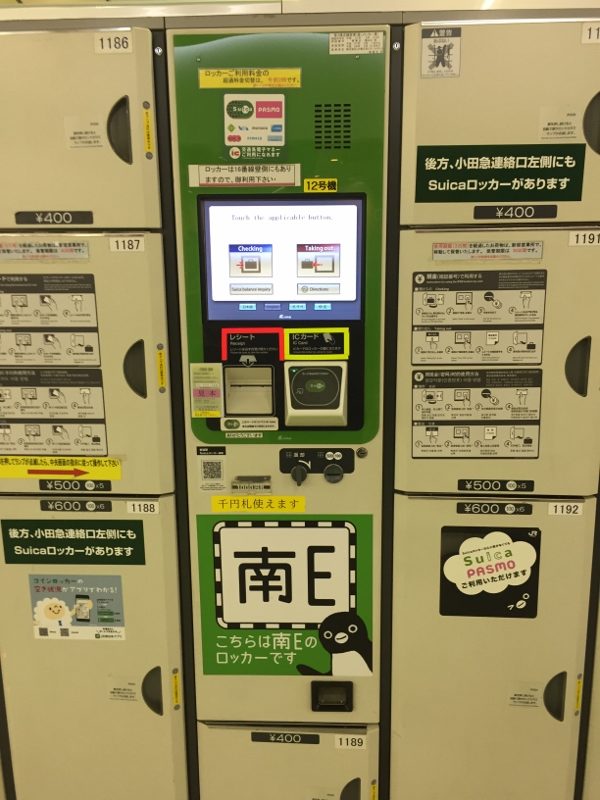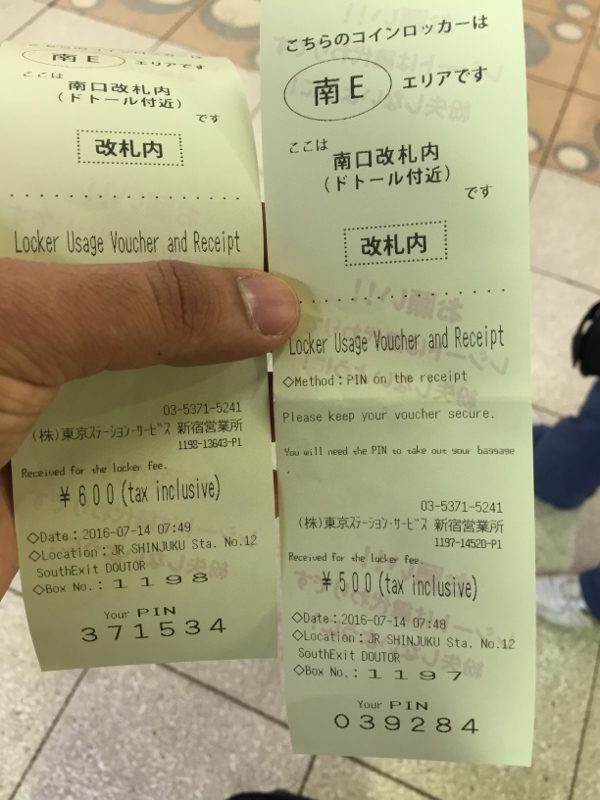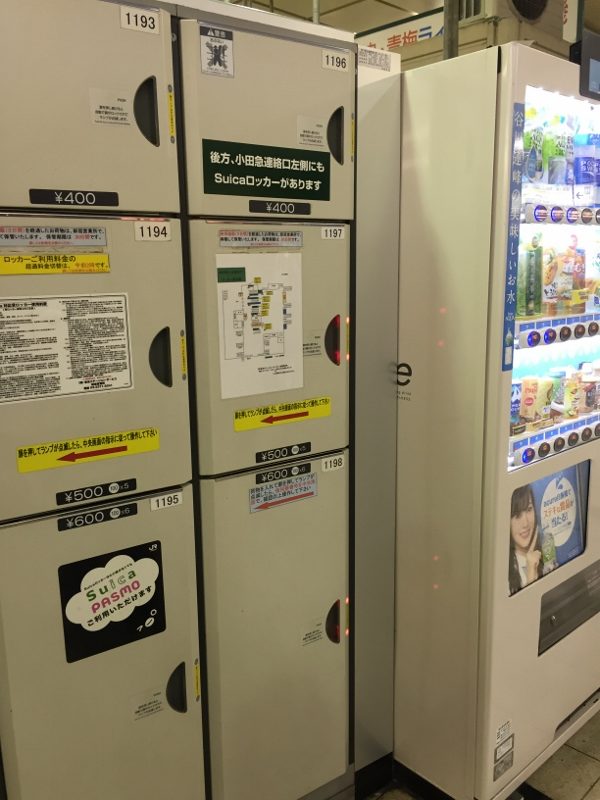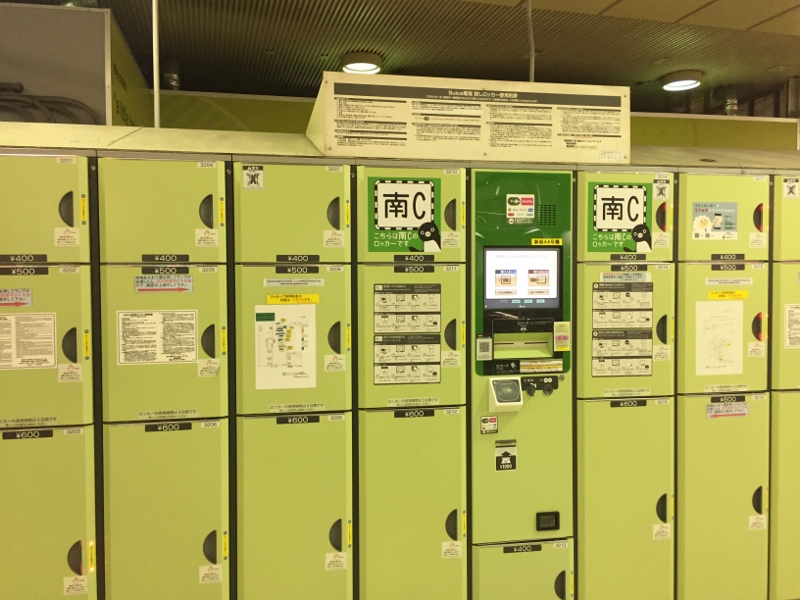 Our trip report
Our bus from Shinjuku brought us at the Fuji 5th station, around 1130am or so. We relaxed there for a couple of hours, had our lunch and acclimaticize with the elevation.
View from the 5th station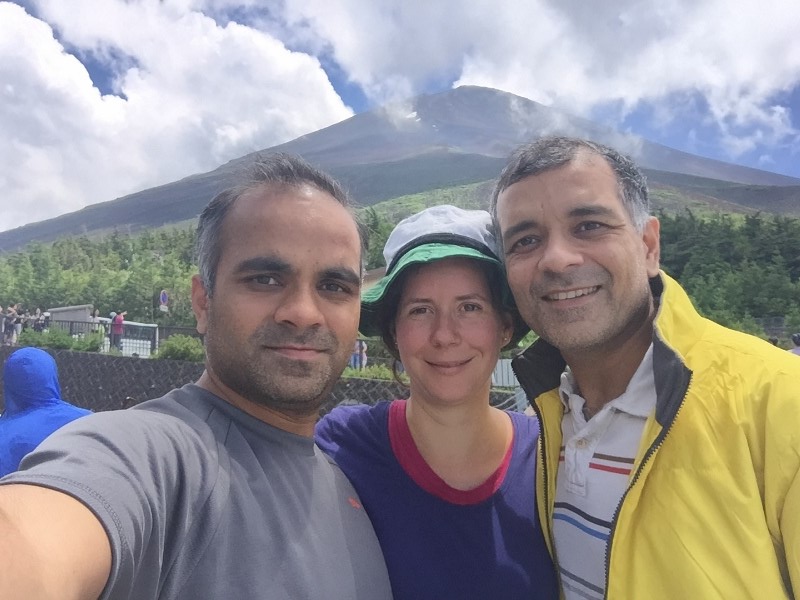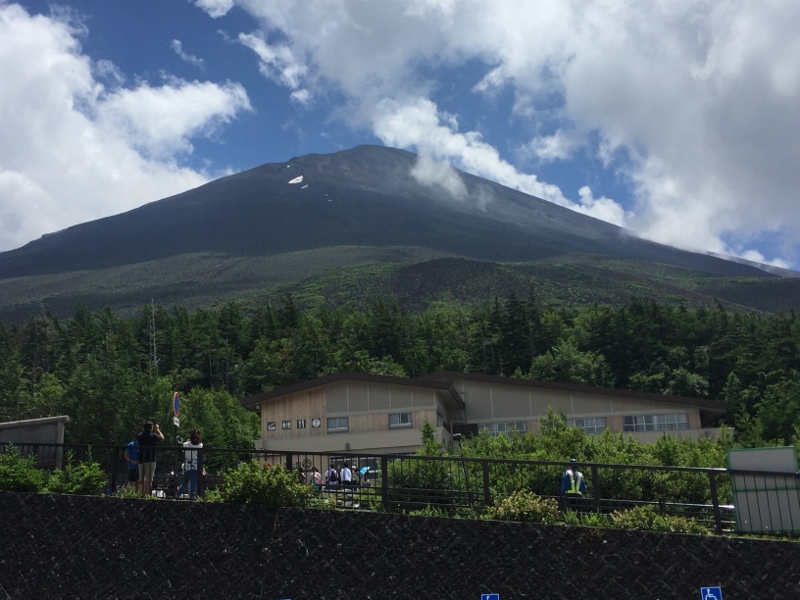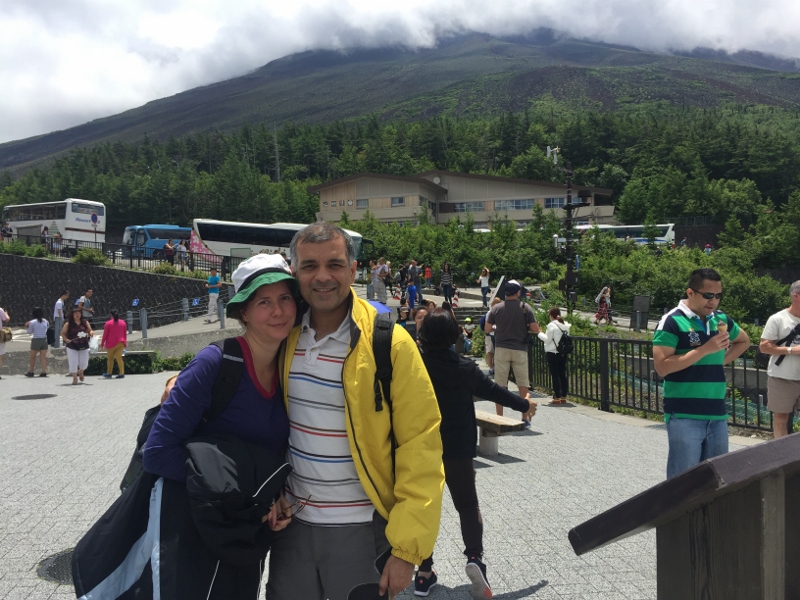 When we started our climb in the afternoon, it was a glorious day. The sun was shining and we were in great spirits. The climb starts gradually – some of the trail is gravel, while some is literally rocks climbing.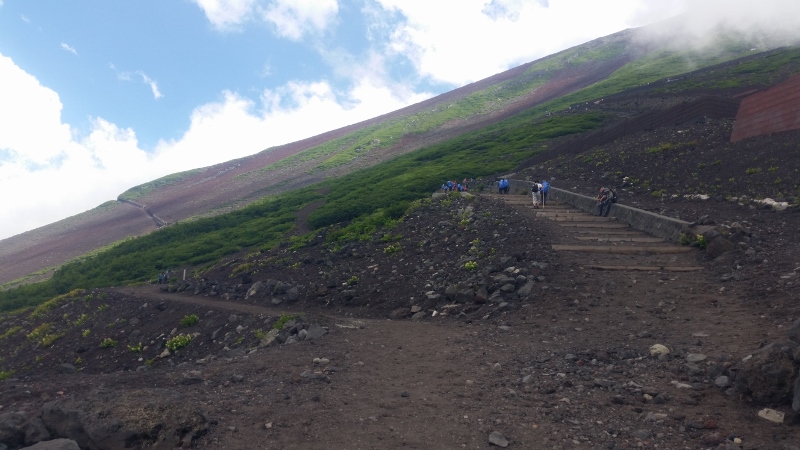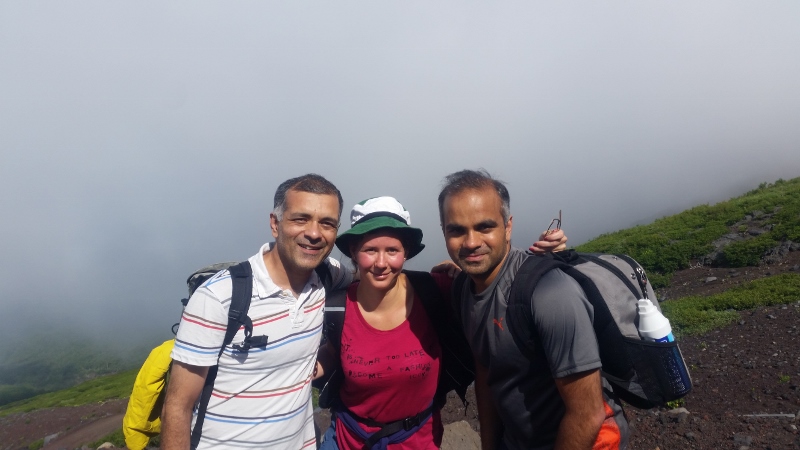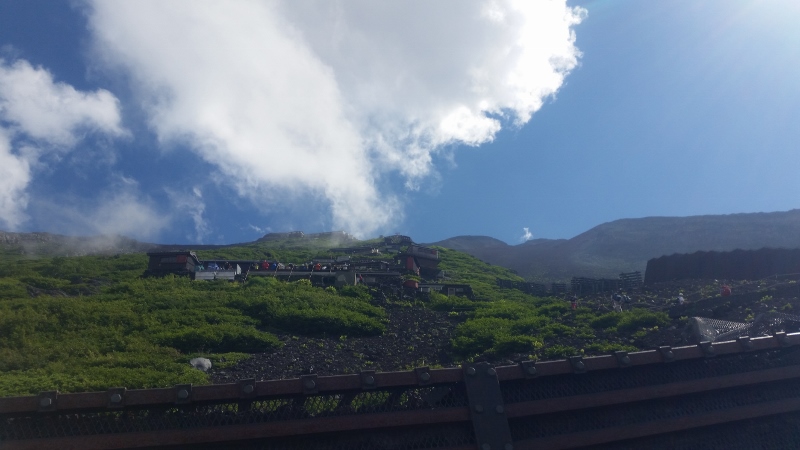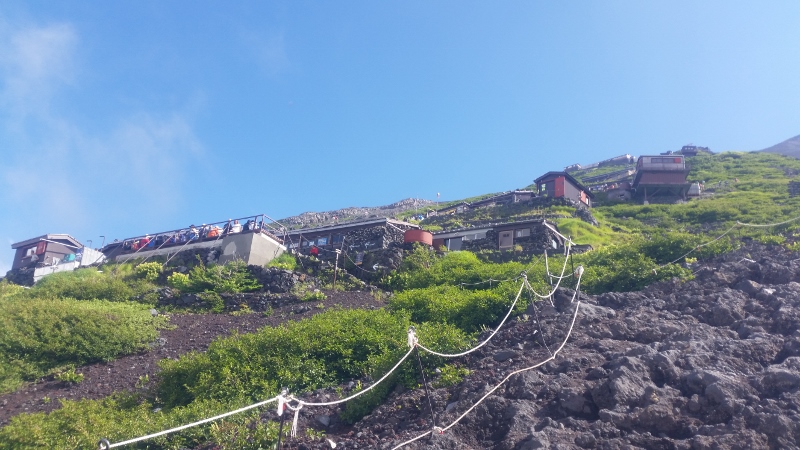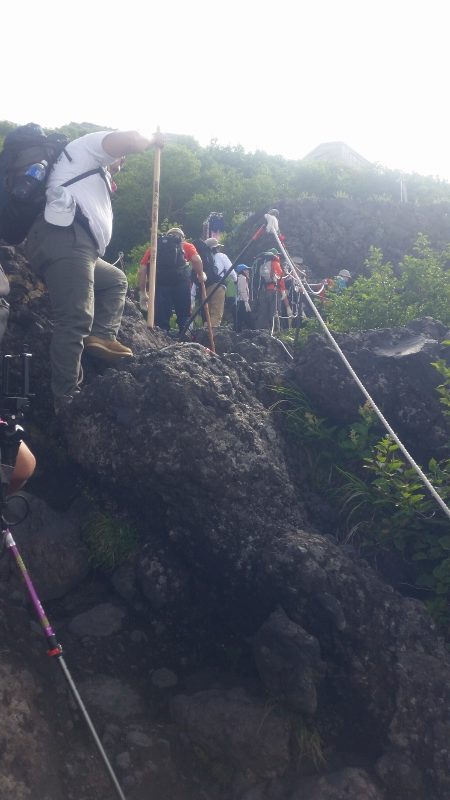 To give you an idea about the huts/shops/rest areas along the way…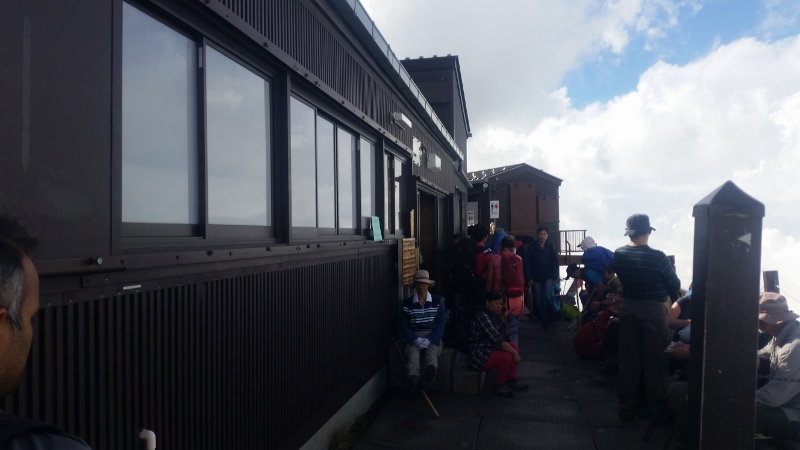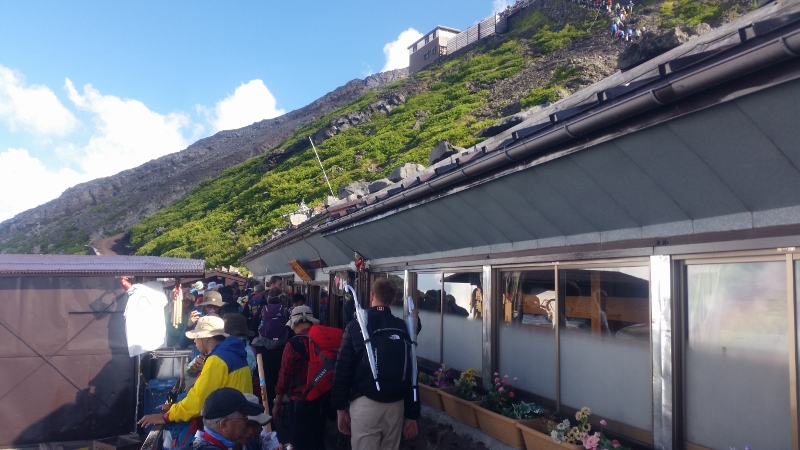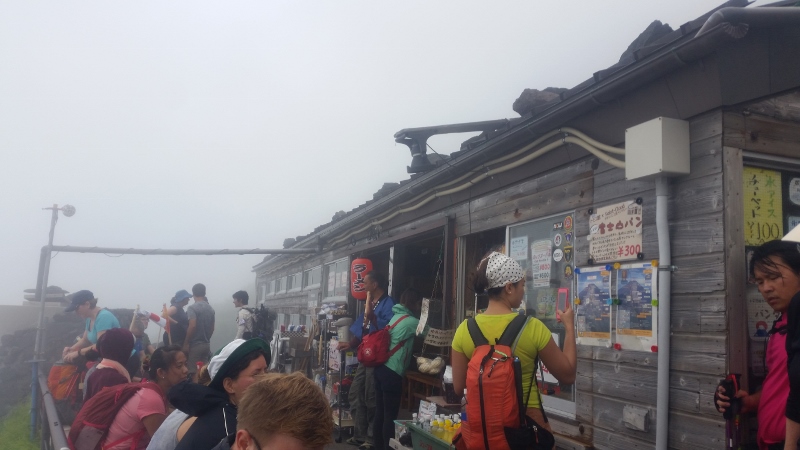 These are the examples of a few huts where you can spend the night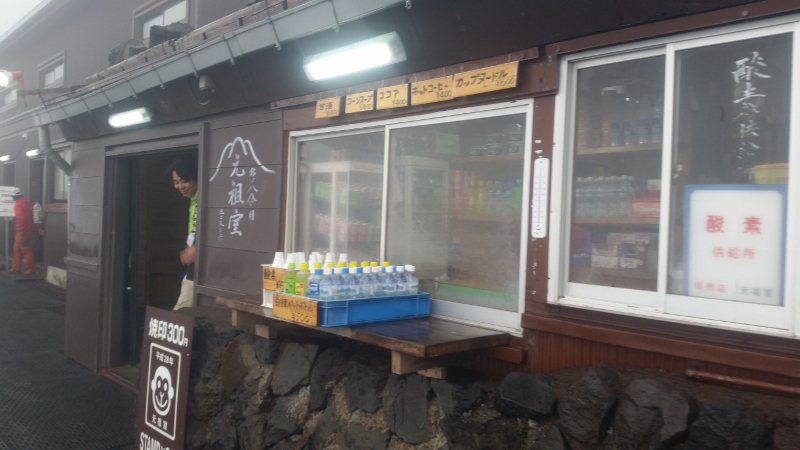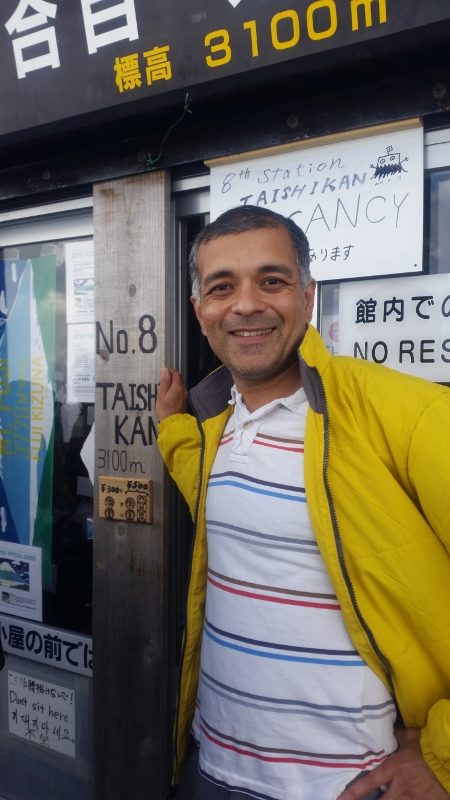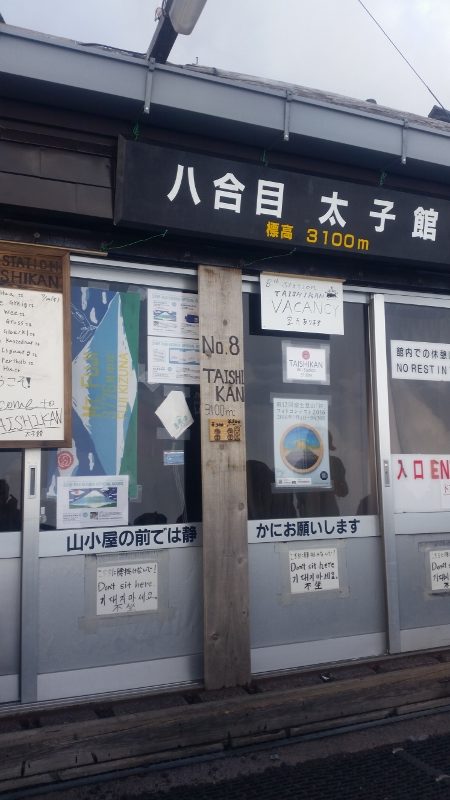 The trail is very well marked – and the ascent and descent trail are separate.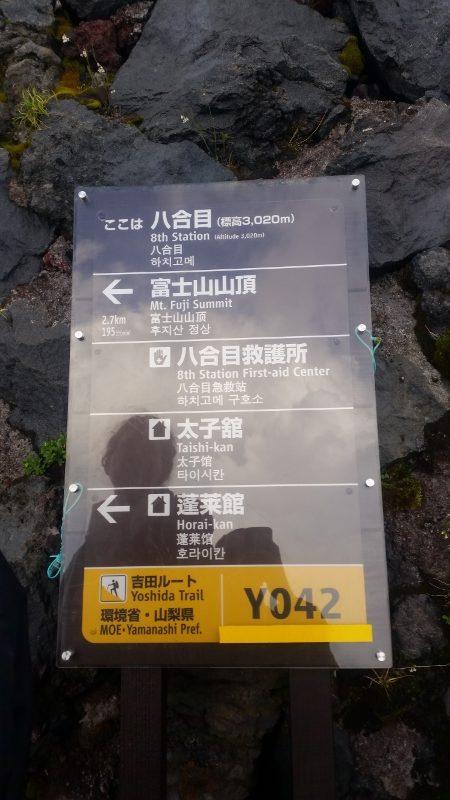 The summit has shops where you can buy replacements, post office and places to relax.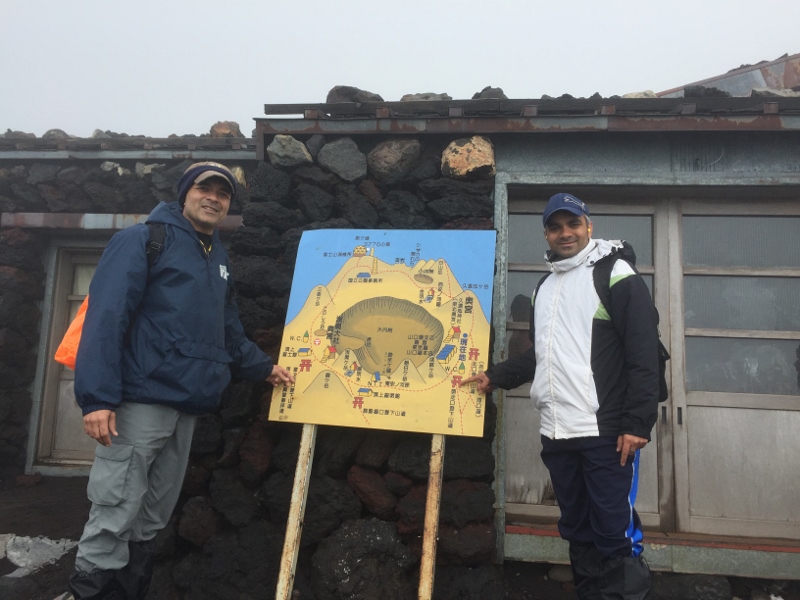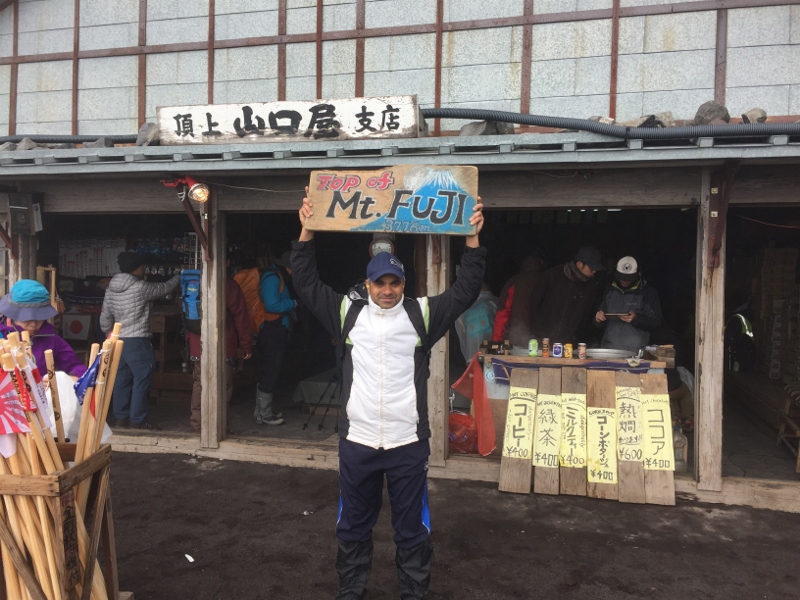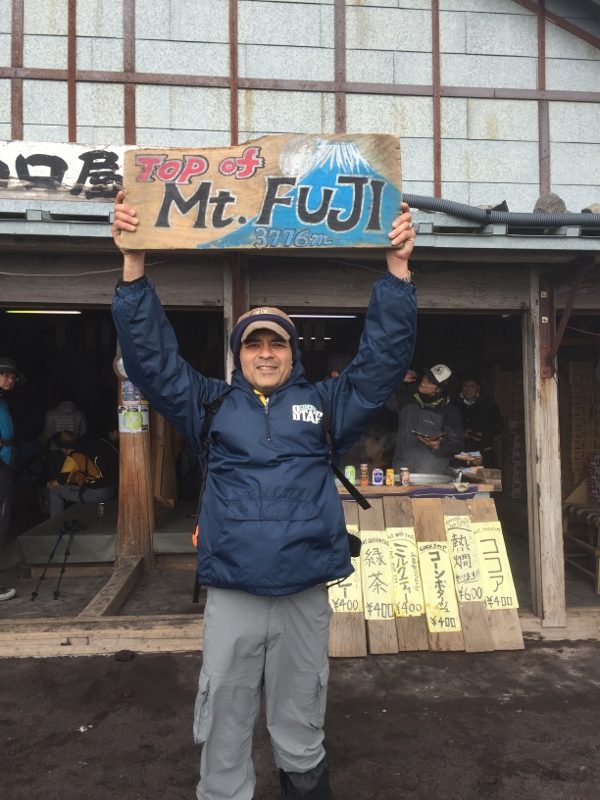 As you can see the weather changes on Mt Fuji quite often. Until 3100m elevation we had the best weather and warm sunshine. After 3100m – we were wet, cold, freezing, and constantly bullied by howling wind. Every step was an effort… The only positive thing was that we were close to the summit!
The descent, is tough. You know that you have gravity pulling you down, but it is not at all fun. I was exhausted and the constant treading on the gravel made it very tough. sometimes, these small stones went in my shoes (although) we had gaiters and it was painful. As these volcanic rocks are razor sharp.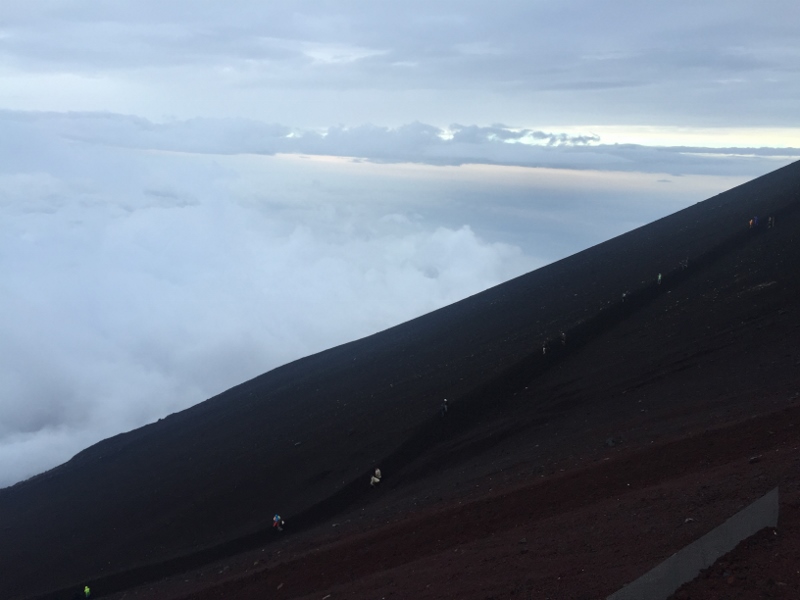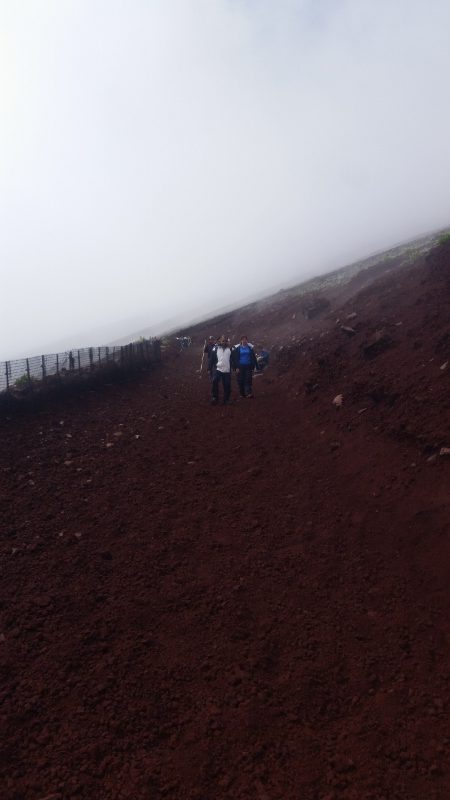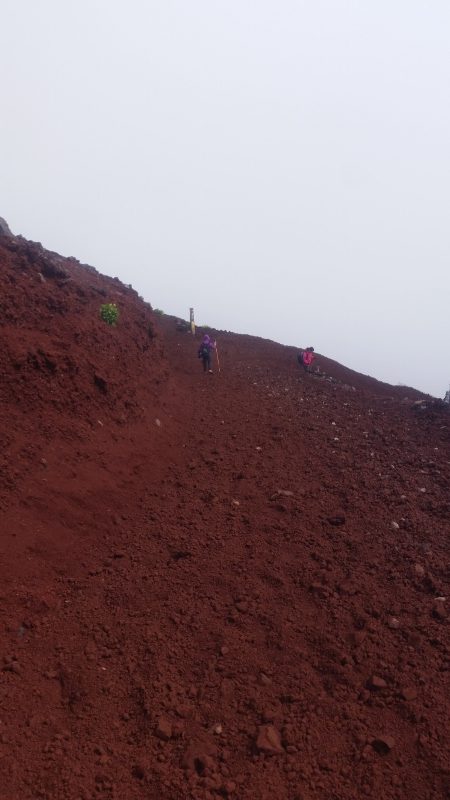 Small tractors to bring supplies to the huts.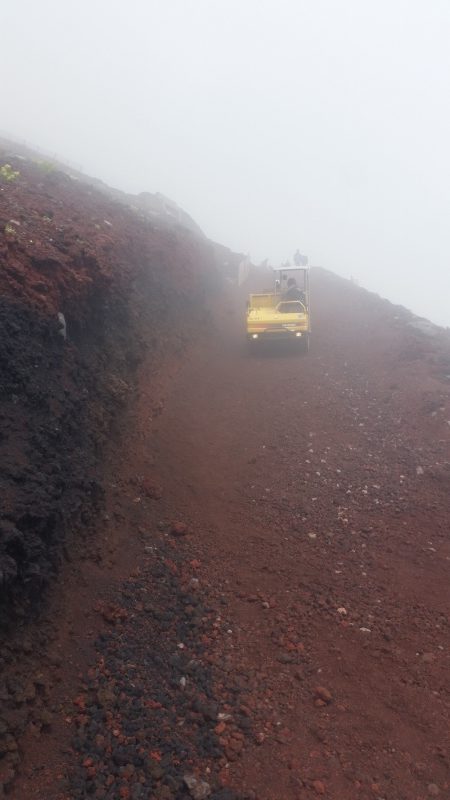 Conclusion
Mt Fuji is definitely not something to be taken lightly. 3800m elevation is something to reckon with. My brother and I were able to get to the summit and back, but my wife had altitude sickness at 3200m. Even my brother and I suffered for a next few days from sore muscles after the climb.
Was I glad that we did this – definitely yes. Would I do it again – I dont think so, as once is enough. Would I recommend people to climb Mt Fuji – definitely!