I love Greek cuisine, and when our friend, Fenia, agreed to host the Greek cooking course I was very excited. She did a fantastic job, and all the participants enjoyed the evening. Below, we will take you on a photographic journey through the menu and recipes of that evening – text and recipes is provided by Fenia, while the photos are taken by me.
A short intro…
Is Greek food mainly composed of meat? Well, not quite so! Are vine leaves edible? Oh yes, and they become pretty irresistible too! Is ouzo to be drank without food? Never! And what is the magic ingredient of any Greek dish? Pure, good, fresh olive oil.
The Greek cooking night will be more than an introduction to the Greek cuisine. It will be olive oil, ouzo (it is the new year after all!), and mezedes, flavor rich dishes served to accompany alcoholic drinks.
Menu for the night:
Dolmadakia (vine leave wraps)
Spetsofai
Greek salad
Photos of the set-up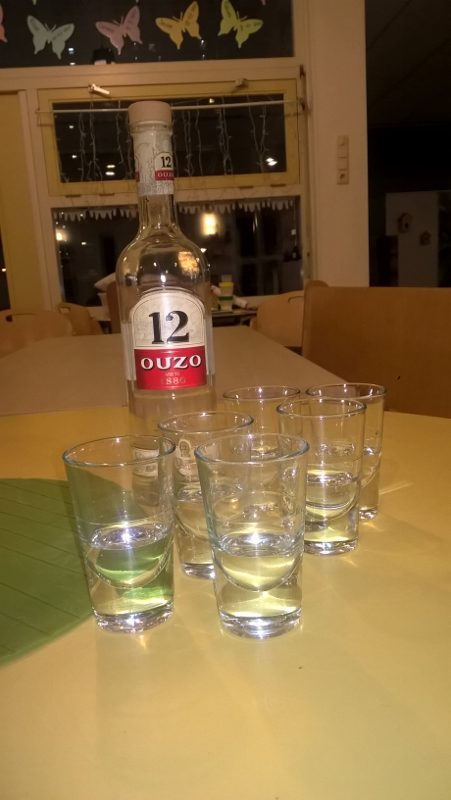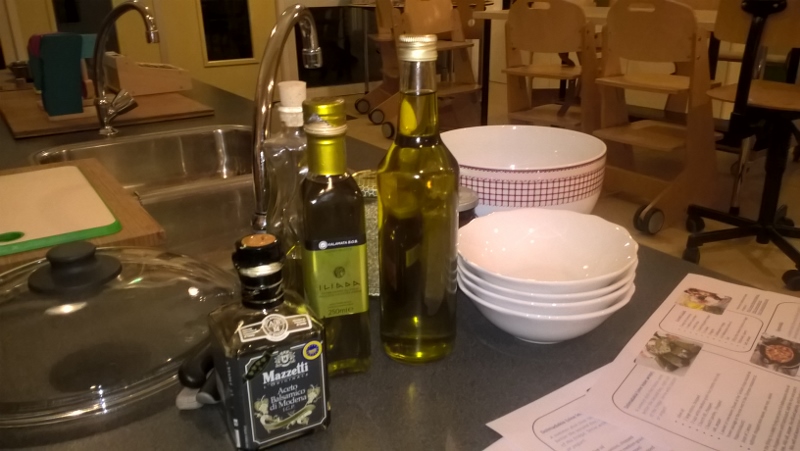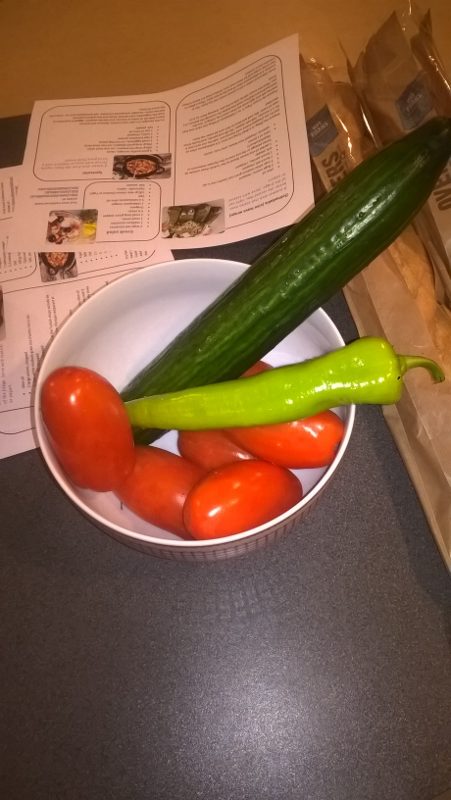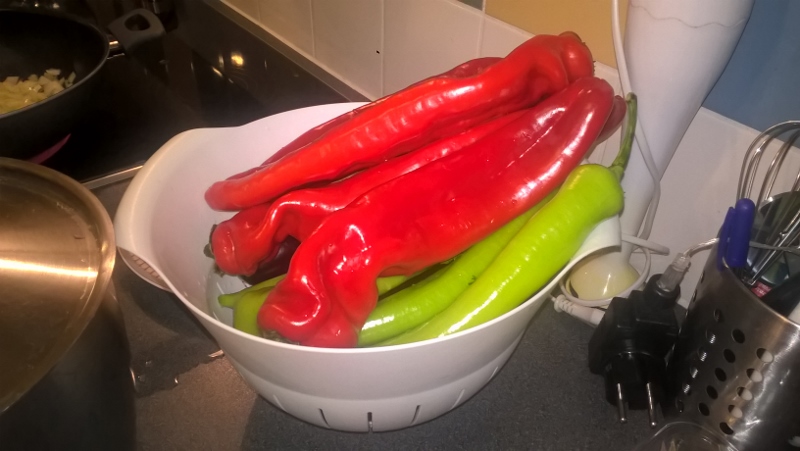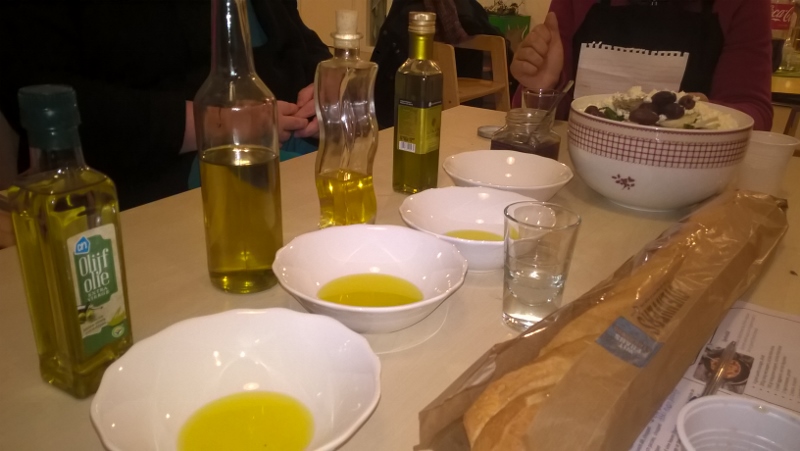 Dolmadakia (vine leave wraps)
A summer dish that tastes even better the second day, right out of the fridge. Serve with tzatziki or yogurt.
Ingredients
olive oil
2 large onions, chopped
3 cups white medium-grain rice (risotto rice is ok)
1 bunch dill, chopped
1 bunch parsley, chopped
salt, pepper
1 packet of vine leaves (easily found at the Turkish shops)
Juice of 1 lemon
Prepare the filling: In a deep frying pan pour 5-6 tablespoons olive oil and fry the chopped onions until translucent. Add the rice and cook it for 1-2 minutes. Add salt, pepper, the dill and parsley, and finally three cups of water. Mix well and leave to boil until all water has been absorbed.
Prepare the wraps: Place ½ to 1 tablespoon of filling into each vine leaf, fold the left and right ends and then close it by rolling it. Use the destroyed/oversized/too small vine leaves for covering the bottom of a pan. Place the wraps side by side in the pan, stacking them up in in levels.
Cook: Add warm water until it almost covers the top layer. Stir in another 5-6 tablespoons olive oil and the lemon juice. Place a plate on top of the wraps and let them cook over medium heat for about ½ hour, until the rice is cooked.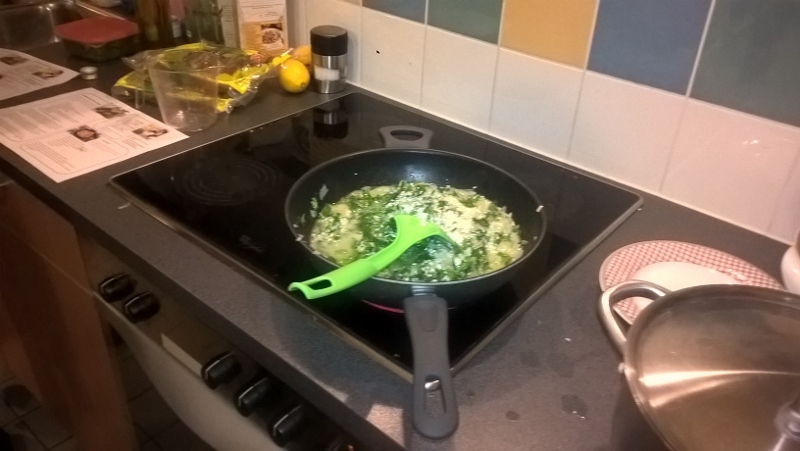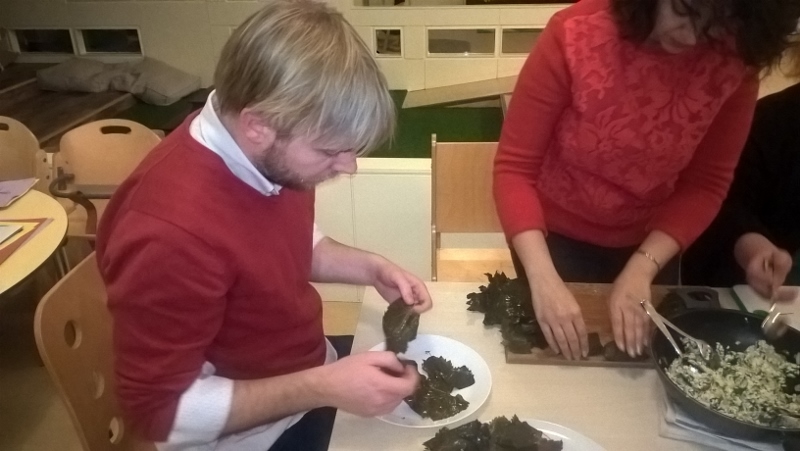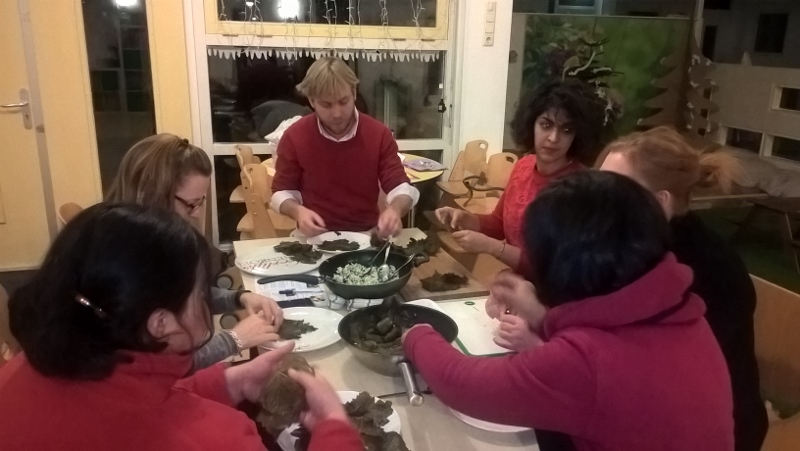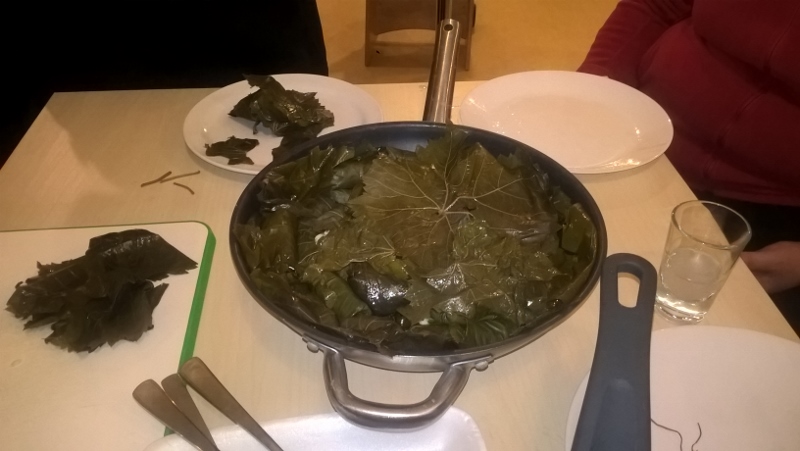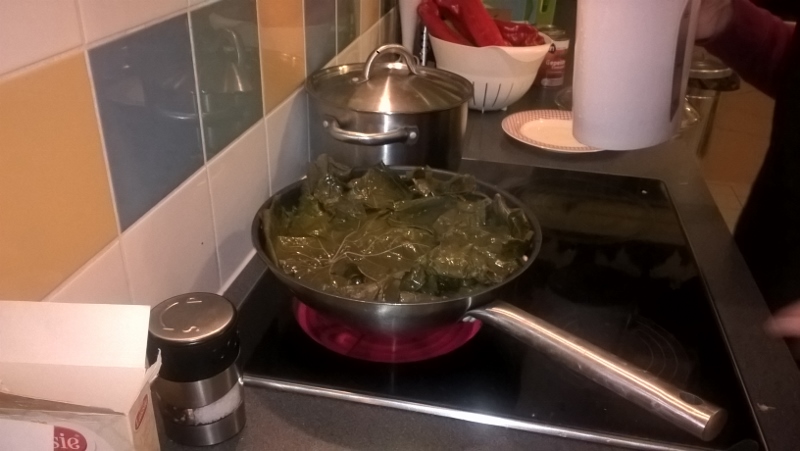 Spetsofai
A winter dish from the Pelio region. Served with ouzo or tsipouro and a lot of good fresh bread.
Ingrdients
4 good quality sausages, sliced
300 gr long red peppers, cut into thick slices
700 gr long green peppers, cut into thick slices
2 small eggplants, cut into big pieces
2 ripe tomatoes, grated
1 onion, chopped
1 cup of olive oil
Salt, pepper
Fry the sausages in a pan until cooked. Remove and reserve. Heat a little bit of water in the pan and add the peppers, eggplant and olive oil. Cook the vegetables until all their fluids and the water evaporate. Add the onion, sausages and grated tomatoes, salt and pepper and stir. Cook until the sauce thickens.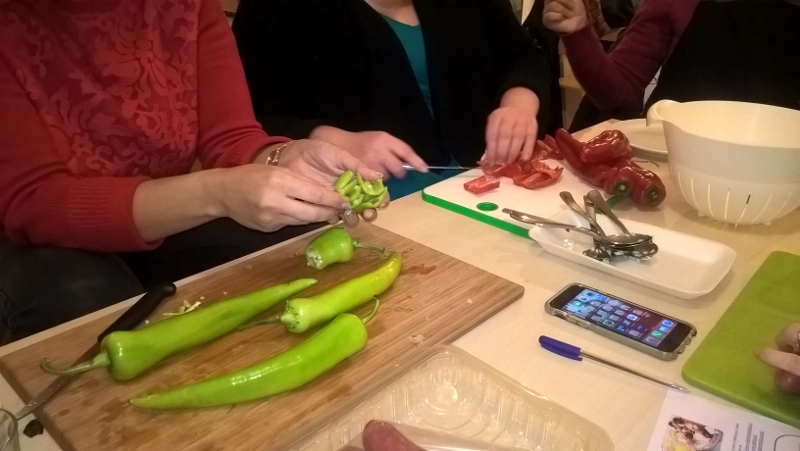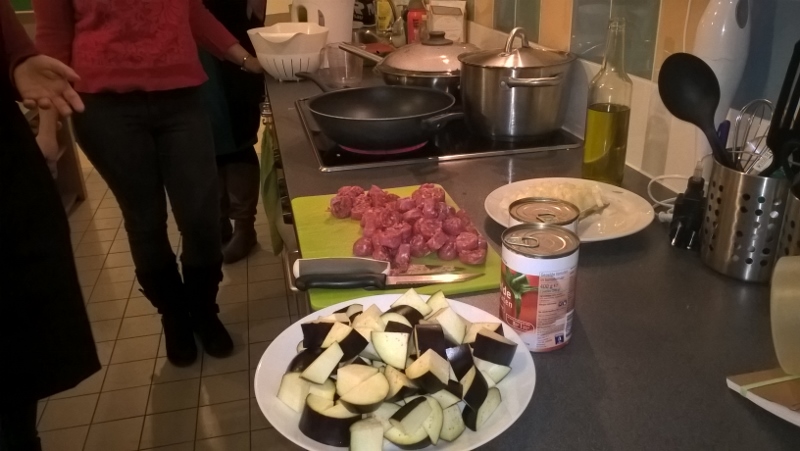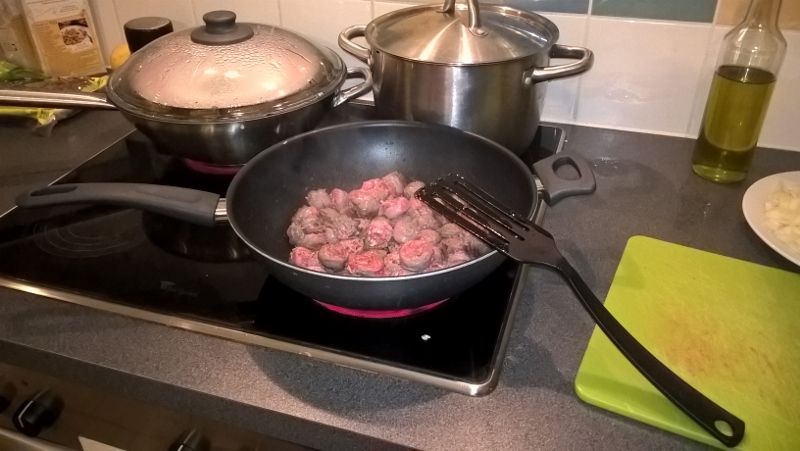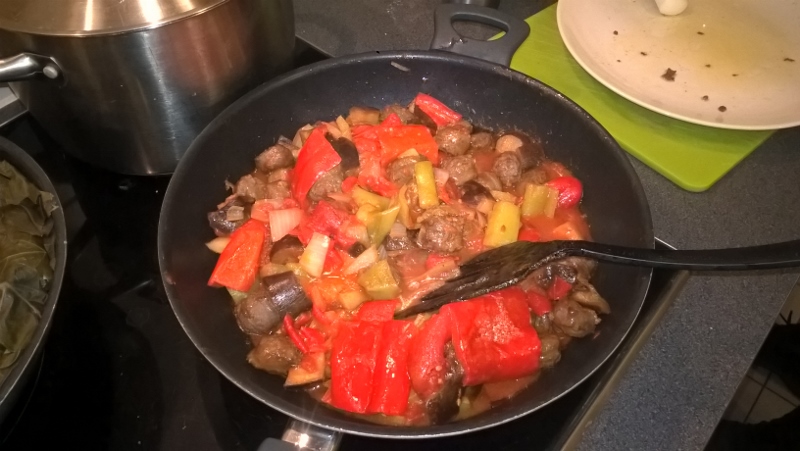 Greek salad
2 large red tomatoes
1 medium cucumber
1 small onion
1 small long green pepper
5-6 olives
Oregano
1 tablespoon vinegar
5-6 tablespoons olive oil
Salt
100 gr feta cheese (Dodoni or Fage)
Optionally: capers
Salt, pepper