Gran Canaria is a fantastic island – Mountains, dunes as well as great beaches. Something for everyone. We visited Gran Canaria with our 2 young ones and stayed there for a week. We did research on the internet as well as checked with our friends to ensure we have enough to keep us occupied for a week.
We were visiting in February and I was worried about the weather. But, my friend told me that whatever the weather on the northern part of the island may be the southern part is always warm and sunny. This really held true. One day we went to the Northern Part of the island and it was cold and windy. Quickly, we decided to head south – just after we crossed the airport (at a half way mark on the eastern side) and entered the southern half of the island, the weather became sunny and warm. While we were there we stayed in Monte Feliz, just north of Maspalomas. Our review of this apartment can be found here.
This map will give you a quick overview of the islands and the good spots to visit along with some photos.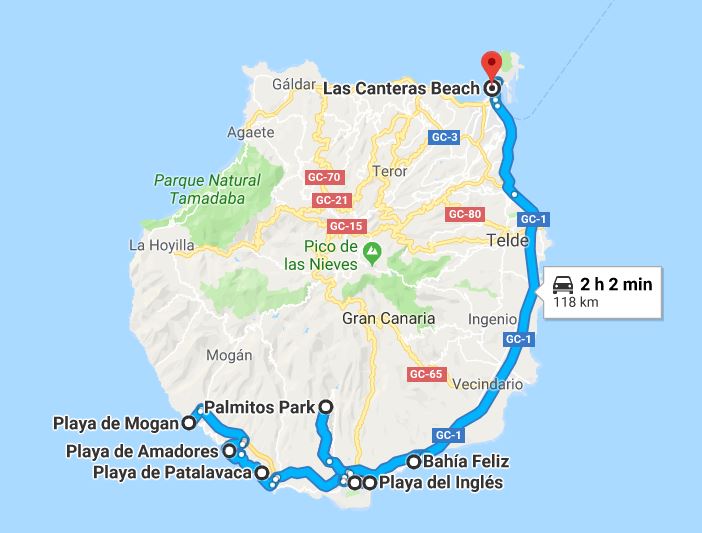 As we stayed mostly in the warm and sunny south side of the island, we will begin our review from the southern side and then move slowly to the north (anti-clockwise).
Playa de Mogan
A wonderful beach at the south-western side. It is a small and cosy beach. You just park your car along one of the streets and walk in here. Shallow water for the kids to enjoy.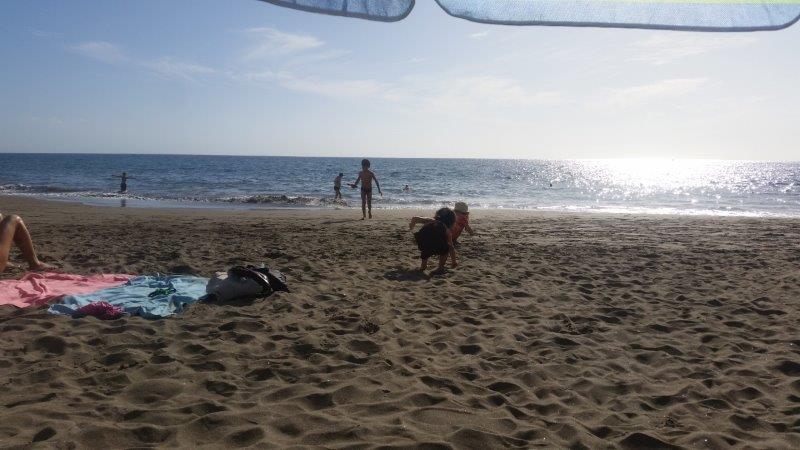 Playa de Amadores
A wonderful beach at the southern tip. Quite touristic, but the beach is large enough that it never felt crowded. Quite shallow water for some distance and the kids could really enjoy. The setting is beautiful – and the water crystal clear. We loved it here. There is a parking place right next to it and you can enjoy an entire day here as there are quite some nice restaurants around.
Playa de Patalavaca
This was a hidden gem, which was highly recommended by my friend. Its a small cove with a dark sand and warm water. Not many people were here, only a few locals to be found.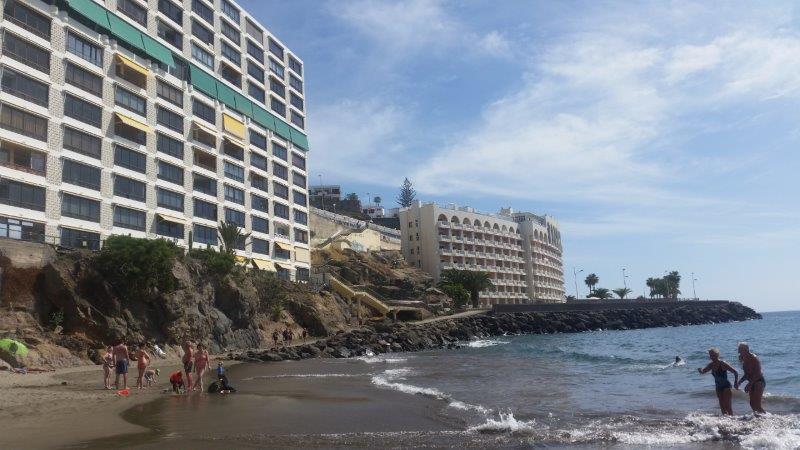 Maspalomas
This is at the southern tip. We loved this place – with its sand dunes, it is absolutely spectacular. Our kids and us, just could not stop going up and down the dunes. Great sand dunes to play around. Just park your car in one of the side-streets and you can walk in here easily.
Playa de Ingles
Right next to Maspalomas is the Playa de Ingles. Its a nice long beach, but lot of nudists here. We did not have any problems with it but some people may.
Palmitos Park
We spent an entire day here. This was something for the kids, as they could see a dolphin show and other animals. Its a nice park, built in the hills so walking up and down gets you a nice workout.
Bahia Feliz
We were staying in this area and decided to take a nice walk around this coast. This is not a beach area, but a bit rugged coast with nice views.
Playa de Las Canteras
One day we headed north to this beach, and immediately turned back as it was windy and cold. However, if it is sunny and warm I think this will be a spectacular beach as it has a nice promenade and wide beach.