Ljubljana airport is a cosy little airport. In less than 15 mins we went from curbside to the lounge. As I was Star Alliance Gold, flying with Adria this evening we had priority access for the security.
The Airport has two lounges – one each on the Schengen and non-Schengen side. We were flying to Vienna and visited the Schengen lounge. It is a small lounge, located right next to the Duty free, right after the security. See the map below (taken from the LJU Fraport website), and the lounge is right in front of gates 9-13.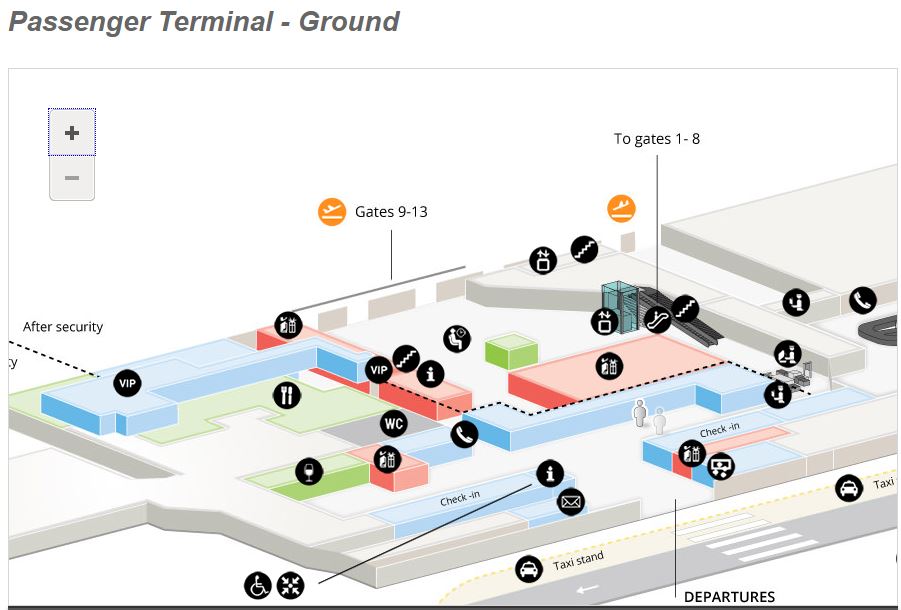 Overview of the sitting and standing areas. Given that this is the only lounge on the Schengen side, it got quite busy when we entered. All the seats were immediately occupied, and many people were standing around the booths. Luckily, as flights departed the lounge immediately became deserted and I could snap some nice overview photos.
Overview of the food and drink area. There was warm soup along with some sandwiches/cakes on offer. A few beer and wine options along with some fresh fruits. In all the offerings were limited, but the service was extremely prompt. While the lounge was busy, the attendants constantly moved around to clean and replenish the stocks. I was impressed by the efficiency.
There was a single PC to get some work done along with a printer to go with.
We were bussed to the aircraft…and I was thankful for that. The airport offers panoramic views of the mountains.