This is THE lounge at Kathmandu airport. This lounge is used by almost ALL airlines flying in and out of KTM. There is another Thai Airways Royal Silk Lounge right below this lounge, but the service and offerings at that lounge are definitely below par. The Executive Club lounge is also a priority pass lounge.
I was flying in Business class with Qatar Airways to Doha, and at the checkin I was given an entrance voucher for this lounge.
Once you enter the lounge, right in front of you you see a lot of model planes. I Liked the display and saw that Qatar has a prominent place in the middle.
The lounge is HUGE and set in two separate sections, which is divided by the food and drink section in the middle. The seating is quite nice – I liked the brown and pink couch set, and the couches were quite convenient to sit and eat, while comfortable to relax and read.
A magazine and newspaper section with various options to keep you entertained until your flight is announced. Although, this is a common lounge for many airlines the boarding of flights was still announced.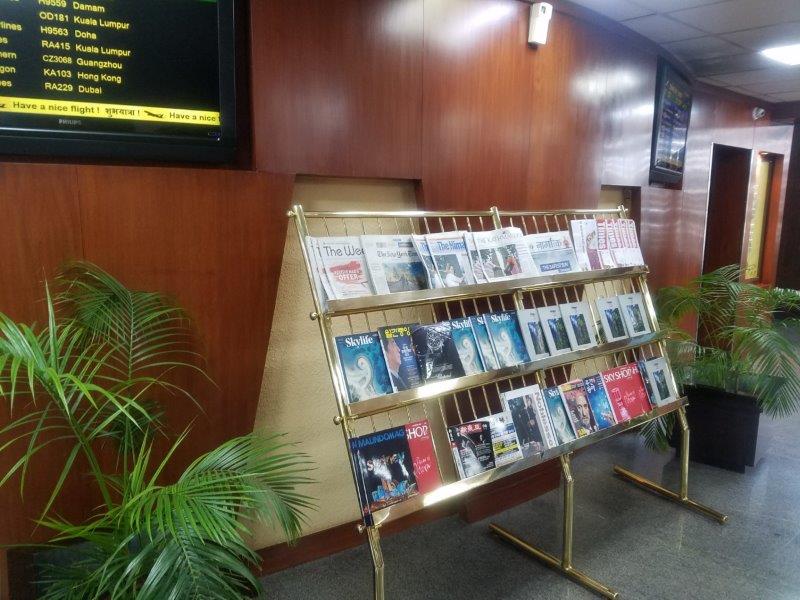 There is also a separate section (with glass doors) if you would like to relax without any disturbance. This section also had a few relaxing chairs if you would like to lean back and relax. Right next to this area there is also a small smoking room. I saw quite a lot of customers making use of the smoking room, but I did not smell any smoke outside the room. I am sure they have good ventilation in place.
There are quite some food options. I saw a warm buffet, with rice, chicken curry and various veggies. Also there is a separate glass counter with fresh sandwiches, fruit platters and chicken lollipop/cutlets,etc. I asked for the chicken lollipop and the lounge attendant heated that up before serving.
I tried the rice, chicken and some veggies and was happy with the quality of the food. After a long taxi ride to the airport in the afternoon heat I was quite happy to grab a cold beer.
For all the drinks, you can head to the bar. The barman serves all the alcohol at the lounge. I didnt try any spirits, but judging by the display they have a decent collection.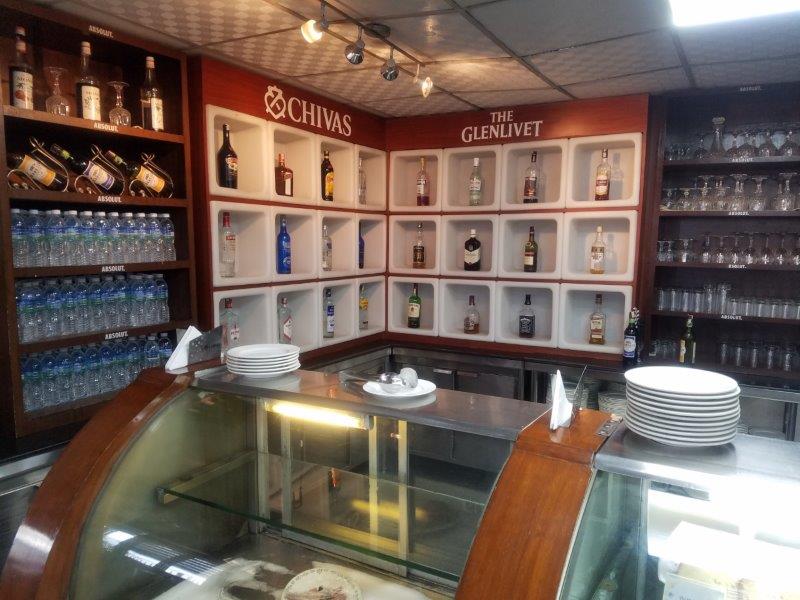 This lounge is a decent place to spend some time before your flight – nothing spectacular, but compared to the Royal Silk lounge downstairs this one is fabulous. I had a pleasant stay and I am glad that KTM has one decent lounge option before a long flight home.