Flight report: Lufthansa in economy class
Flight number: LH 400
Equipment: B747-800
Origin: FRA (10:50)
Destination: JFK (13:40)
Flown: February 2020
Cabin occupancy: 100%
I was coming in from Amsterdam, with a 45 min layover at Frankfurt. Lufthansa and Frankfurt airport are quite nice, and a 45 minute layover wasnt a problem at all. I made right on time when the flight to New York was boarding.
This is the nice 747-8 taking us to JFK today. Unfortunately, I was in the economy section and I would like to try the second floor business class section sometime. I have flown Lufthansa 747 old business class, with a sliding seat, which was way below par. Now that Lufthansa has nice new business cabin on the 747-8, it would be nice to try it.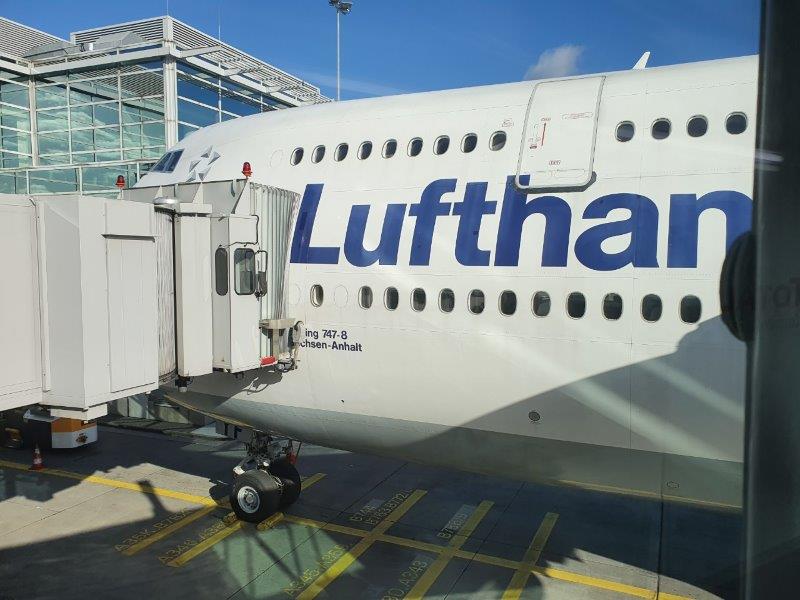 I was seated in the last row and the advantage was that there was no seats on my right…with a lot of room. The seat on the 747-8 is quite comfortable.
The seat is quite slim… and surprisingly comfortable. As I was sitting in the last row, I could not recline all the way. However, given the space around me made the flight comfortable, and made for a relaxing flight.
Right after take-off we were given hearty biscuits and a drink, before the meal service. The meal service followed -and I ordered pasta and meat stew. It was quite tasty. Lufthansa catering in economy is quite good. Not to the same level as Turkish, but definitely ahead of its European competitors.
The view of the seat. As you can see I did not have enough room to recline all the way.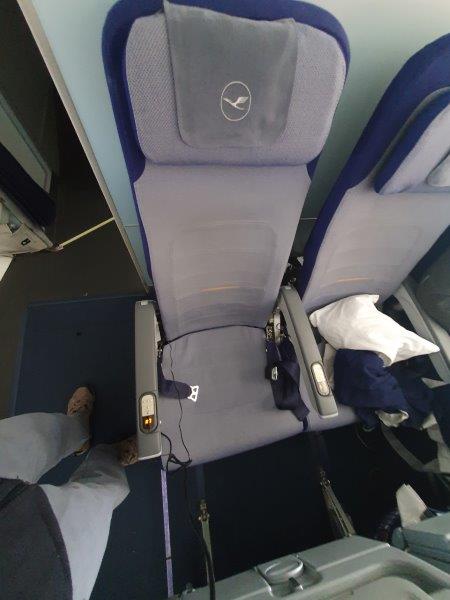 Below the armrest, hidden from everything else in the ethernet and ucb connections.
It was a clear and beautiful day to fly. The scene right over Canada – after we crossed on the other side of the pond.