This article is part of the main article: Around the World in 2 weeks (2012-2013): Introduction and Planning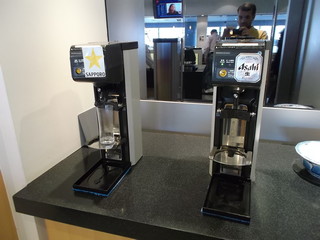 I get my boarding passes for the flight and then go to the Narita Airport Delta lounge. This lounge was always my favorite in the Delta network. I know this lounge for a long time, in fact when it was Northwest airlines lounge. The best part of this lounge is their beer robots. I grab some food to eat and then head to the beer station for a nice cold beer, so perfectly filled by the Robot that the beer, the foam is perfect.
I grab a seat, and sit down to have a bite. And while eating I am going through my photos of the trip so far. It has been quite an adventure so far. I start deleting a couple of photos that did not come out too well. While pressing the delete button on the camera, it asks me to delete all the photos on the SD card – and I ACCIDENTALLY SAY YES. The camera gets working and then there is a message displayed on the screen that the SD card is now empty and all the photos are deleted. I just blank out for a few minutes, I cannot believe what just happened. I really documented every single thing of this round the world trip on camera, and now it is all gone. I am completely loss for words. I am extremely angry at myself, I email my wife and my brother about what just happened. I am blaming myself for this mistake. I have invested so much time and resources in planning this trip and I wanted to write a nice step by step review along with photos about this trip, and now suddenly it's all gone.
Slowly I try to recollect myself. I go on the internet, on my tablet, and try to search what happens when you delete photos on the camera. I found out that there are a few softwares that allow you to restore deleted files. I find out that there is hope. But as I do not have my computer with me I cannot do anything until I get to Minneapolis. This was going to be the longest flight of my life. One thing all the people on the forum mention is that if you would like to recover deleted files, please do not make any changes to the file system. In my case that meant that I should not take any new photos on my camera so the camera does not reassign file spaces on the card. I turn off my camera and just sit blankly looking at the food and the people in the lounge. What a frustrating experience that was. I curse myself that I did not backup my photos along the way or send some important photos via email to myself. It is so easy to spot your mistakes once they are done.
Soon it is time to board. I walk to the gate. I was so excited to fly NRT – MSP in Delta business class on their 777. This flight was supposed to have their upgraded business class seats, with a herringbone layout, where each passenger has access to the aisle. But all that excitement is gone. I am just thinking about my photos, which are lost.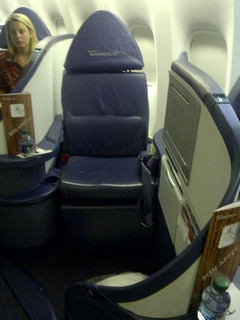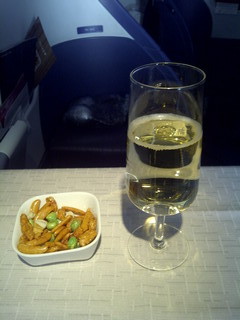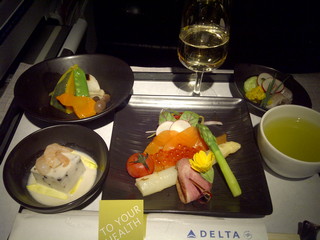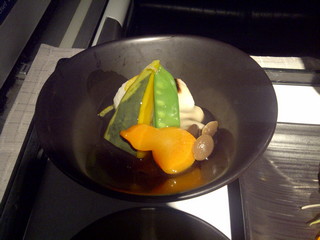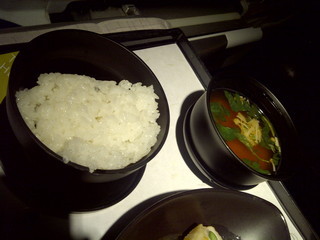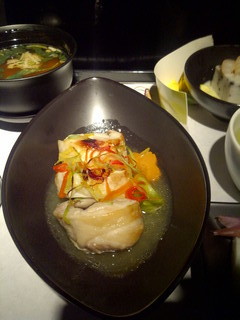 When I board I notice that it is a beautiful business class cabin. Each passenger gets a nice lie-flat seat with decent privacy. If I would not have had problems with my camera this could have been a great flight. My only thought now is to land and access any computer to see if I can recover my photos. On the flight I get a Japanese meal – it is nicely presented. I eat what I can and just try to stay calm for the rest of the flight. NRT-MSP is a long flight; I grab a few hours of sleep. I need to catchup on my sleep, as I have a few hour stop in Minneapolis and then I have to catch my connecting flight to Vancouver. But I am in no mood to go to Vancouver. The plan is that I will fly to Vancouver this evening (after a 6 hour stay) in Minneapolis. In Minneapolis my ex-roommate from Memphis will pick me up and we can go visit his family for few hours. In Vancouver I have booked a hostel for the night, and the day after I fly to Seattle, and then I have a separate ticket booked from Seattle to Philadelphia where I will spend a few days with my brother. What I really want to do is stay a day in Minneapolis with my friends and not deal with Vancouver at all.
I land in cold and snowy Minneapolis – after Myanmar heat of +30 deg C, it is –30 deg C in Minneapolis. WOW…this cold hurts. My friend is there to pick me up. I tell him that let me talk to Delta if they are willing to change my ticket via Seattle for tomorrow. My plan is that I will go to Seattle and then just leave my trip there and fly the separate ticket I have booked from Seattle to Philadelphia. Delta agent is spectacular. She calls her manager and in a few minutes they change my flight. So instead of flying Minneapolis – Vancouver in 6 hours, I can fly Minneapolis – Seattle tomorrow afternoon and Seattle – Vancouver the day after that. This is perfect, this way I can go to Seattle tomorrow and then just go to Philly from there. I am so happy! I just wanted to be with friends and family at this point.
While walking to the car parking I truly feel the cold. It is a large temperature difference from hot Rangoon to extremely cold Minneapolis. My lungs took a few minutes to adjust to it. But I survive.
We go to my friends place. His wife and little daughter are excited to see me. I am delighted to be at home and not in some hotel/hostel. We have a nice lunch and then the moment of truth arrives. I tell my friend what has happened with my camera and photos and ask him whether I can use his laptop to recover my photos. He gives his laptop to me and I get to work. I download a fantastic software, with good reviews, which is very simple and efficient to use. And can you believe it, in a few minutes I have recovered all the photos from the SD card. I am just SO SO HAPPY. I am glad once I deleted the photos I did not touch the camera so there were no more changed made to the memory card. I am just overjoyed with this. I shoot an email to my wife and brother that everything is fine again and I have all my photos of the trip.
After this, I am so happy that I really enjoy my stay with my friends. It being so cold, we are not able to go out too much. But I don't mind just relaxing and taking it easy. His family is also very happy that I will be spending a day and half with them rather than just a few hours. I am so exhausted after such a long trip, that I sleep quite early and quite well. I wake up feeling refreshed. I spend a nice day my friends and again it is time to fly. This evening I will fly to seattle in First class with Delta and then I have a separate economy ticket booked from Seattle to Philadelphia via Houston. Seattle to Houston is a night flight, and then I connect to an early morning flight to Philly from there tomorrow morning.